'Stop the Count' Protesters Surround Michigan Election Office as Trump Sues to Halt Vote Count
A crowd of Republican poll challengers supporting President Donald Trump's re-election demonstrated outside the TCF Center in Detroit on Wednesday afternoon, demanding that poll workers "stop the count."
The demonstration started after Trump's 2020 campaign manager Bill Stepien released a statement saying the campaign would file a lawsuit with the Michigan Court of Claims to stop the count in the crucial swing state of Michigan, where Biden is narrowly ahead with about 99 percent of precincts reporting. Stepien claimed that the president's campaign had not been granted "meaningful access" to review the counting process.
"Stop the count! Stop the count!" the crowd of GOP supporters repeatedly shouted outside the TCF Center. Videos of the demonstration were uploaded to social media. Police were on scene, reportedly preventing them from entering the counting facility.
"Let us in!" the protesters shouted.
Election rules allow for 134 challengers representing each candidate contesting the results. Detroit Free Press reported that 570 challengers were already freely walking around the room where poll workers were counting the approximately 25,000 absentee ballots of Detroit residents. This included 227 Republicans, 268 Democrats and 75 nonpartisan challengers.
Republican poll challengers inside the facility who spoke with Detroit Free Press argued that it was unfair that there were more Democrats than Republicans, even if there were already more from both parties than technically allowed.
Republican challenger Nick Sinishtaj of Addison Township told Detroit News that they were unfairly blocking members of his party. "When you walk in, they ask what party you're affiliated with and as soon as you say GOP, they say, 'Both are at capacity.' Well, if that was the case, why did you ask what my party was in the first place?" Sinishtaj said.
In a statement emailed to Newsweek in response to the Trump campaign's threat of a lawsuit in Michigan, Ryan Jarvi, press secretary to Michigan's Attorney General Dana Nessel, said that the election had been conducted "transparently."
"Michigan's elections have been conducted transparently, with access provided for both political parties and the public, and using a robust system of checks and balances to ensure that all ballots are counted fairly and accurately. At this time our department has not been notified by the Court of Claims about this lawsuit and when we are served, we will review it and respond accordingly. Michigan will always continue to protect the rights of all voters to have their ballots counted," Jarvi said.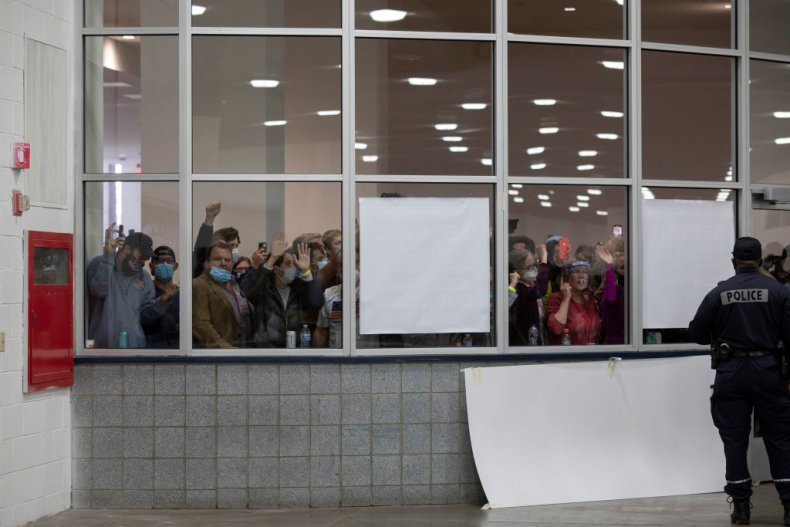 CNN and NBC News have projected Biden to be the winner of Michigan. With 99 percent of precincts counted, Biden leads Trump by 1.3 percentage points. The Democrat has been backed by approximately 49.9 percent of Michigan voters compared to 48.6 percent supporting the incumbent president. With 16 electoral votes, Michigan is a crucial win.