Trump Campaign to Sue to Halt Michigan Vote Count With Lawsuit, as Biden Leads by Nearly 40,000 Votes
President Donald Trump's campaign said it has filed a lawsuit with the Michigan Court of Claims on Wednesday in an effort to stop vote counting in the key swing state, as Democratic presidential nominee Joe Biden leads by nearly 40,000 votes.
As expected, Trump took an early lead in Michigan—which he flipped red in 2016—but as millions of mail-in ballots were counted, the race shifted in Biden's favor. Now the Trump campaign is claiming it has not been granted "meaningful access" to monitor the opening and counting of ballots in the Midwestern state.
"As votes in Michigan continue to be counted, the presidential race in the state remains extremely tight as we always knew it would be," Bill Stepien, Trump 2020 campaign manager, said in a Wednesday statement.
"President Trump's campaign has not been provided with meaningful access to numerous counting locations to observe the opening of ballots and the counting process, as guaranteed by Michigan law," Stepien said. "We have filed suit today in the Michigan Court of Claims to halt counting until meaningful access has been granted. We also demand to review those ballots which were opened and counted while we did not have meaningful access."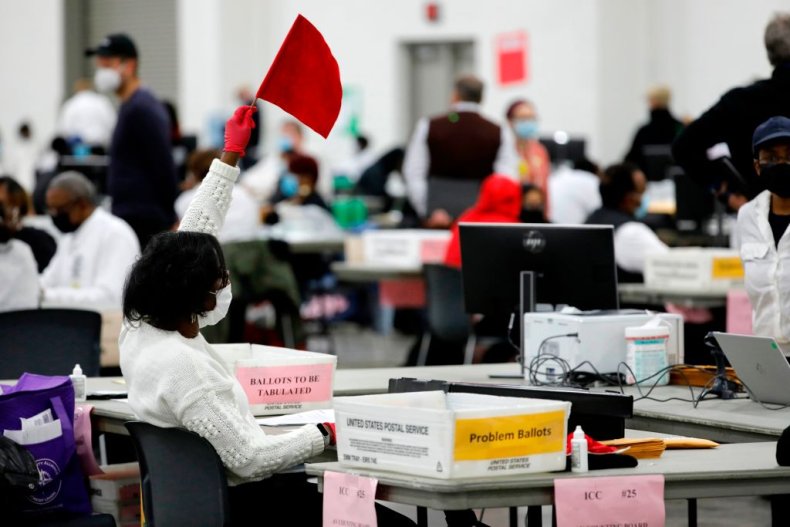 Ryan Jarvi, press secretary to Michigan's Attorney General Dana Nessel, said in a statement emailed to Newsweek that the counting had been conducted "transparently."
"Michigan's elections have been conducted transparently, with access provided for both political parties and the public, and using a robust system of checks and balances to ensure that all ballots are counted fairly and accurately. At this time our department has not been notified by the Court of Claims about this lawsuit and when we are served, we will review it and respond accordingly. Michigan will always continue to protect the rights of all voters to have their ballots counted," Jarvi said.
Newsweek reached out to the Biden and the Trump campaigns for further comment, but they did not immediately respond.
CNBC reported that a representative at the Michigan Court of Claims said they had not yet received the lawsuit, although they were aware of the campaign's statement.
As of the time of writing, Biden leads Trump in Michigan by a margin of about 0.7 percent. The Democratic candidate, who served as vice president under former President Barack Obama, has been backed by 2,638,279 votes while Trump has received 2,600,314 votes. According to the Associated Press, 99 percent of precincts have now reported.
Earlier on Wednesday, Senator Debbie Stabenow, a Michigan Democrat, told Wall Street Journal reporter Ken Thomas that she and the Biden campaign were optimistic that they would carry her state.
"They're confident and I'm confident about Michigan," Stabenow said. "I'm confident Joe Biden is going to win Michigan."
Michigan's Secretary of State Jocelyn Benson said that voting was going smoothly and she expected a clearer picture about the results later in the day on Wednesday. Benson asserted that her state was focused "on counting every single ballot."
Trump narrowly carried Michigan by a margin of 0.2 percent (less than 11,000 votes) in 2016. His victory there came after Obama won the state in 2008 and 2012, as did every Democratic presidential candidate going back to 1992.