Former President Donald Trump expressed support for proposed legislation in the Wyoming Senate that would prevent Democrats and any other non-Republican voters from casting ballots in GOP primaries.
GOP Representative Liz Cheney, a staunch Trump critic, is set to face off against Trump-endorsed Harriet Hageman in Wyoming's Republican primary later this year. State Senator Bo Biteman, a Republican, recently introduced Senate File 97—"Change in party affiliation"—to prevent Democrats or independent voters from participating in the upcoming GOP primary.
Cheney has already faced substantial backlash from Republicans in her home state because of her opposition to Trump. Last November, the state's GOP voted to stop recognizing the conservative lawmaker as a Republican, and she is expected to face an uphill battle to maintain her seat in this year's election. Biteman's proposed legislation could make it more difficult for Cheney in August's GOP primary.
In a Thursday statement on Biteman's bill, Trump said, "The Wyoming State Senate is considering SF0097, introduced by Patriot Senator Bo Biteman, to protect the integrity of Wyoming primary elections. This critically important bill ensures that the voters in each party will separately choose their nominees for the General Election, which is how it should be!
"It makes total sense that only Democrats vote in the Democrat primary and only Republicans vote in the Republican primary. This bill has my Complete and Total Endorsement and Support," Trump said.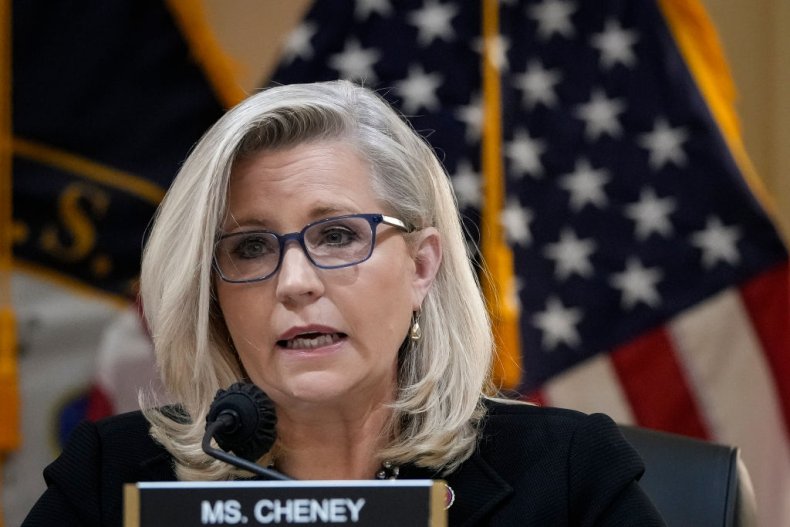 Biteman said that "crossover voting" is "not fair" and "not right," Wyoming's Sheridan Media reported this week.
"It is harming the integrity of our party nomination process," the state senator continued. "This bill will go a long way toward ending this up to now legal, but unethical behavior, and restore confidence in our party nominating process. Party switching cancels out the vote of actual party members by those who wish to game the system and influence the outcome of their competing party's nominating election."
If the legislation is enacted, voters would not be legally able to change their party affiliation within approximately three months leading up to a primary, the Casper Star Tribune reported. The bill, if successful, would take effect nearly immediately—meaning any Democrats or independents who intend to vote for Cheney in August's GOP primary could be prevented from doing so.
Notably, Biteman backed Trump's false claims that the 2020 election was "rigged" in favor of President Joe Biden. "It is unfortunate that some states who violated their own election laws and/or state constitutions, which in turn affected the national election outcome, appear to be getting away with it," the state lawmaker said in December 2020, Wyoming's Rocket Miner reported at the time.
Cheney has consistently rejected and debunked Trump's baseless allegations about the 2020 election. The congresswoman was among 10 House GOP lawmakers to vote to impeach Trump after his supporters attacked the U.S. Capitol on January 6, 2021. She now serves as vice chair of the House select committee investigating the riot, which targeted the federal legislative branch.
The Wyoming lawmaker has become one of Trump's harshest critics, along with GOP congressman Adam Kinzinger of Illinois, who also serves on the January 6 panel and voted to impeach the former president. While Cheney has chosen to seek reelection in the upcoming midterms, Kinzinger has decided not to run for another term.
Both GOP lawmakers were formally censured by the Republican National Committee earlier this month because of their opposition to Trump and their involvement with the January 6 committee's investigation. In that decision, the RNC controversially described the violent assault on the Capitol as a "legitimate political discourse."
Newsweek reached out to Biteman for comment but did not immediately receive a response.