Trump-Endorsed Ted Budd Slams Cheney, Kinzinger for 'False Moralism'
Republican North Carolina Congressman Ted Budd accused Reps. Liz Cheney and Adam Kinzinger of "false moralism" during a radio show appearance this week.
In the wake of the January 6 riot, Cheney and Kinzinger, Republicans who represent Wyoming and Illinois respectively, emerged as two of the leading anti-Trump voices within the GOP, both voting to impeach him and serving on the congressional committee investigating the riot.
They have also become lightning rods for Trump-aligned candidates' criticism, including Budd, who has received the endorsement of the former president in his Senate bid in North Carolina.
While appearing on the Lars Larson show on Wednesday, Budd was asked about Senate Minority Leader Mitch McConnell calling the January 6 riot "a violent insurrection for the purpose of trying to prevent a peaceful transfer of power after a legitimately certified election from one administration to the next."
Budd responded by attacking Cheney and Kinzinger for being "divisive."
"Liz [Cheney] and Adam Kinzinger have really been so divisive with this false moralism. They are trying to save something that didn't need to be saved. It's a false narrative," he said. "They played right into the Democrats' trap, and has made it tougher on freedom-loving Republicans, than if they had just stayed away from Pelosi's highly partisan, highly selfish trap."
The congressman faces former Governor Pat McCrory and former Rep. Mark Walker in the GOP primary, which is set to be held in May.
Whoever wins the primary will likely face North Carolina Supreme Court Chief Justice Cheri Beasley, who is favored in the Democratic primary, in the November general election. They are running to replace outgoing Senator Richard Burr in what could be one of the nation's closest Senate races later this year.
Budd won the endorsement from Trump, who praised him as "a great politician" who "more importantly, he loves the state of North Carolina."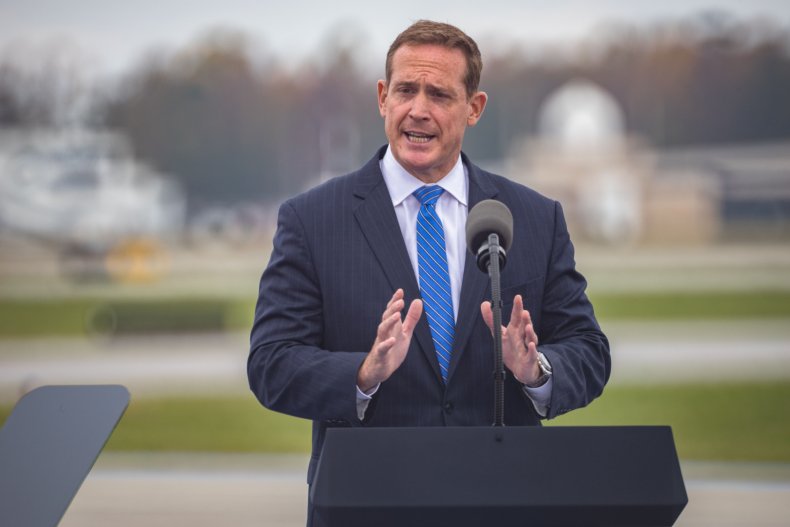 When asked about Budd's remarks, McCrory told the Raleigh News and Observer, "It's time for him to answer tough questions, as I have, and as serious candidates for U.S. Senate do."
His comments come after the pair of anti-Trump Republicans faced mounting criticism from the GOP in recent weeks. Earlier in February, the Republican National Committee censured Cheney and Kinzinger for working on the committee.
"Representatives Cheney and Kinzinger are participating in Democrat-led persecution of ordinary citizens engaged in legitimate public discourse, and they are both utilizing their past professed political affiliation to mask Democrat abuse of prosecutorial power for partisan purposes," the RNC said in a statement.
Newsweek reached out to spokespeople for Budd, Cheney, Kinzinger and McCrory for comment Saturday morning. This story will be updated with any response.