Hogan Rips GOP Attacks on Republicans Who Don't Show '100% Fealty' to Trump
Maryland Governor Larry Hogan slammed the GOP for attacking Republicans who don't show complete loyalty to former President Donald Trump on Sunday.
Hogan, a centrist Republican who leads a deeply Democratic state, has long been a rare Trump critic. His remarks come after a week of internal turmoil within the GOP, as the Republican National Committee censured two Republican Reps. Liz Cheney and Adam Kinzinger for joining the committee investigating the January 6 riot, declaring it "legitimate political discourse."
On Sunday, CNN host Jake Tapper pressed the governor about whether the more moderate wing is losing "the battle of the soul of the Republican Party."
Hogan responded by saying he believes that anti-Trump Republicans have made "progress," pointing to the former president's declining poll numbers, which shows many Republicans preferring a different nominee in 2024.
However, the governor acknowledged that he still fears his side is losing this "battle," criticizing members of his party who attacked anti-Trump Republicans.
He added, "There's a circular firing squad where we attack Republicans. The Republican Party that I want to get back to is the one that believes in freedom and truth, and not one that attacks people that don't swear 100 percent fealty to the dear leader."
Other Republicans have also condemned the RNC's decision to censure Cheney and Kinzinger. GOP Senator Lisa Murkowski of Alaska said, "What happened on January 6, 2021 was an effort to overturn a lawful election resulting in violence and destruction at the Capitol. We must not legitimize those actions which resulted in loss of life and we must learn from that horrible event so history does not repeat itself."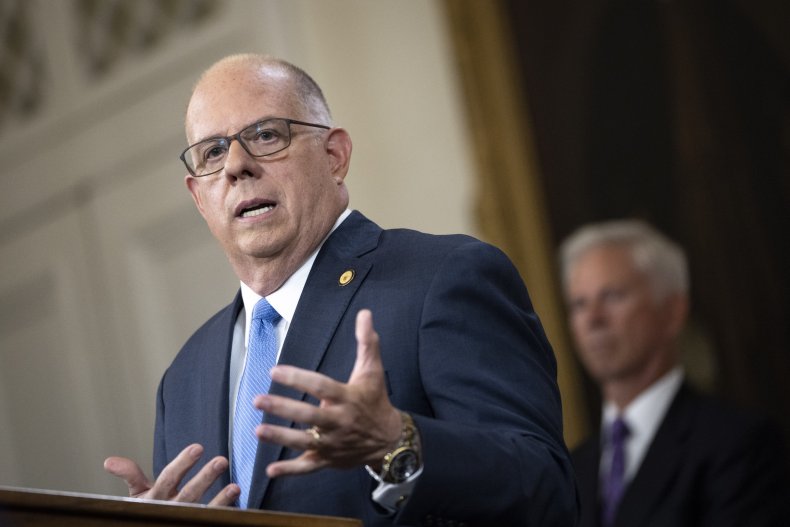 Hogan last week announced that he would not run for U.S. Senate in the midterm elections later this year, despite a push from Senate Minority Leader Mitch McConnell. His announcement means that Republicans lost their best opportunity to pick up the Senate seat in Maryland, a state that President Joe Biden easily carried in 2020.
However, he said he may run for president in 2024.
"In January of 2023, I'll have plenty of time to think about what the future holds," he said. "I think the world's going to be a different place a year from now."
He tweeted earlier this month that the censure was "a sad day for my party—and the country—when you're punished just for expressing your beliefs, standing on principle, and refusing to tell blatant lies."
Newsweek reached out to Hogan's office and the RNC for comment Sunday morning. This story will be updated with any response.