Biden Wants North Korea Meeting, South Korea Says Now's the Time to Work for It
President Joe Biden's administration has offered to meet unconditionally with North Korea, and his ally on the peninsula feels the timing today is right, Newsweek has learned from officials in Washington and Seoul.
Amid an apparent easing of tensions in the region that has emerged over the past week, South Korean President Moon Jae-in's government sees an opportunity to work with the United States to rekindle efforts for peace before he leaves office early next year.
The sudden shift in atmosphere between North Korea, officially the Democratic People's Republic of Korea (DPRK), and South Korea, officially the Republic of Korea (ROK), came about as both sides announced on July 27 that contact had been reestablished across the Demilitarized Zone that separates them, ending 14 months of silence along these cross-border communication lines.
Last year's suspension of contact was initiated by Pyongyang in response to South Korean activists sending anti-North Korean government leaflets across the border.
But cutting these ties last June was also one of many signals from North Korea at the time, along with the detonating of a joint liaison office with South Korea, that the historic yet stalled talks launched alongside Seoul and Washington in 2018 were not producing the desired results.
Now, the recent developments, which also include news that Moon had exchanged several letters with North Korean Supreme Leader Kim Jong Un since April, were seen by the rival Koreas as reflective of improving relations.
The Biden administration shares that hope.
"The United States supports inter-Korean dialogue and engagement and welcomes the announcement on the restoration of inter-Korean communications lines," a State Department spokesperson told Newsweek. "This is a positive step. Diplomacy and dialogue are essential to achieving complete denuclearization and to establishing permanent peace on the Korean Peninsula."
These remarks were also conveyed to Newsweek by a senior Biden administration official, who expanded on the U.S. strategy.
"We remain prepared to engage in diplomacy toward our objective of the complete denuclearization of the Korean peninsula," the senior Biden administration official said. "As we've said, we have reached out to the DPRK in line with our policy of openness to diplomacy."
While the U.S. has traditionally prioritized the surrender of North Korea's nuclear arsenal in addressing the intractable issue, Biden's predecessor, former President Donald Trump, set the precedent for direct, high-level diplomacy between Washington and Pyongyang. Today, Biden is seeking to re-establish at least some of these links to a Cold War-era nuclear-armed foe with which the U.S. has no official relations.
"Our offer remains to meet anywhere, anytime without preconditions," the official said. "Ultimately, we hope DPRK will respond positively to our outreach."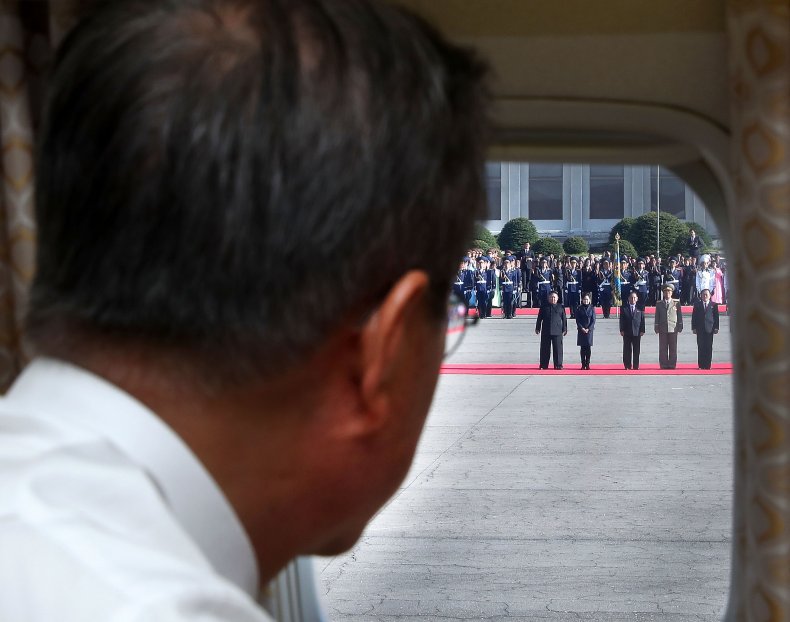 But so far there has been no clear indication that Kim is ready to reply. Earlier this year, senior North Korea officials asserted that no contact would be made unless Biden first took steps toward shifting the U.S. "hostile" policy that includes sanctions, military moves and criticism of North Korea's human rights situation.
The latest language from Pyongyang, delivered most recently on Sunday in a statement by Kim Yo Jong, vice department director of the ruling Korean Workers' Party Central Committee and sister of Kim Jong Un, revolved around an anticipated set of joint U.S.-South Korea drills scheduled for this month.
Amid speculation about the impact of the two Koreas talking again, she emphasized that the development "should not be taken as anything more than just the physical reconnection" in a commentary carried by the official Korean Central News Agency.
And in light of mutual hopes for further positive developments between the two Koreas, she remarked on the "unpleasant story" of the prospective U.S.-South Korea exercises.
Should they go ahead as planned, she argued, it would be an "undesirable prelude which seriously undermines the will of the top leaders of the north and the south wishing to see a step taken toward restoring mutual trust and which further beclouds the way ahead of the north-south relations."
"Our government and army will closely follow whether the south Korean side stages hostile war exercises in August or makes other bold decision," Kim Yo Jong said. "Hope or despair? Choice is not made by us."
South Korean Defense Ministry spokesperson Boo Seung-chan acknowledged her words during a briefing Monday, but would not comment specifically on them. He said that the South Korean military remained in discussions with the U.S. armed forces regarding their planned joint exercises and that no final determinations had been made.
U.S. Army Colonel Lee Peters, spokesperson for U.S. Forces Korea, also declined to discuss specifics regarding the anticipated upcoming drills but said that such maneuvers would only be carried out if both sides signed off on them.
"In accordance with Policy, we do not comment on planned or conducted training readiness," Lee told Newsweek. "That being said, any discussions on combined training events are a ROK-U.S. bilateral decision and reached with a mutual agreement."
The situation proves yet another challenge for Moon and his ambitions to pursue rapprochement with North Korea while maintaining his country's decades-long alliance with the U.S.
With less than a year remaining in his second and final term, Moon has already overseen a record three inter-Korean summits, all of which took place in 2018, the same year Kim Jong Un and Trump held a historic bilateral summit in Singapore.
But ever since momentum for inter-Korean engagement began to sputter out the following year in the wake of a second U.S.-North Korea summit in Vietnam that failed to produce an agreement, he's struggled to get the process back on track with an increasingly reticent partner in Pyongyang.
Yet the latest events have ignited a newfound inter-Korean enthusiasm, and the South Korean government is looking for a similar sense of excitement from the U.S. as well.
"The U.S. offered a welcome message of support for restoring inter-Korean communications channel, reaffirming that diplomacy and dialogue are essential to achieving complete denuclearization and establishing permanent peace on the Korean Peninsula," a South Korean Ministry of Unification official told Newsweek. "Washington also clearly indicated its support for inter-Korean dialogue, engagement, and cooperation, as stated at the May 21 summit between the leaders of the ROK and the U.S."
"As agreed," the official added, "the ROK will coordinate with the U.S. to ensure complete consistency in approach to North Korea."
Given the recent events, the need to align Seoul and Washington in their view toward Pyongyang is especially pronounced at present.
"Now that the inter-Korean communications channel has been restored, the government believes that it is the right time to start engagement through coordination between the ROK and the U.S," the Unification Ministry told Newsweek. "In close coordination with the U.S., we hope to actively pave a way for North Korea and the U.S. to resume dialogue."
But penetrating decades of hostility, mistrust and unpredictability requires creativity.
At the high point of his relationship with Kim, Moon discussed a number of pioneering initiatives to foster inter-Korea ties, including joint economic projects, the linking of railroads and an array of cross-border cultural and social endeavors. But all plans were ultimately paused when it became clear that the U.S. and North Korea had hit an impasse in their own attempts to strike a deal.
Although the prospects of cooperation with its southern neighbor, the world's 10th largest economy, have always been a tantalizing incentive for North Korea, a country particularly prone to crises due to its international isolation and rigid state control, an especially daunting picture has emerged at home over the past year.
Kim, who once presided over an expansion of North Korea's humble economy, now oversees what he himself has referred to as an "arduous march" as a result of pandemic-related restrictions and natural disasters wreaking havoc on crop production.
That militant phrase is most commonly associated with a dark period of death and famine that struck North Korea in the 1990s following the fall of the Soviet Union, when a failure to reorganize the economy led to a virtual collapse in food production.
There has been no indication that North Korea's woes have yet approached that severity, but international uncertainty over its COVID-19 situation has prompted calls in South Korea to consider providing aid.
Officially, North Korea has claimed zero COVID-19 cases, making it one of only five countries to do so, alongside Turkmenistan and the Asia-Pacific island nations of Nauru, Tonga and Tuvalu. But it has also not claimed to have accepted any offers of vaccine assistance, including from its friendly neighbors China and Russia.
Here, the Moon administration sees an opportunity.
In June, the South Korean president told a press conference in Austria that, should Kim agree, "we will actively promote cooperation in supplying vaccines to North Korea." Last month, his spokesperson, Park Soo-hyun, emphasized that "COVID-19 is undoubtedly the current issue of both Koreas."
This issue became even more apparent Tuesday as South Korea detected its first case of the COVID-19 Delta variant.
As this mutant strain presents a newfound threat to global populations, the priority in South Korea remains to safeguard its own citizens. But inroads toward protecting fellow Koreans north of the DMZ is seen as a potential path for bettering ties.
"Inter-Korean cooperation on COVID-19 response including vaccine sharing is a matter that can be discussed once the government ensures access of South Korean nationals to vaccination, and confirms North Korea's willingness to cooperate," the South Korean Unification Ministry official told Newsweek.
"However," the official added, "specific plans aimed at the provision of COVID-19 vaccines to North Korea has not been reviewed by the government at this point."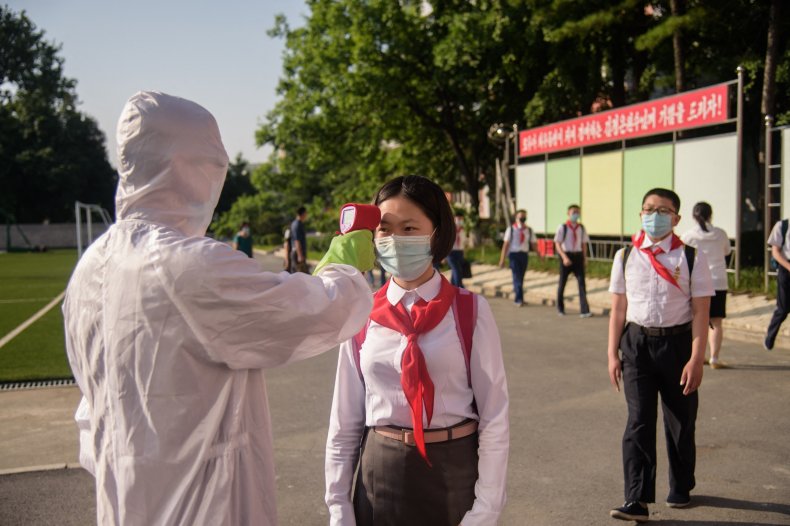 The State Department spokesperson also said that U.S. officials there did "not currently have plans to share vaccines with the DPRK."
At the same time, U.S. officials have expressed a potential willingness to provide humanitarian assistance to North Korea, which has publicly rejected such offers by a number of countries and international organizations.
"The DPRK has created significant barriers to the delivery of assistance by closing its borders and rejecting offers of international aid, while also limiting the personnel responsible for implementing and monitoring existing humanitarian projects," the State Department spokesperson said.
However, a deterioration in North Korea's domestic situation and an improvement in its relationship with South Korea may prove a turning point.
Back in Seoul, the South Korean Unification Ministry has moved to capitalize on the resumption of ties to press for a further expansion of inter-Korean communication, including an offer to establish talks with North Korea in a virtual format and the approval for civilian organizations to do humanitarian work across the border.
"The Unification Ministry resumed approving requests from civilian organizations to provide humanitarian assistance to North Korea as of July 30," spokesperson Lee Jong-joo said. "The decision was made considering the need for inter-Korean humanitarian cooperation, the consistent requests from organizations, and the urgency of public health and nutrition related aid for the vulnerable."
The step was one of many that Seoul hoped may once again spark direct talks between the two longtime adversaries who, despite technically remaining at war, both officially seek peace on the peninsula.
"The government acknowledges the restoration of communications lines between the two Koreas as a starting point for improving long severed inter-Korean relations and restoring trust between the two sides," Lee said. "The Ministry will seek to improve inter-Korean relations in a calm and orderly manner, eventually hoping it leads to the resumption of inter-Korean dialogue."