Biden Wore a Tan Suit to a Press Conference; Twitter Remembers the Time Obama Did the Same
U.S. President Joe Biden donned a tan suit while touting a strong jobs report, sending Twitter into a tizzy because of the throwback to former President Barack Obama's controversial light-colored suit from seven years ago.
Other presidents, including Ronald Reagan, George W. Bush and Bill Clinton, have worn beige on occasion without controversy, and Biden didn't appear to draw real backlash though it did become a trending topic on Twitter.
Obama's tan suit offense, which has it's own dedicated Wikipedia page, was on August 28, 2014, when the then-president was giving an update on the United States' military response to the terrorist Islamic State in Syria. It was a Thursday. Fashion critics gave his attire mixed reviews, but conservative media and other critics latched on and criticized it as too casual for the serious topic.
Then-Representative Peter King, a Republican from New York who didn't seek reelection last year, became a particularly vocal critic of Obama's light suit choice.
"There's no way any of us can excuse what the president did yesterday," King said during an appearance on on NewsMaxTV at the time. "When you have the world watching...a week, two weeks of anticipation of what the United States is gonna do. For him to walk out—I'm not trying to be trivial here—in a light suit, light tan suit, saying that first he wants to talk about what most Americans care about the revision of second quarter numbers on the economy."
Lou Dobbs, a Fox Business pundit at the time, claimed Obama's beige suit "was shocking to a lot of people" and "un-presidential."
The response to Biden's on Friday was more joking about the backlash that Obama had faced, rather than explicit criticism.
Biden was announcing that employment increased in July as the economy rebounds from the coronavirus pandemic.
Non-farm payrolls rose by 943,000 jobs last month after an increase of 938,000 in June. Biden said the month-over-month growth since he took office in January is evidence his administration's priorities are seeing results.
"What is indisputable now is this: the Biden plan is working, the Biden plan produces results and the Biden plan is moving the country forward," Biden said.
Biden also stressed the need for people to get vaccinated to stop the spread of COVID-19, which has seen a resurgence in recent weeks with the spread of a highly-contagious new variant.
"My message today is not one of celebration. It's one to remind us we got a lot of hard work left to be done both to beat the Delta variant and to continue our advance of economic recovery," he said. "This is a pandemic of the unvaccinated, so we have to get more people vaccinated."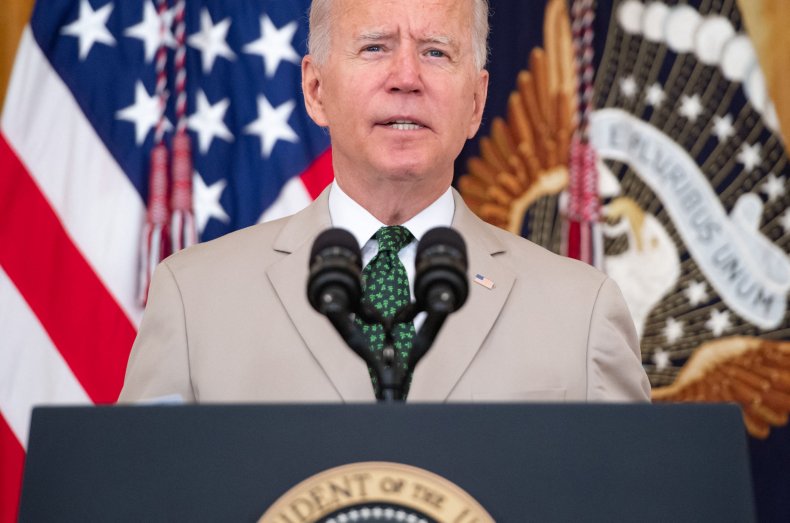 Correction 08/06/2021, 2:46 p.m. ET: This article was corrected to reflect that Lou Dobbs is no longer with the Fox Business channel.