Biden's $2,000 Stimulus Check May Not Pass Without Josh Hawley's Support
President-elect Joe Biden promised $2,000 stimulus checks after his inauguration, and having now secured control of both chambers of Congress, Democrats will soon be expected to deliver the legislation. However, they may need the support of Republican Senator Josh Hawley of Missouri—who has faced intense scrutiny following last Wednesday's deadly Capitol riot—to pass the measure.
In a final plea to Georgia voters on the eve of last Tuesday's runoff elections, Biden pledged that the $2,000 checks "will go out the door" if Democrats Jon Ossoff and Raphael Warnock succeed against Republican incumbents David Perdue and Kelly Loeffler. Both Democrats won their seats, paving the way for the payments that party leaders had campaigned on over the past few weeks.
The wins have secured Democrats a 50-50 split in the Senate, and Vice President-elect Kamala Harris will have the tie-breaking vote. Democrats need 50 votes to pass the measure if the budget reconciliation procedure is used, which allows Congress to expedite the passing of certain legislation in the Senate. But one Democratic senator—Joe Manchin of West Virginia—has already indicated that he will oppose the checks, bringing support down to 49 votes. The party will likely need to find at least one GOP senator to deliver the bill.
Three sitting Republican senators have backed the larger checks. The aforementioned Hawley was a key Republican figure in advocating for direct payments during negotiations for the second relief package. He joined Senator Bernie Sanders of Vermont, an independent, in a bipartisan effort to provide another round of $1,200 payments. He was also the lawmaker who lobbied Trump to veto any COVID relief bill that did not include checks over a month ago.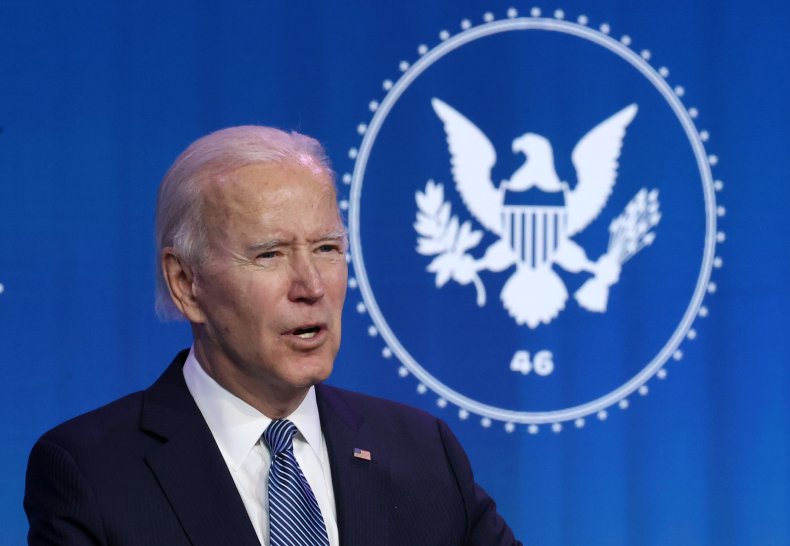 "I'm not going to vote for a bill unless it includes direct checks," Hawley told Trump during a 90-minute phone call in early December. In the aftermath of their conversation, the president demanded lawmakers fatten the payments before signing the latest relief package that only provided for "a measly" $600 in checks. Hawley then enthusiastically supported Trump's late call for $2,000 checks.
A measure has passed the House, but outgoing Senate Majority Leader Mitch McConnell repeatedly blocked a vote in the upper chamber. Senators Lindsey Graham of South Carolina and Marco Rubio of Florida both endorsed the $2,000 payments amid pressure from Trump after Hawley had convinced the president.
Incoming Senate Majority Leader Chuck Schumer will soon be the person who decides which bills reach the Senate floor. Following the Georgia runoffs, he said that pushing a vote on the checks would be "one of the first things that I want to do."
But Manchin could oppose the payments, throwing a wrench in Biden's plan. On Friday, Manchin told The Washington Post that he would "absolutely not" vote for larger checks and threw his support behind targeted relief.
"How is the money that we invest now going to help us best to get jobs back and get people employed? And I can't tell you that sending another check out is gonna do that to a person that's already got a check," he said.
Asked on Sunday whether he'd vote "yes" or "no" on $2,000 checks, Manchin told CNN's State of the Union "sending checks to people who basically already have a check and aren't going to be able to spend it... that's not who we are."
Which brings us back to Hawley. He had previously positioned himself as the GOP face behind the push for additional checks. But it is unclear whether he will cross party lines and vote against Senate Republicans, who are nearly united in opposing larger checks to secure the relief amid the worsening pandemic.
Currently, Hawley is facing mounting pressure to resign or be censured, along with Texas Senator Ted Cruz, for attempting to overturn the presidential election in favor of Trump. Their objection to Congress certifying the results for Biden failed after a mob incited by the president stormed the U.S. Capitol on Wednesday, leaving five people dead.
Now the goodwill Hawley secured among Democrats in his pursuit of stimulus checks has been tarnished by his effort to reverse Trump's election defeat. As he prepared to contest the results last Wednesday, the Missouri senator was photographed greeting pro-Trump protesters and held a fist to a crowd who would later violently attack the Capitol building. "An image that will live in infamy," tweeted CNN analyst Susan Glasser of that moment.
Meanwhile, Biden on Friday renewed his call for $2,000 checks post-Senate runoffs. "We need more direct relief flowing to families and small businesses, including finishing the job and getting people $2,000 in relief," he said. "Six hundred dollars is simply not enough when you have to choose between paying rent or putting food on the table and keeping the lights on."
Newsweek reached out to the offices of Hawley, Graham, Rubio and Schumer for comment. This story will be updated with any response.