Biden's Centrist Brand Dealt New Blow by His Own Party in Pennsylvania
A progressive Democrat with an unconventional political style and ties to Bernie Sanders may now be the party's best chance of retaining control of the Senate in November.
Pennsylvania Lieutenant Governor John Fetterman easily won the state's Democratic Senate primary Tuesday, handing progressives a high-profile victory in a contest that underscored the left's frustrations with President Joe Biden's brand of centrist, bipartisan politics.
The former small-town mayor and Sanders loyalist known for dressing in sweatshirts and gym shorts won by a wide margin ahead of second-place finisher Representative Conor Lamb, a moderate Democrat and former federal prosecutor who represents a right-leaning House district.
Fetterman will take on the eventual Republican primary winner in a general election matchup to replace retiring GOP Senator Pat Toomey. The open race is widely seen as the Democrats' best pick-up opportunity this fall, when the party will have to defend seats held by several vulnerable incumbents in order to avoid losing control of the upper chamber.
In selecting Fetterman, Democratic primary voters in Pennsylvania rejected the argument made by Lamb and party leaders in Washington that centrist candidates have a better shot of holding onto states and districts that Biden carried in 2020. The results carry added significance coming in Pennsylvania, the state where Biden was born and spent his early childhood, and where he has maintained close ties through his political career.
"We've seen Biden really hesitate and flounder" on critical issues for liberal voters, said Amanda McIllmurray, the political director for Reclaim Philadelphia, a progressive group. Fetterman's win proved "the way to get people excited and out to the polls is to talk about the issues that really matter to them, like housing, student loan forgiveness, and taking climate change seriously."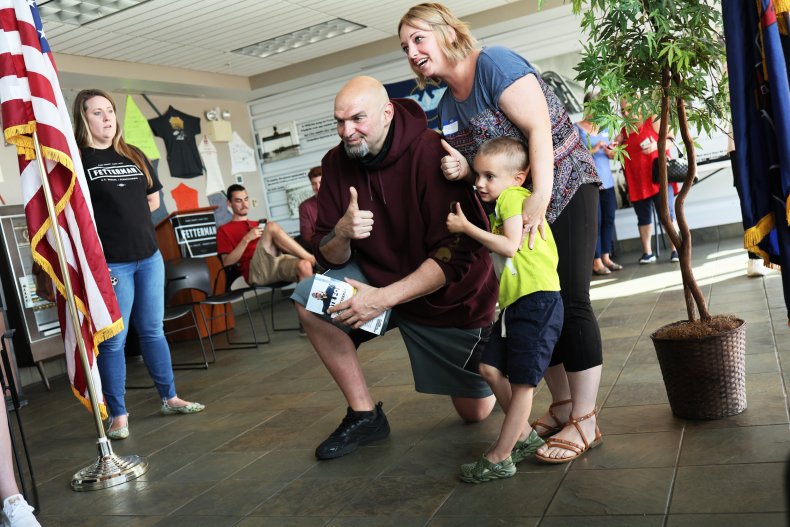 Fetterman, who is recovering from a stroke he suffered on Friday in the final days of the primary campaign, thanked his supporters on Twitter after he was declared the winner Tuesday night. "I'm *so* deeply honored," Fetterman wrote.
His victory will test the theory that a progressive candidate can win a statewide race in a purple state like Pennsylvania — an especially challenging task in a midterm election that will favor the party out of power: Republicans. While Fetterman's win was a promising sign for other progressives around the country, incumbent Senate Democrats in tough reelection fights in other states have tacked to the center on issues like immigration in an effort to distance themselves from Biden and appeal to more moderate voters and independents.
Fetterman has said as a senator he would "embrace" the president's agenda, but he has also said Senate Democrats under Biden have been unrealistic in hoping they could win bipartisan support for key legislation.
The Democratic primary race was called quickly, but the Republican contest was too close to call in the hour after polls closed across the state. Celebrity TV host Mehmet Oz led the GOP field at the start of the primary race, but in recent weeks his lead in the polls shrank in the face of a strong challenge from former hedge fund manager Dave McCormick and a surprising late surge by the political commentator Kathy Barnette. Oz benefited from an endorsement by former President Donald Trump, who remains popular with the state's Republican base.
Biden beat Trump by just 1.2 percentage points in Pennsylvania in the 2020 election, and Trump narrowly carried the state in 2016.
Pennsylvania also has a history of electing centrist U.S. senators from both parties, including the late Arlen Specter, a longtime Republican who switched parties and became a Democrat toward the end of his career. The state's current Democratic Senator, Bob Casey, fits the mold of a more traditional, middle-of-the road Democrat. And the outgoing Toomey was one of the few Republicans who voted to convict Trump after the House impeached him for his role in the Jan. 6 attack on the U.S. Capitol last year.
Still, there is confidence in Democratic circles in Pennsylvania that Fetterman can mount a competitive general election campaign. In interviews several Democrats pointed to his appeal to white working class voters in rural, conservative parts of the state, as well as to his fundraising prowess with small donors.
Once the general election gets underway, wealthy Democratic donors will get on board to keep the seat out of Republicans' hands, predicted Aubrey Montgomery, the president of Rittenhouse Political Partners, one of the state's leading Democratic fundraising firms.
"People aren't going to write off Pennsylvania because they don't like John" or think he is too far to the left, Montgomery said. "They'll spend whatever it takes to flip the seat."
Republicans said Fetterman was too progressive to win in Pennsylvania, and argued he would be tied to an unpopular president with low poll numbers in the state. "In a state where Biden's approval ratings are in the high 30s or low 40s, [Fetterman] has to run 10, 11 points ahead of the president's approval rating. That's hard," said Christopher Nicholas, a veteran Republican political consultant in Pennsylvania.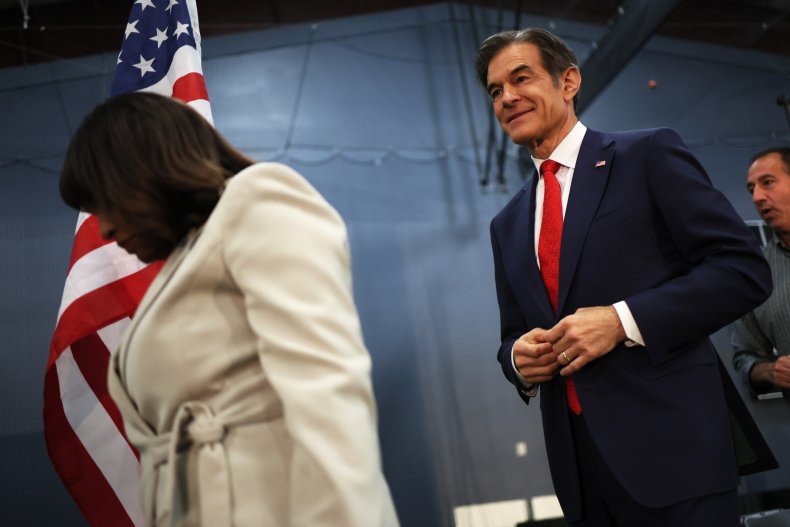 The general election will likely turn on which party does a better job of painting the other side as too extreme for the state. Republicans will have difficulty pigeon-holing Fetterman, said state Democratic state Sen. Sharif Street.
"Fetterman's a guy who's hard to define. He's hard to put in a box," said Street, the vice-chair of the Pennsylvania Democratic Party. He added, "In a general election, the contrast in our values and Republican values is so dramatic that it won't be hard to energize people."
The Senate primary victory was the latest step in his rise through Pennsylvania politics for Fetterman, who grew up in a middle-class family and attended the Harvard Kennedy School before entering politics.
Fetterman cast himself as a champion of the working class after winning the 2006 mayoral race in Braddock, a struggling, majority-Black town near Pittsburgh. Fetterman mounted a losing bid for the state's Democratic Senate nomination in 2016 as an outspoken Sanders supporter, then won a statewide race for lieutenant governor in 2018 after the Vermont senator endorsed his candidacy.
This year, Fetterman ran on his liberal record on criminal justice reform as lieutenant governor, while also highlighting his progressive positions on marijuana legalization, abortion rights and other issues.
Fetterman faced difficulties along the way. He was heavily criticized by Lamb and state
Representative Malcolm Kenyatta, another progressive seeking the nomination, for pulling a shotgun on a Black man in 2013 while serving as the mayor of Braddock. Fetterman defended his actions, saying he detained the man because he believed he was involved in a shooting incident.
The stroke the 52-year-old Fetterman suffered over the weekend also injected uncertainty into the final days of the campaign. But the health scare did not impact the outcome of a race. Fetterman led his opponents in polls by double digits from the start of the race, and extended his lead in the run-up to Tuesday's primary election.