Biden's Choice of Kamala Harris Is Historic—And Necessary | Opinion
Remember this moment.
For Black women and women of color across the country, Joe Biden's selection of Senator Kamala Harris as his running mate marks a watershed moment—one that rightly honors the integral role Black women have played in American politics for generations.
For our nation, this moment broadens the lens through which we view leadership in this country. Now, the view finally captures the multiracial democracy that women of color have long fought to achieve. Harris' career is part of a great legacy that includes the trailblazers Harriet Tubman, Grace Lee Boggs, Ida B. Wells, Wilma Mankiller, Dolores Huerta, Rosa Parks and Shirley Chisholm.
As the first Black and first Asian American woman to represent California in the U.S. Senate, Harris is also a trailblazer. Since taking office, she has been early and consistent in championing policy that addresses racial, economic and gender justice. She showed up with protesters in the wake of George Floyd's murder and continues to demand justice for Breonna Taylor. She ushered in anti-lynching legislation that was long overdue.
She continues to advocate for the safety and support of essential workers through the Masks for All Act with Senator Bernie Sanders, and she introduced a bill with him that would give most Americans $2,000 a month and student loan forgiveness during the COVID-19 pandemic. She also co-sponsored the Justice in Policing Act, and she advocated for increased funding for research for uterine fibroids, which disproportionately impact Black women, as well as relief for renters. Check her receipts, they're all there.
During her presidential campaign, Harris shone the brightest when she leaned deeply into her expertise and experience as a woman of color who serves as a U.S. senator from our nation's most populous state. She was most impactful when she told her story and truth as a woman of color. It was in these moments that she represented the base as no other.
She is showing up in the way that we need her to show up right now, and that's what women of color are going to be looking at and expecting from the first Black woman vice president of the United States.
First, we must get her there.
A recent national survey by She the People revealed that more than 70 percent of women of color believe a fellow woman of color on the ticket is crucial to high voter turnout.
And what a turnout it can be. Black and brown women—Harris is both Black and Indian American—are a massive electoral force. There are more than 38 million women of color eligible to vote in this election. And according to a recent report by AAPI Civic Engagement Fund, that includes one in four voters in key swing states.
The report also found that high turnout is fueled by women of color who encourage friends and family to vote: 84 percent of Black women, 76 percent of Asian American and Pacific Islander women and 70 percent of Latinas catalyze turnout in their circles. Until now, however, there was a lack of excitement among these voters in the 2020 race.
Harris is the unifying link that our country needs to navigate this historic moment. She injects enthusiasm into the ticket, energizing key groups of voters who are crucial to Biden's victory: Black people, young people, Latinx people, white women and college-educated women.
But as historic as this moment is, it is one seat and one step in a much larger fight for representation. A multicultural democracy means Black, Latina, Indigenous and Asian American and Pacific Islander women governing at all levels. It means placing the same significance on state and local elections as we do on national races across America.
Though Black women and women of color are running for Congress and down-ballot races in historic numbers, there's still a long way to go before we reach proportionate representation. Key takeaways from our focus groups and survey of women of color state leaders revealed that we want Biden to commit to appointing women of color to 20 percent of White House Cabinet positions, as well as expanding the Supreme Court and filling the new seats with women of color.
We can change the political landscape at every level in this election, but it takes a leader like Harris to inspire the turnout to get us there.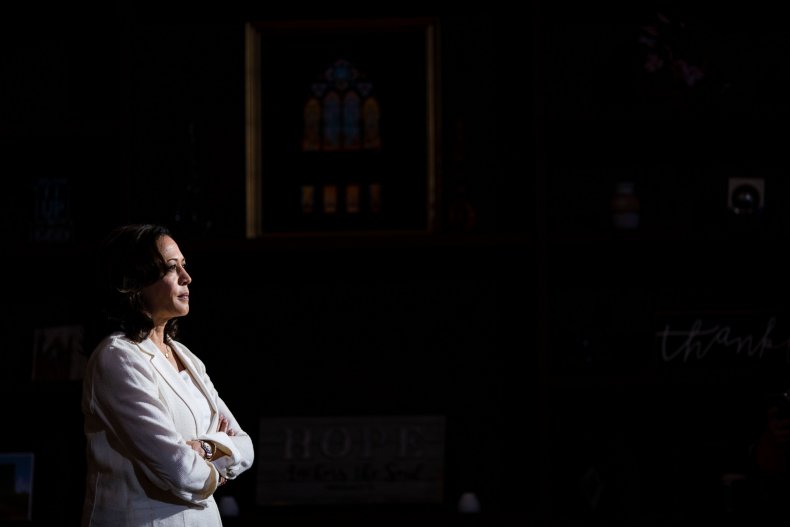 We know the stakes, and we also know the challenges—racist and sexist attacks on women of color candidates have been swift and predictable as Biden whittled down his VP shortlist. We cannot let this old and tired tactic deter us from meeting this moment in our country and focusing on the issues and the qualifications of these women.
During a livestream conversation for the Black Girls Lead 2020 conference, Harris, acknowledging recent racist and sexist attacks launched against her, said: "There will be a resistance to your ambition. There will be people who say to you, 'You are out of your lane.' They are burdened by only having the capacity to see what has always been instead of what can be."
Now, we see what can be.
What will be is up to us.
Aimee Allison is the founder and president of She the People, a national network of women of color in politics.
The views expressed in this article are the author's own.