President-elect Joe Biden's favorability is already 6 percent higher than President Donald Trump's record-high during his presidency.
Polling by Gallup released Monday shows that Biden's favorability now stands at 55 percent in the wake of his victory over Trump in the presidential election. Trump's favorability currently stands at just 42 percent, and the president's highest favorability during his nearly four years in office was 49 percent—or 6 percent lower than where the Democrat president-elect's favorability currently sits. Trump's favorability peaked in April of this year.
Comparatively, Biden's favorability is also double-digits above where Trump's stood after he won the 2016 presidential election. Gallup's polling following Trump's victory over former Democratic presidential candidate Hillary Clinton showed that just 42 percent of Americans viewed the Republican favorably—13 percent less than Biden's current favorability.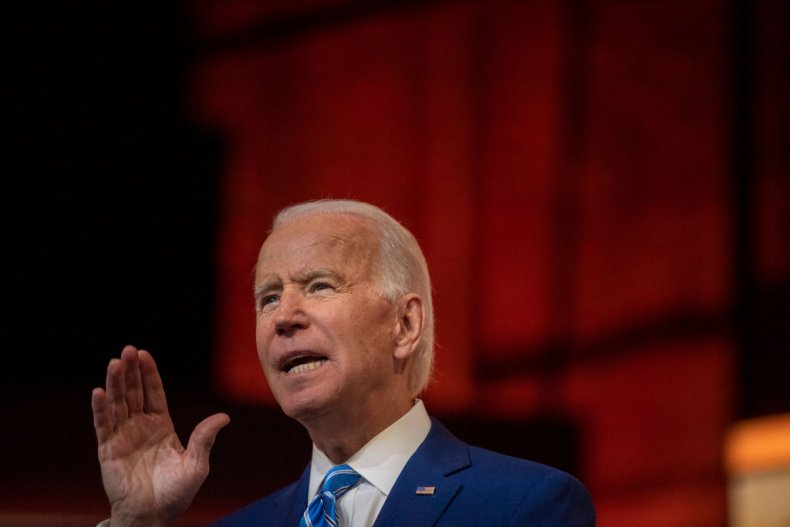 Separate polling by conservative firm Rasmussen Reports shows Trump with a somewhat higher favorability rating of 49 percent. Rasmussen also showed Trump reaching a record-high of 53 percent favorability in September 2019 as well as in September of this year.
Throughout Trump's presidency, his approval rating has remained notably low, according to Gallup's polling. The president's favorability has regularly hovered between 40 and 45 percent. Although former President Barack Obama's approval rating dipped below 40 percent at different points of his eight years in office, he entered the White House at 68 percent approval and departed with 59 percent.
Meanwhile, Trump continues to refuse to concede the election to Biden. The president and his allies have repeatedly pushed unfounded claims of widespread voter fraud, but they have not provided evidence to back these allegations. In an interview with Fox News on Sunday, Trump even bizarrely suggested that the FBI and Justice Department, which are led by his own appointees, could be "involved" with the alleged effort to "rig" the election against him.
The president's baseless claims have largely failed in court. A judge appointed by Trump to an appeals court in Pennsylvania rejected the president's efforts to throw out the election results in the eastern state in a Friday ruling. "Charges require specific allegations and then proof. We have neither here," Judge Stephanos Bibas, the Trump appointee, said in the ruling.
A growing number of Republican lawmakers have pushed back against the president's claims, although most have remained silent. GOP Senator Roy Blunt of Missouri admitted in an interview with CNN on Sunday that he did not believe the election was "rigged." He said that the claims of fraud and irregularities are not substantial enough to overturn the results in key battleground states where the president has pressed forward with legal challenges.