Biden's Foreign Policy Unpredictability is Making Ukraine Crisis Worse | Opinion
Since the Berlin Wall fell in 1989, America and her allies in Europe have pursued a policy of expanding NATO and the EU ever further eastward. This has been a mistake.
For one thing, Russia has objected to this encroachment almost to the point of paranoia, regarding it as a threat to its own security interests. This is particularly true in the former Soviet states of Ukraine and Georgia.
With about 130,000 Russian troops currently gathered near Ukraine's border, the state of affairs in that part of the world could hardly be any more fraught. Even in the face of this crisis, however, U.S. secretary of state Antony Blinken has hinted that he is prepared to countenance the idea of Ukraine joining NATO.
The further deployment of 3,000 American troops to Europe this week does nothing to rectify the geopolitical mistakes of the last three decades.
While diplomatic talks continue, it would surely be sensible for Blinken to make clear that this plan has been taken off the table for the time being, putting the ball back in Putin's court. Western allies can still help Ukraine and provide it with whatever support it requires in the future, but at least they would do so knowing that a serious attempt had been made to defuse this latest high-stakes situation. But will Blinken see sense?
The fact is that America's role as the leader of the free world is very much in doubt. Last August, during President Joe Biden's botched exit from Afghanistan, I argued in Newsweek that this unforced unilateral withdrawal would have consequences that affect everybody. For those left in the Taliban-led country, a humanitarian crisis would follow. For the West, a terror threat would be renewed.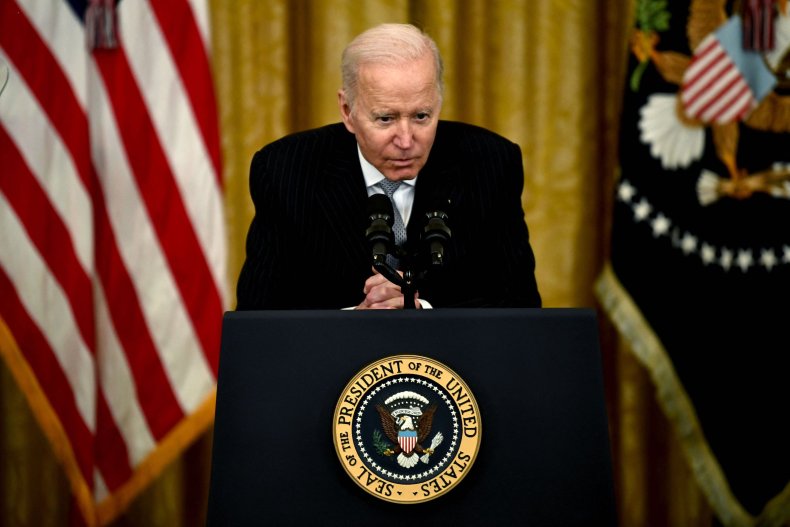 Not only did Biden's decision to quit Afghanistan without properly consulting other Western nations leave his country a much diminished presence on the world stage, it had the secondary effect of draining trust from his administration. The Western governments which supplied troops who fought and died in Afghanistan alongside American soldiers over 20 years were, seemingly, forgotten. This was disgraceful.
The British prime minister, Boris Johnson, held talks with President Volodymyr Zelenskyy in Kiev this week. Afterwards, he warned Russia that it would face sanctions the moment the "first Russian toecap" stepped onto Ukrainian soil. Even though Johnson's intervention is unlikely to break the deadlock, it seems pretty clear that the unpredictability of President Biden's foreign policy made the prime minister's job harder.
The question all of this quite naturally prompts is whether anybody can really trust President Biden to work with Western allies. His "America is back" catchphrase, coined after four years of Donald Trump's non-interventionist "America first" foreign policy, sounds more and more hollow to my ears. Sadly, America is not back. It is isolated and, remarkably, it has become something of a joke on the world stage. For Western democracies, this matters when your principal opponents include Vladimir Putin and President Xi Jinping.
With this in mind, the midterm elections in November represent a massive opportunity for the Republican Party. It's true that foreign policy does not usually feature very highly in the minds of American voters, especially with so many pressing domestic issues to address, but Biden's reckless actions may have changed things for the Democrats. It seems eminently possible that the party of the commander in chief will be punished at the ballot box as a direct result of how low he has brought his country's international standing, especially if tensions in the Ukraine spill over into military action.
After all, who can forget the tactless comment Biden made last month, in which he suggested that a "minor incursion" by Russia would go unpunished? This sort of gaffe is a gift begging to be exploited by the Republicans. I have no doubt they will use it to maximum advantage.
Like it or not, the world needs America's protection. But America also needs the world's trust and support. For as long as Biden is at the helm, those two values look like being in short supply in an international context. Biden must take personal responsibility for that.
Nigel Farage is senior editor-at-large of Newsweek's "The Debate" platform.
The views expressed in this article are the writer's own.