Donald Trump's defeat should be a moment to savor for Barack Obama. In many ways it is. Trump was Obama's political nemesis, who goaded and undermined him in office with the racist birther conspiracy and then defeated his successor, Hillary Clinton, in a vicious campaign waged in part as a revolt against the Obama years.
Trump ultimately was defeated by Obama's vice president, Joe Biden, a closer confidant than Clinton and an even more loyal defender of his old boss' record.
But the manner of Trump's departure from the White House, in a bitterly contested election in which the 45th president expanded his base after four tumultuous years tainted by scandal, impeachment and calamity, suggested Obama's ambitions suffered a setback, too.
Obama, who campaigned fiercely for Biden as he did in 2016 for Clinton, his former secretary of state, viewed his own presidency as a turning point for the United States, rather like Ronald Reagan's three decades earlier or John F. Kennedy's 20 years before that.
"I don't want to present myself as some sort of singular figure. I think part of what's different are the times," Obama told the Reno Nevada Gazette Journal, in 2008. "I do think that, for example, the 1980 election was different. I think Ronald Reagan changed the trajectory of America in a way that, you know, Richard Nixon did not and in a way that Bill Clinton did not."
"He [Reagan] put us on a fundamentally different path because the country was ready for it."
Eight years later, at the Democratic convention, Obama handed the baton to Hillary Clinton in a speech that the Kansas City Star and other outlets described as effectively a pitch for a third term.
"The Democratic Party is in good hands," Obama said. "My time in this office hasn't fixed everything. For all that we've done, there's still much I want to do."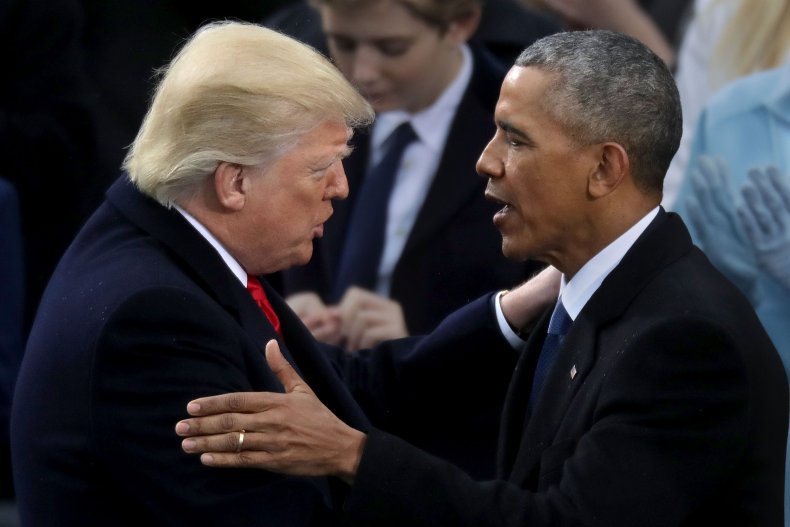 On a different path
Trump's victory over Clinton a few months later torpedoed the former first lady's political career, but it did nothing to shake Obama's conviction that he, like Reagan, had left the country on a fundamentally different path. Trump's narrow win in the Electoral College despite losing the popular vote, was an aberration.
"I am confident in this vision because I'm confident that if I had run again and articulated it, I think I could've mobilized a majority of the American people to rally behind it," Obama told his former aide, David Axelrod, on a CNN podcast.
The result of the 2020 election raises questions about this view. Trump, widely condemned for his handling of a pandemic that has killed more than 230,000 Americans and plunged the economy into a deep recession, has picked up more than 70 million votes, eclipsing the record Obama set when he won his first term in 2008.
Biden still is on track to win the popular vote with a record-breaking tally approaching 75 million, but for an incumbent running after a chaotic first term against extremely hostile media coverage, Trump demonstrated enormous popular support.
If nothing else, the lapse of four years suggests that too much has changed for Biden to preserve the Obama legacy.
"Biden isn't coming directly after the Obama presidency. That opportunity has passed and that candidate's Hillary Clinton," Don Zinman, a political science professor at Grand Valley State University, told Newsweek. "The heir apparent was Hillary Clinton. She didn't get it done. Now, so much has happened between the Obama presidency and what would be a Biden presidency."
In a Democratic primary field packed with progressives who were impatient with Obama's gradual approach to change, Biden was a staunch defender of his old boss' record from healthcare reform, climate change and for a while even immigration policy.
Biden needs to be careful
Barbara Perry, director of presidential studies at the University of Virginia's Miller Center, warned that Biden could lose popularity among young voters by working too hard to preserve the Obama legacy.
"If he ties himself too closely to Obama, the AOC [Representative Alexandria Ocasio-Cortez] wing of the party and Bernie [Sanders] wing of the party has moved beyond that," Perry said.
Obama's campaign speeches for Biden have carefully avoided the ideological divides within the Democratic Party.
In the week before the election, Obama made a pitch for Biden in Miami, telling rally-goers, "You'll be able to go about your lives, knowing that the president is not going to suggest injecting bleach, or retweet conspiracy theories about secret cabals running the world. Or claiming, or retweeting the claim, the Navy SEALS didn't actually kill bin Laden."
But the return-to-normal narrative, which energized voters who loathe Trump, won't keep the Biden coalition intact.
"The notion of going back to normal, that's very reassuring for a lot of people, but there's a lot of people for whom the back to normal wasn't so great," said Julian Zelizer, a history professor at Princeton University.
"The pre-Trump normal wasn't all that great. That's why Biden adopted this 'Build Back Better' slogan about the economy that's indicative of something different than just back to normal or back to Obama policies again."
Still room for Obama?
Biden's challenges go beyond managing the disparate coalition that brought him to power. Trump promises to be a powerful force in American politics, whether on the sidelines or in office. Even before his defeat, aides speculated that Trump would seek a second term in 2024, a run that surely would draw Obama back into the fray.
"I don't ever see Trump and Obama ever reconciling," Zinman said. "As for Trump running again, that seems like fantasy of his fans and some in the news media. There are plenty of other Republicans who want to be president, too, and they will not stand down for Trump."
Trump attacked his predecessor long before he formally began his political career. Even before he earned the Republican Party's nomination in 2016, Trump pushed the birtherism conspiracy theory that Obama was not a natural-born citizen, suggesting the former president was not constitutionally eligible to run for president. Obama was born in Honolulu on August 4, 1961.
Trump has cast doubts on Obama's place of birth since 2011. During that year's White House Correspondents Dinner, which Trump attended as a businessman, Obama called out Trump for falsely claiming he was born in Kenya.
"No one is happier, no one is prouder to put this birth certificate matter to rest than the Donald," Obama said in his speech. "And that's because he can finally get back to focusing on the issues that matter—like, did we fake the moon landing? What really happened in Roswell? And where are Biggie and Tupac?"
When Trump successfully ran for president in 2016, he tried to revive the conspiracy theory again and made it a campaign issue. Clinton fired back at Trump for leading "the birther movement to delegitimize our first Black president."
Since taking the White House four years ago, Trump has tried to undo his predecessor's political legacy by ending multiple Obama-era policies, including repealing Obamacare, scrapping the DACA program, withdrawing the U.S. from the Iran deal and repealing federal legislation for transgendered students.
Obama campaigned ferociously against Trump in 2016 and dished out his share of personal insults. And then there's the "hoax," which is what Trump has referred to charges of Russian election meddling from the start and that he claims was an Obama administration attack on him.
Trump and Republicans launched an election-year attack on the foundation of the Russia investigation, including declassifying intelligence information to try to place senior Obama administration officials under scrutiny for routine actions, according to a Global News report. Trump and his allies pushed to reframe the investigation as a "deep state" plot to sabotage his administration.
But in May, Attorney General William P. Barr dismissed Trump's attempts to rebrand the investigation as a criminal plot engineered by Obama, saying he expected no charges against Obama or Biden as a result of how the administration handled the investigation into Russian election interference.
"As long as I'm attorney general, the criminal justice system will not be used for partisan political ends," Barr said, according to the New York Times.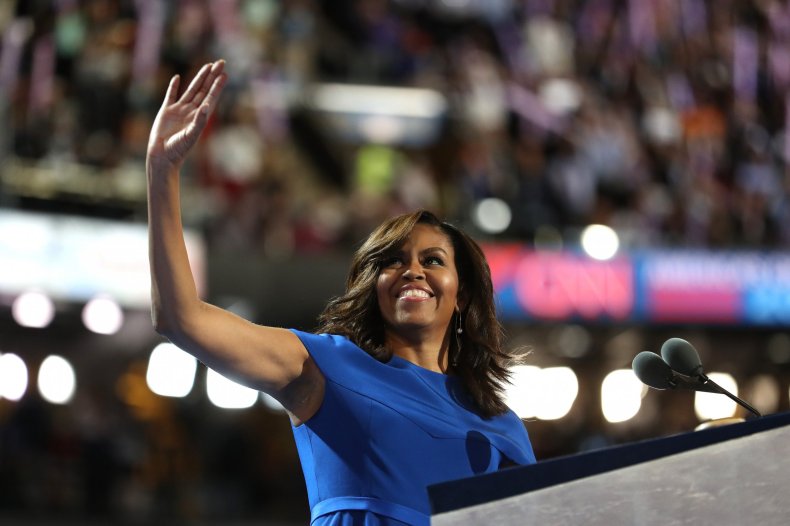 Animosity not likely to end
Perry questions if Biden's victory will end the animosity between Trump and Obama.
"Michelle Obama said at the convention four years ago how she and her family felt so attacked by Trump—pre-presidency, pre-candidacy, particularly with the birtherism business," Perry said.
In the former first lady's now-famous "when they go low, we go high" 2016 Democratic National Convention speech, she criticized Trump for attacking her husband with "hateful language" and acting "like a bully."
"This is what Barack and I think about every day as we try to guide and protect our girls through the challenges of this unusual life in the spotlight," she said. "How we urge them to ignore those who question their father's citizenship or faith."
"It's hard to imagine that [Trump] will suddenly become civil and suddenly become gracious in the tendency of our country to try and bind up the nation's wounds," Perry said.
Trump likely will, continue, Perry said, to use Obama, and add Kamala Harris, to the divisive rhetoric that appeals to his base, which he will try to augment for another presidential run.
"Trump built his political brand as the lead birther," she said. "This political rivalry will not end as poignantly as Adams and Jefferson's did—with respectful friendship and philosophical missives between them as they mellowed, until they both died on the 50th anniversary of Independence Day."
Zelizer added that he expects the tension between Obama and Trump to continue.
"Trump is likely to remain a public presence, especially if he considers running again in 2024. He is still consumed with President Obama and will surely resent the role he played in the final weeks of the election. He has defined much of his political career in opposition to Obama and this won't stop. Obama's frustration with Trump is not just about politics. He believes that the president constitutes a threat to the democratic fabric of the nation. This won't end. As long as Trump remains part of the public debate, Obama will always feel the urgency to say something as an effort to push back."