Big GOP Donors Seek to Funnel Money to Anti-Trump Republicans to Prise Party from His Grip
Republicans are looking to inject large donations into the campaigns of candidates and politicians who have stood against Donald Trump as they seek to pry the party from his grip amid an escalating GOP civil war.
Representative Liz Cheney of Wyoming held a fundraising call with roughly 50 Republican donors on February 5 to discuss her 2022 re-election campaign after she joined House Democrats in voting to impeach Trump for inciting the Capitol riot.
Michael Epstein, a top Maryland GOP donor, told The Guardian that many donors on the call are expected to give the maximum amount of $5,800 to Cheney's campaign to quash Trump's effort to oust her. "We want to show a really big cycle for her to scare off competition," he said. "We want people who make judgments based on what's right."
Trump's loyal supporters and congressional allies have vowed to retaliate against congressional Republicans who supported Democratic efforts to impeach him for a second time, as well as those who stand against his political MAGA movement. In a fiery statement attacking Senate Minority Leader Mitch McConnell on Tuesday, Trump said "I will back primary rivals who espouse Making America Great Again and our policy of America First."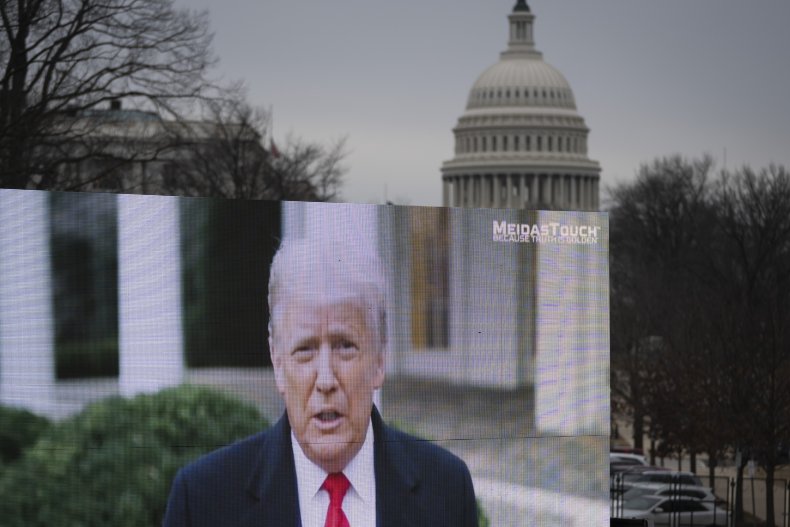 The GOP has devolved into a civil war between the Trump wing and the establishment wing impatient to end his influence on the party.
Despite his election loss to President Joe Biden, recent polling shows that the ex-president has managed to hold on to his base of supporters. According to the latest USA Today/Suffolk poll, 46 percent of Trump voters say they would leave the GOP to join the former president's new movement if he creates one, while just 27 percent would remain.
Nikki Haley, the UN ambassador under the Trump administration, is planning to hold virtual fundraisers in early March for her Pac, called Stand for America, as she considers a possible 2024 presidential run.
According to the Guardian, dozens of big Republican donors are interested in Haley because she harshly criticized the former president during his Senate impeachment trial. Haley's Pac is also expected to back Cheney's campaign and other Republicans who have publicly stood against Trump.
The number of donors seeking to back anti-Trump campaigns shows the growing movement of Republicans desperate to hold onto the conservative base and fend off attacks from within by the MAGA crowd.
Trump has left the White House with virtually no public platform, but his grip on the Republican Party is still evident in allies such as Matt Gaetz and Lauren Boebert, as well as the latest group of Senate candidates, including Josh Mandel.
"I'm all in to advance the America First Trump Agenda and to oust [Representative] Anthony Gonzalez!" said Mandel after announcing his bid to replace Ohio Senator Rob Portman. "In Washington, I will pulverize the Uniparty—that cabal of Democrats and Republicans who sound the same and stand for nothing,"
McConnell has acknowledged that he could be on a collision course with the ex-president on his path to regain a majority in the Senate. "My goal is, in every way possible, to have nominees representing the Republican Party who can win in November," he told Politico last Saturday. "Some of them may be people the former president likes. Some of them may not be. The only thing I care about is electability."
Newsweek reached out to Trump representatives for comment.