Big Houses in the U.S. Are Back (And There's a Growing Housing Bubble)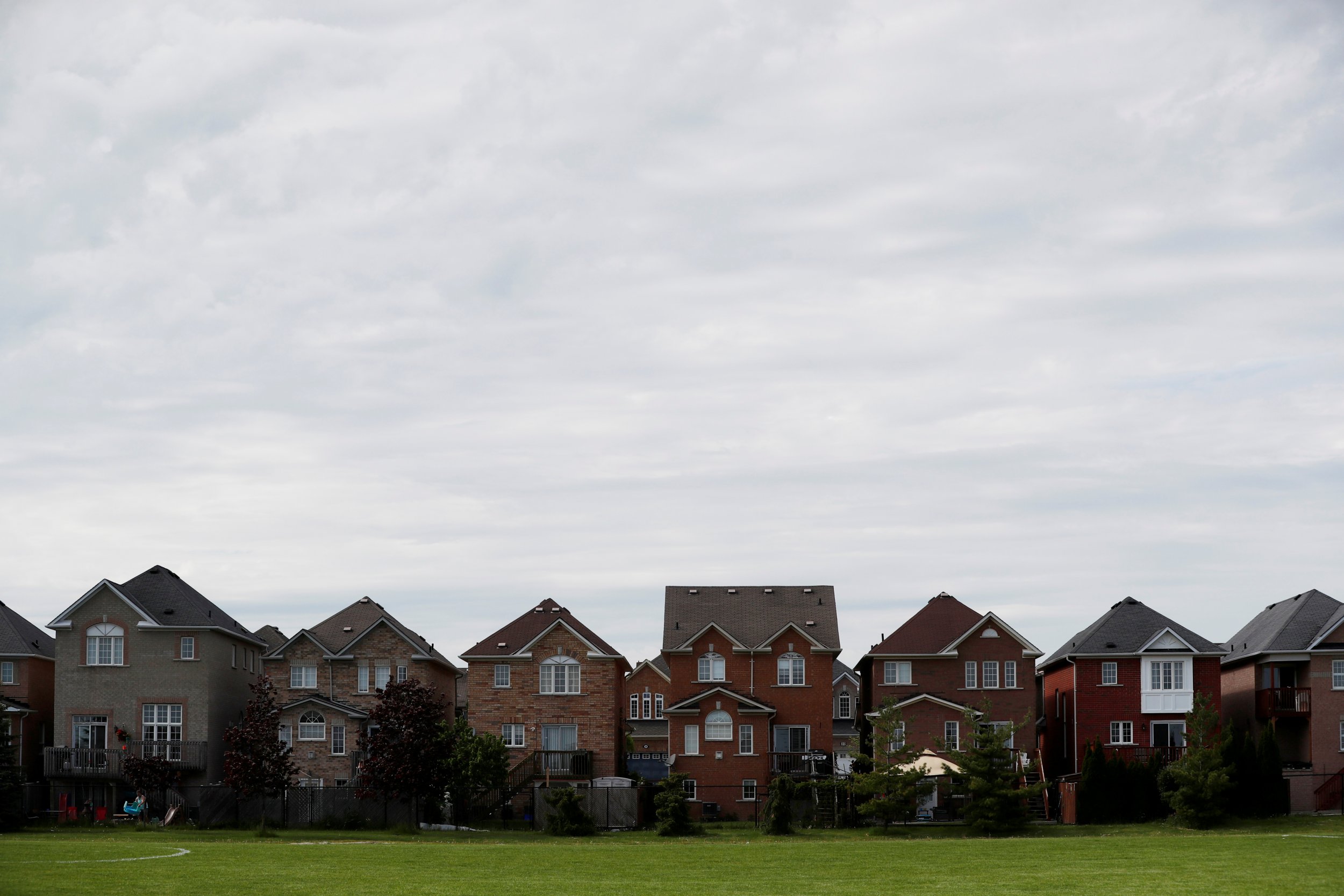 McMansions are back: The huge American homes that drove the sub-prime mortgage crisis and 2007-2008 financial crash are back and behind another housing bubble.
"Housing inflation is back, big time," according to Chris Rupkey, managing director chief financial economist at MUFG Union Bank in a note to investors last week.
"Home price appreciation," he added, "is certainly as rapid as it was during the housing bubble years and just as worrisome."
It's been a decade-long hiatus, but the price of McMansions is nearly what it was before the crash, and has grown rapidly this year.
The defining feature of a McMansion is that it is bigger than 3,000 square feet and characterized by large foyers with chandeliers that give the impression of wealth, but are made with cheap materials. They sprawl over large lots in countless American suburbs: A quarter of homes built in the U.S. since the 1980s fit this category.
On the eve of the financial crisis, super-sized McMansions were the norm, reaching an average size of 7,000 square feet. The homes became symbolic of the overheated U.S. housing market that led to the Great Recession and could lead back there once again.
Read more: Former Trump campaign chairman Paul Manafort got $13 million in loans from Trump-tied businesses
The recent rise in the prices is not good news, say economists and researchers.
"The collapse of housing prices helped make the Great Recession great," Rupkey said. He urged America's Federal Reserve central bank to rethink keeping the low interest rates that allow people to opt for a McMansion.
The financial crisis originally hit after investors packed together risky mortgages into sophisticated financial investment instruments that looked good on paper. Banks were over-leveraged on these investments. When people couldn't pay back their mortgages, the house of cards collapsed and the global economy nose-dived.
Home-builders are now putting up a lot of large single family homes in America, with 794,000 going up in May. According to data from the real estate price tracking website Zillow, the price of McMansions has increased rapidly in the past year.
At their height, McMansions were worth a median price of $519,500 nationally. In the depths of the Great Recession, their median price hit $361,574 compared to the $151,600 median for all other American homes.
While both kinds of homes have increased in value since that low, McMansions have recovered their price at a faster rate.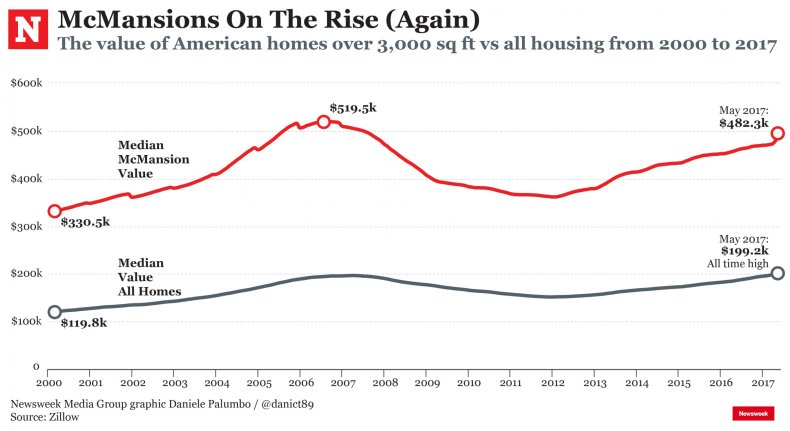 Construction of McMansions has also increased but people who have smaller homes near where McMansions are built are much, much unhappier with their homes, according to a paper published in the spring by researcher Clement Bellet at the London School of Economics Centre for Economic Performance. As more McMansions are built, their presence pushes other Americans to build bigger and go further into debt.
Analyzing the American Housing Survey from 1984 to 2009, Bellet found that homeowners experienced "a relative downscaling of their house following the construction of bigger units around them."
He tested whether there was a "Keeping up with the Joneses" effect as larger homes were built leading up to the financial crash. He points out that "the ratio of mortgage debt to income went from 20 percent of total household income in 1945 to 90 percent in 2008." As debt ballooned so did the size of McMansions as more and more people built them to keep up with their neighbors.
"Had such households not tried to keep up with the Joneses, I estimate that the ratio of mortgage debt to income would have been 25 percentage points lower on the eve of the financial crisis," Bellet found.
"The reason why people hate McMansions is that they reduce the satisfaction they get from their own house as older houses become relatively smaller," he told Newsweek.
Paradoxically, McMansions also improved people's opinion of their neighborhoods because they are associated with better amenities as rich people move in. But overall McMansions reduced people's satisfaction with their own homes — fueling the building of bigger and bigger units.
That means that the Federal Reserve has to put on the brakes now with higher interest rates, said Rupke.
Yet the central bank, he points out, says it cannot increase interest rates quickly because it is still battling the headwinds from the Great Recession. The U.S. economy grew at just 1.2 percent during the first three months of 2017.
"Home prices are on fire with a new bubble in the making," Rupke said, and price inflation isn't going to stop "until the Fed starts moving up interest rates at a faster pace."
"There is nothing natural about the rate of home price appreciation," he said.