Former Trump Campaign Chairman Paul Manafort Got $13 Million In Loans From Trump-tied Businesses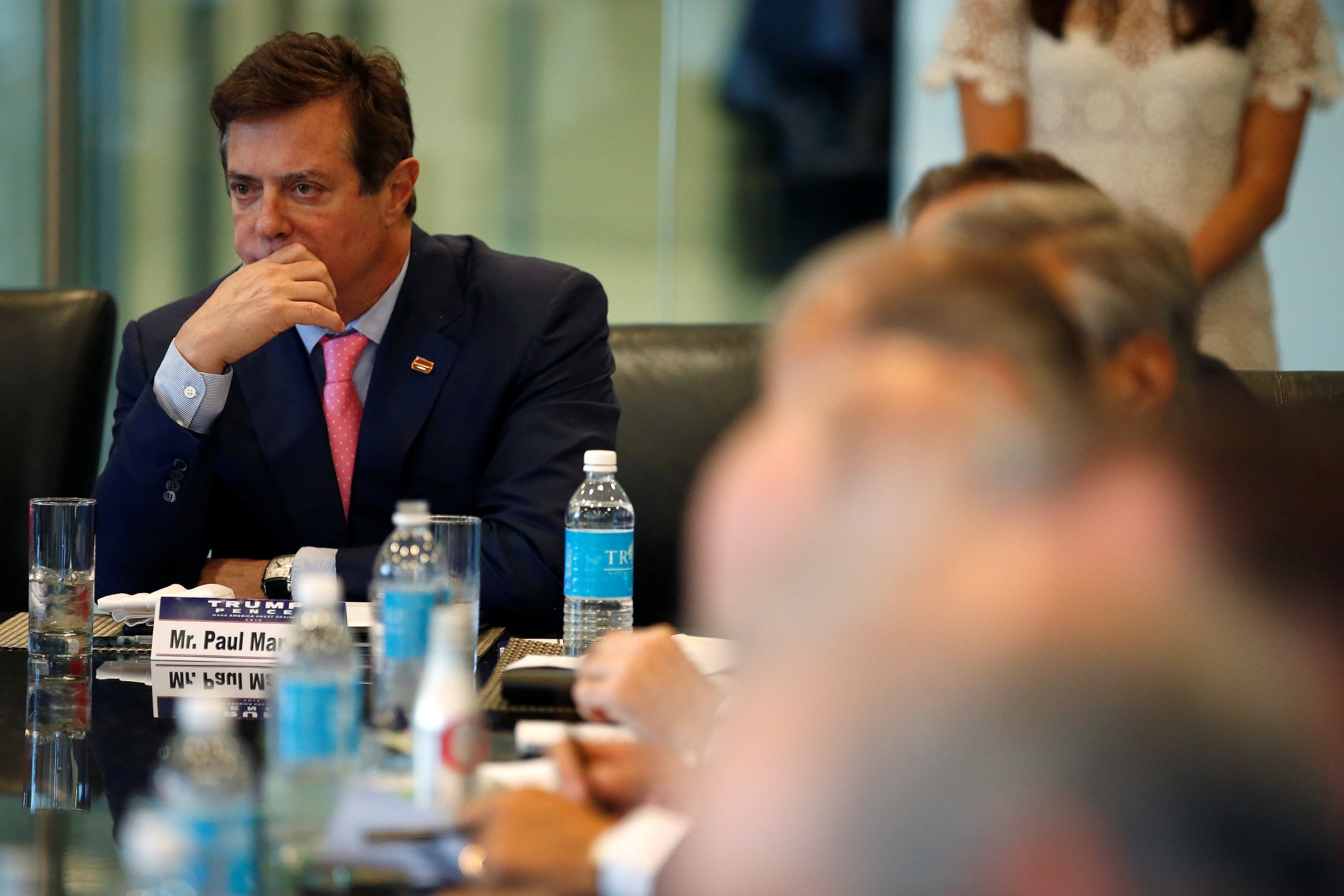 President Donald Trump's former campaign chairman Paul Manafort received millions of dollars in loans from businesses tied to Trump soon after he resigned from the campaign last August after a scandal, according to a new report.
Manafort stepped down on August 19 after allegedly receiving $12.7 million in off-the-book payments from Ukraine's former President Viktor Yanukovych—an ally of Russian President Vladimir Putin. The same day he resigned, The New York Times reports that papers show Manafort created the shell company Summerbreeze L.L.C.
In September, Summerbreeze received a $3.5 million loan from Spruce Capital. The investment firm's co-founder Joshua Crane helped develop Trump International Hotel & Tower in Honolulu, Hawaii, in 2006. Then, in November, the firm secured a $9.5 million loan from the Federal Savings Bank of Chicago, founded and chaired by Stephen M. Calk, a senior economic adviser to Trump during his campaign. The bank usually specializes in loans to help military veterans buy homes.
Collateral for the Federal Savings Bank loan included a summer home in the Hamptons owned by Manafort and valued at more than $11 million. Since returning to the U.S. after advising the Ukrainian presidential campaigns of Viktor Yanukovych from 2004 to 2010, Manafort has used shell companies to invest millions of dollars in properties in New York, Florida, Virginia, and Los Angeles.
Manafort told The New York Times that "there is nothing out of the ordinary about" the loans and that he is "confident anyone who isn't afflicted with scandal fever will come to the same conclusion."
Read more: Former Trump campaign chairman Paul Manafort set to register as a foreign agent for past work in Ukraine
Yet the former campaign chair's finances have come under scrutiny as U.S. agents working in the treasury department's Financial Crimes Enforcement Network began combing over his offshore accounts in Cyprus early this year.
Banking sources told NBC News in late March that some transactions in Manafort-linked accounts led to an internal investigation at a Cypriot bank into potential money laundering. Manafort closed the accounts after questions from bank officials, the sources said.
Manafort stepped down from Trump's campaign in August 2016 after the Ukrainian government's National Anti-Corruption Bureau accused him of receiving $12.7 million in off-the-books cash payments from the government of former President Viktor Yanukovych.
The payments were documented in a handwritten ledger they said were kept by Yanukovych who was ousted following protests in 2014. Yanukovych subsequently sought exile in Russia.
In late March, Serhiy Leshchenko, a Ukrainian member of parliament, revealed documents he said prove Manafort tried to hide payments from Yanukovych and presented a contract showing a $750,000 payment for computers made between Manafort and a shell company registered in Belize. Leshchenko said the payment matched those listed on the ledger.
That wasn't conclusive evidence that Manafort received any payments listed on the ledger. But on Wednesday, the AP reported it has obtained financial records that confirm at least $1.2 million in payments to Manafort's consulting firm in the United States that match those on the ledger.
Manafort has said the ledger is fake. But in a statement to the AP Manfort said that "any wire transactions received by my company are legitimate payments for political consulting work" and that these were paid "via wire transfer" rather than the cash payments suggested in the ledger.
The AP also revealed in March that Manafort signed a $10 million annual contract with Russian aluminium magnate Oleg Deripaska, a close Putin ally, in 2006. Documents they obtained detailed wire transfers and political strategy memos written by Manafort in 2005 to influence U.S. politics, business and news coverage in favour of Putin.
In leaks about several ongoing investigations at the FBI and other intelligence agencies, Manafort has been named as being under investigation for his ties to Russia. He is alleged to have contacted Russian officials during the 2016 campaign.
Payments for Manafort's work in Eastern Europe are unrelated to the ongoing investigations. He has agreed to be interviewed by both the House and Senate committees investigating Russia and offered "to provide information voluntarily regarding recent allegations about Russian interference in the election," his spokesman wrote in a statement in March. A date for his hearing has not been set.