Owners of Big Jake, the World's Tallest Horse, Pay Tribute After He Dies Aged 20
The owners of Big Jake, the world's tallest horse, have paid tribute to him after he died aged 20.
The Belgian Gelding, standing at 20 hands 2.75 inches (6 feet 8 inches), passed away in June, his owners at Smokey Hollow Farm in Poynette, Wisconsin, wrote on Facebook.
Born in March 2001 to two average-sized horses, Big Jake earned the title of world's tallest living horse in 2010. He used to take part in draft horse contests, but spent the latter years of his life retired at Smokey Hollow.
Announcing his death, Smokey Hollow Farm wrote on Facebook: "It is with a heavy heart we share the passing of Big Jake.
"Big Jake was much more than a world record holder. He was a central part of our family. We feel very privileged to have had him in our lives. He truly loved people and impacted many over the course of his lifetime. We will miss you!!"
Hundreds of Facebook users sent their condolences to the farm beneath the post, with one writing: "As a member of the 'horses are part of the family' club, I feel your pain. Sincere Condolences."
Following his death, Smokey Hollow Farm shared memories of Big Jake on its Facebook page, including the time he met Romulus, the world's tallest donkey.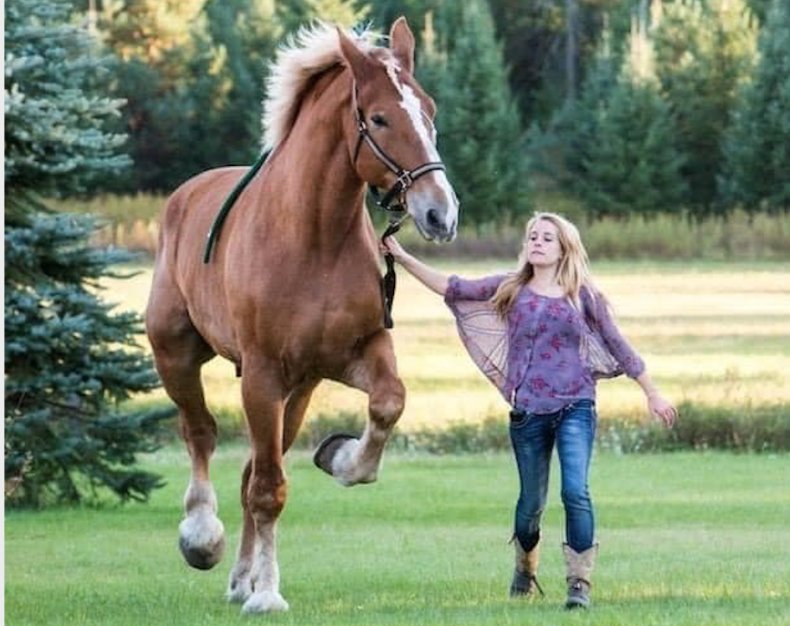 Smokey Hollow Farm owner Jerry Gilbert told Newsweek: "I will remember his personality. He was very affectionate and loved people... he soaked up the attention where some horses will hide in a corner or become very tired of the attention."
Gilbert told WMTV: "Jake was a superstar and I'm not just saying that because he was ours.
"He was truly a magnificent animal. He was extremely talented."
Gilbert described Big Jake as "respectful" and an "extremely hard worker."
"He was truly a gentle giant," Gilbert said.
According to Gilbert, Big Jake weighed 240 pounds (lbs) at birth, which is around 100lbs heavier than the average Belgian foal at that age.
Gilbert told Newsweek the farm bought Jake from a relative when he was 3 years old as he was too big for their needs.
When Big Jake was measured by Guinness World Records in 2018, Gilbert said Big Jake "kept growing!"
Gilbert said Big Jake ate a "tad bit" more than the average draft horse, usually a full bucket of grain twice a day, and a bale of hay each day. The supersized horse also lived in a 20 by 20 ft stall, compared with the 12 by 12ft stall a regular horse would be kept in.
His owner described Big Jake as "pretty easy going," and said he loved getting belly rubs and neck scratches.
Since Big Jame's death, Gilbert told Newsweek: "The other horses and animals are very quiet. The farm seems very empty right now.
"Jake was a central part of our everyday activities and we had a very close bond for the 17 years we had him."
He told WMTV he believes the other horses are grieving.
"There is a huge void, it feels like he's still here, but he's not," he said. "Day to day, I think we will always feel that Jake is still here. And I don't think that will ever change."