Biggest Moments From Wednesday's MSNBC Republican Town Halls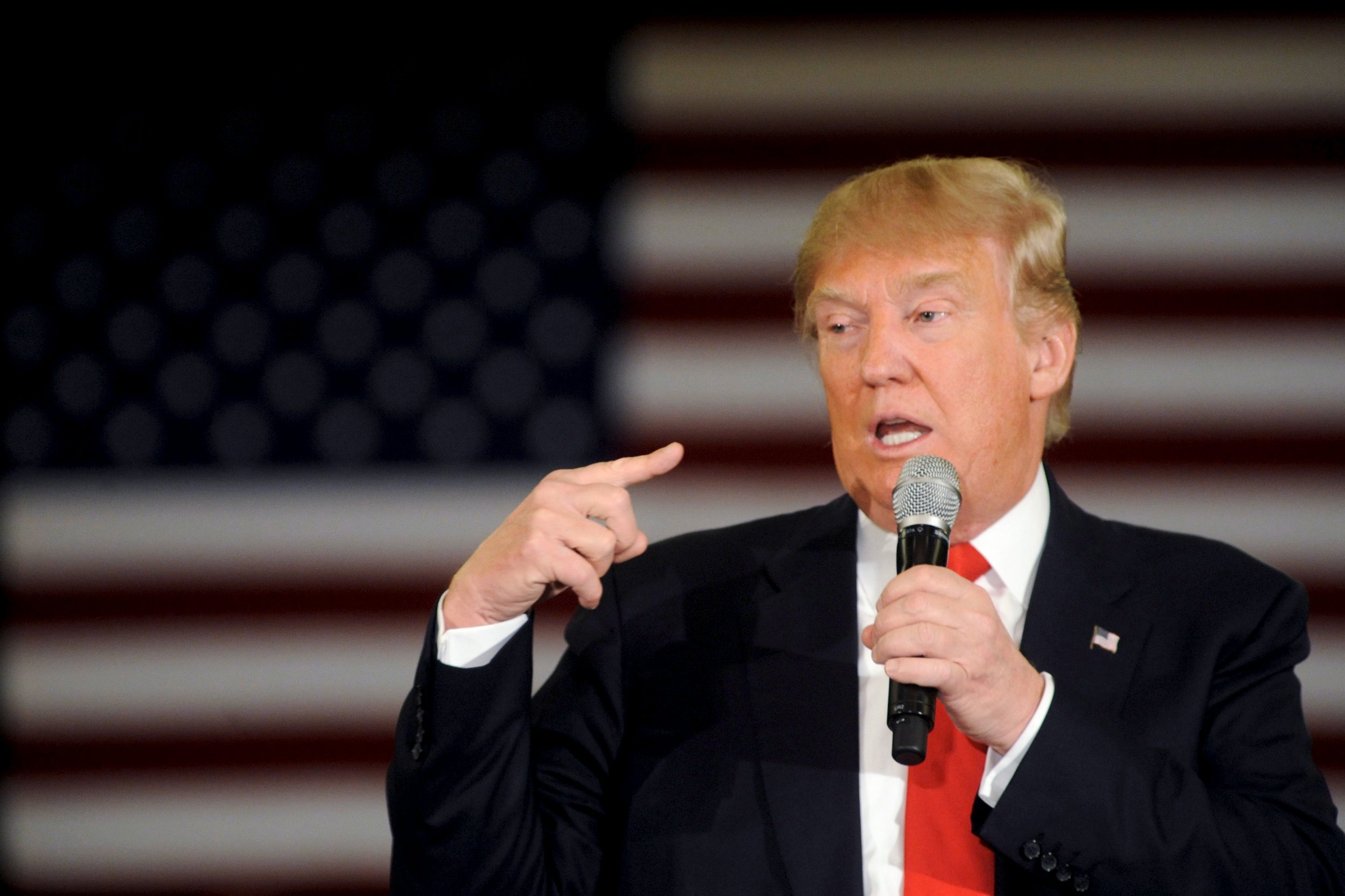 For the second consecutive night, Donald Trump and John Kasich participated in town halls ahead of another heavy round of voting next month. MSNBC's forum with Kasich in Howard Beach, New York, aired at 7 p.m. ET, followed by the network's town hall with Trump in Green Bay, Wisconsin, at 8 p.m. ET. Wisconsin's primary is April 5 and New York's on April 19. Following it all are Newsweek's Matthew Cooper and Michele Gorman.
9 p.m. ET: We've come to think of these town halls as less exciting than the debates but today was different. Trump's comments about abortion and his campaign's walk back of his comments saying there should be "punishment" for women who have the procedure came during the MSNBC town hall with Chris Matthews. Another interesting moment: Trump sticking up for prison privatization at a time when Democrats are so against it that Hillary Clinton has vowed to return contributions from private prison companies and their employees.
I'll say Chris Matthews is really good with Trump in part because he's so smart but also because he's missing the same self-doubt gene that Trump so notoriously lacks. I don't say that pejoratively, only that it gives Matthews a leg up.
Thanks for following with us. — Matthew Cooper
8:51 p.m.: A member of the audience asks Trump what will happen if he doesn't win the Republican nomination. "If we don't, I can't really tell you what happens," he responds. — Michele Gorman
[Related: How to Watch Wednesday's MSNBC Town Halls]
8:32 p.m.: Here we go: An audience member asks Trump about his stance on women's rights, and then Matthews follows up by asking: "What should be the law? Should the woman be punished for having an abortion?" We had a look into the town hall earlier today when part of the interview was leaked to the public.
When Trump tries to dodge the question, Matthews says he must answer directly. "I would say that it's a very serious problem and it's a problem that we have to decide on," the presidential candidate says.
Matthews asks Trump if he would put women in jail, and the billionaire turns the question back onto the anchor, asking whether he knows about the teachings of the Catholic Church. "Do you believe in punishment for abortion, yes or no?"
Trump responds: "The answer is there has to be some form of punishment for the woman...it's a very complicated position." — Michele Gorman
In between the taping of the town hall and when it aired on TV, the Trump campaign issued a statement on the candidate's abortion comments: "If Congress were to pass legislation making abortion illegal and the federal courts upheld this legislation, or any state were permitted to ban abortion under state and federal law, the doctor or any other person performing this illegal act upon a woman would be held legally responsible, not the woman. The woman is a victim in this case as is the life in her womb. My position has not changed—like Ronald Reagan, I am pro-life with exceptions."
[Related: Trump's Abortion Remarks Will Infuriate All Sides]
8:31 p.m.: Trump is threatening to walk on various trade deals and treaties that the United States has around the globe. He also says, "We don't really need NATO in its current form." — Michele Gorman
8:26 p.m.: An audience members asks Trump why, as a minority, he should vote for him. The real estate tycoon responds: "Because I'm going to create jobs." — Michele Gorman
8:18 p.m.: Trump won't promise not to use a nuclear weapon in Europe. "I'm not going to take it off the table," he tells Matthews, adding that he "won't take any cards off the table." — Michele Gorman
8:10 p.m.: The big guy is defending Corey Lewandowski, his campaign manager who has been arrested for assaulting a female reporter. Both Trump and Lewandowski insist there was no such assault. "They're destroying that man over nothing," Trump said of Lewandowski. "Nobody respects women more than I do," added the mogul. — Matthew Cooper
8:05 p.m.: It's Trump time. He and Chris Matthews look like they're sitting three inches apart. First questions are all strategy, polling, delegates. "We're so far up above everybody else," Trump drawled, citing his latest wins. "We're way, way up in votes. Way, way up." — Matthew Cooper
7:55 p.m.: Flood insurance is the kind of wonky issue that doesn't get a lot of coverage but it's important and it's probably not surprising that Kasich got asked about it at this town hall in Queens which took a big hit from Superstorm Sandy. The Ohio governor didn't seem to have much of a policy position on it. Chuck Todd asked a question I've been wondering: How do you govern when you're always away campaigning? Cell phones, said Kasich, adding "we've built a great team of people." — Matthew Cooper
7:45 p.m.: Kasich always does well when he talks about teaming up with Democratic State Senator Nina Turner, a Sanders supporter, who he worked with on police-community relations. It's the kind of solutions-based approach that it's hard to imagine Ted Cruz or Donald Trump talking up. Not surprisingly, Kasich notes he won 26 percent of the African-American vote. Impossible to picture him doing that if he were the GOP nominee but if he could it would reshape the election. — Matthew Cooper
7:24 p.m.: An audience member says she is a Trump fan and asks Kasich what he will do to get her "off the Trump train." — Michele Gorman
7:16 p.m.: Todd brings up Cruz's comments that authorities should patrol Muslim neighborhoods in the wake of the recent Brussels attacks. "We have the entire civilized world fighting against a small group of murderers. The key for America and the president is to unite the civilized world...and fight this and stop it now," Kasich says. — Michele Gorman
7:14 p.m.: Todd asks Kasich about the three Republican candidates seeming to break their earlier pledge to support the eventual GOP nominee. Kasich repeatedly has said he doesn't think Trump will be the nominee. "It's a roller coaster, the way I see him," he says. "Sometimes he calms down....then these crazy things start happening." — Michele Gorman
7:12 p.m.: Kasich's campaign is built on being electable, compassionate and relatable. And he's doing pretty well at that tonight. The Ohio governor is, in fact, very conservative despite his being one of the few GOP governors to take the Medicaid expansion monies that came with Obamacare. He's been tough on abortion, public employee unions. No one should mistake him for a Rockefeller Republican. But his aw-shucks demeanor can work for him and has kept him in his political life since he was in his C's. He came to Congress during Reagan's first term. — Matthew Cooper
He's walking a fine line tonight, dissing Trump but not quite saying he won't support him. — Matthew Cooper
7:02 p.m.: Chuck Todd begins the Kasich town hall at St. Helen Roman Catholic Church in Howard Beach, New York, with the question: What's going on? — Michele Gorman
7 p.m.: Ted Cruz is the only presidential candidate not participating in an MSNBC event tonight. After the Kasich and Trump town halls, the network will air extended interviews between Rachel Maddow and Hillary Clinton and Bernie Sanders, at 9 p.m. ET. But all candidates were invited to participate. — Michele Gorman