How to Watch Wednesday's MSNBC Town Halls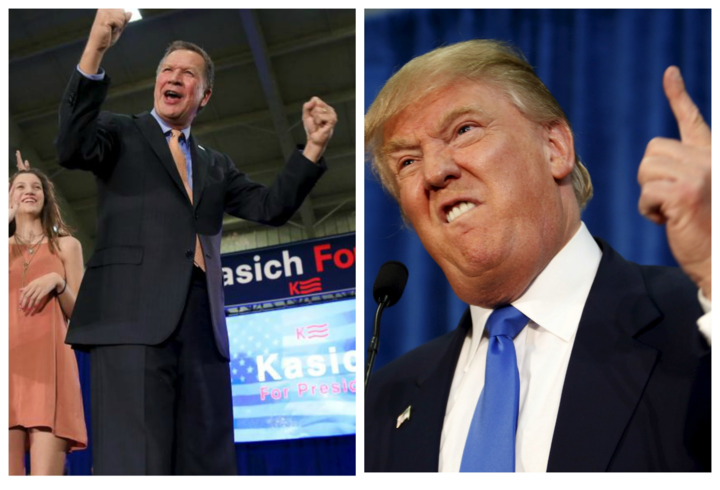 This week is the rare unicorn void of primaries and caucuses, so it's no surprise that ratings-hungry cable news networks scheduled multiple town halls with the presidential candidates in critical states.
Following their appearances in a CNN forum from Milwaukee on Tuesday, Donald Trump and John Kasich will participate in separate town hall events on Wednesday night with days to go before upcoming April primaries.
MSNBC first will host the Ohio governor at 7 p.m. ET in Queens, New York. He will answer questions from the network's Chuck Todd and the audience. Then, more than 1,000 miles away in Green Bay, Wisconsin, the GOP front-runner and New York billionaire will take the stage at 8 p.m. ET. MSNBC's Chris Matthews will host.
Viewers can watch both forums on MSNBC with a cable subscription. MSNBC has not responded to Newsweek's questions whether the events will be streamed online.
Later, MSNBC will air back-to-back interviews between Rachel Maddow and Democratic candidates Hillary Clinton and Bernie Sanders, starting at 9 p.m. ET. That leaves Ted Cruz as the only presidential hopeful missing from the prime-time lineup. All five candidates were invited to participate.
The candidates are gearing up for the April 5 primary in the swing state of Wisconsin. Two weeks later, New York residents will head to the polls to cast their primary ballots. Clinton on Wednesday released an ad for the upcoming New York contest, a must-win for her campaign.
Trump is leading the GOP field with 736 delegates, followed by Cruz with 463 and Kasich with 143. To secure the nomination, a candidate needs 1,237 delegates.
On the Democratic side, Clinton has 1,243 pledged delegates and 469 superdelegates, who can support any candidate. Sanders has 975 and 29. The victor needs 2,383 to win.