What We Know About Netflix's Biggie Smalls Documentary 'I Got a Story to Tell'
Biggie: I Got a Story to Tell is Netflix's documentary about rapper The Notorious B.I.G., whose trailer was released in February. The film will be released on Netflix this March, and features footage shot by the rapper's best friend and extensive interviews with Biggie's mother Voletta Wallace and frequent collaborator Diddy.
The doc has a Netflix release date of Monday, March 1, when the 100-minute movie will be streaming around the world from 00:01 a.m. PT.
The official Netflix summary reads: "In the wake of the Notorious B.I.G.'s landmark induction into the Rock and Roll Hall of Fame, and ahead of what would have been his 50th birthday, Biggie: I Got A Story To Tell offers a fresh look at one of the greatest, most influential rappers of all time by those who knew him best.
"Made in collaboration with Biggie's estate, I Got A Story To Tell is an intimate rendering of a man whose rapid ascent and tragic end has been at the center of rap lore for more than twenty years. Directed by Emmett Malloy, this intimate documentary features rare footage filmed by his best friend Damion 'D-Roc' Butler and new interviews with his closest friends and family, revealing a side of Christopher Wallace that the world never knew."
This is not the first time that the story of the life and death of The Notorious B.I.G. has been told in a documentary, though those previous movies were not without controversy.
In 2002, acclaimed doc director Nick Broomfield made Biggie & Tupac, which made the controversial claim that Death Row records exec Suge Knight conspired to kill the rapper to hide his role in having Tupac Shakur killed, making the crime look like a result of the east coast and west coast rap feud.
However, that documentary was criticized at the time by the New York Times among others for not, "presenting counterarguments or questioning his sources' credibility." It also went on to call the claims made in the movie "unsupported."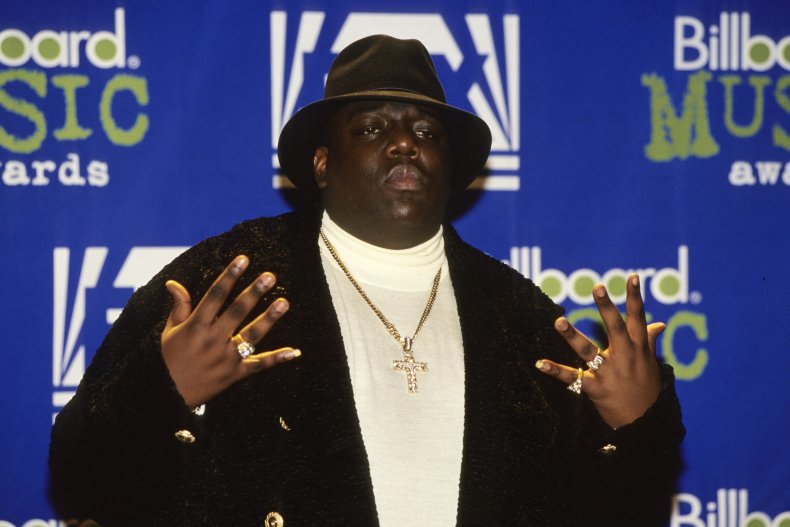 More recently, Biggie's widow Faith Evans criticized a 2020 Lifetime documentary about her relationship with the late rapper. She told Page Six: "I was told that it would be a positive piece with a little more of my personal background. It wasn't pitched to me as a story rehashing the sensationalized events that took place." It is not known whether Evans was involved with the making of the new Biggie doc.
I Got a Story to Tell has been reported by numerous publications the first documentary on the rapper's life to be authorized by the estate of Biggie, run by his mother Voletta. Partly this is thanks to a statement from Biggie's former manager and documentary producer Wayne Barrow, who said: "Mama Wallace and I had a conversation about creating the first Estate sanctioned documentary about BIG's life and the initial thought was to have the story told from the perspective of his fans globally and how they were inspired by him and his music."
However, this is not quite the case. A&E's 2017 doc Biggie: The Life of Notorious B.I.G. was also authorized by the rapper's mother and widow.
The film was first announced in 2017, the year of the 20th anniversary of the rapper's death, when it had the working title One More Chance. Director Emmett Malloy said of the documentary to Rolling Stone: "The running joke about documentary films is often how long they take to make. This film lived up to all those stereotypes, taking us four years to develop and make it. Through those years we were immersed in Brooklyn in the 70s through the 90s. It is easy to see how much Brooklyn has changed since Christopher Wallace was a kid, but it's also clear that many things about being a young black man in this country have not changed."
Biggie: I Got a Story to Tell is released on Netflix on March 1.