Bill Barr Says Disputed Election 'Precipitated' Capitol Riots
The former Attorney General William Barr has linked the violence in the U.S. Capitol with the attacks on the integrity of the U.S. election and said that he was "not surprised" to see the unrest on January 6.
In his first interview since the insurrection in Washington, D.C. which resulted in five deaths, Barr said the debate about the election's legitimacy "was the thing that precipitated the riots on the Hill."
"I think it's always important to remember most people are exercising their First Amendment rights," he told British program ITV News, "but there is a substantial group obviously that went far beyond that and broke into the Capitol and tried to interfere with the proceedings and that's unacceptable."
"I'm sad to see but not surprised in a way to see the kind of violence we saw on Capitol Hill. I don't know if I would use the word inevitable but I think that when you start suppressing free speech, when people lose confidence in the media and also when they lose faith in the integrity of elections, you are going to have some people resort to violence," he added.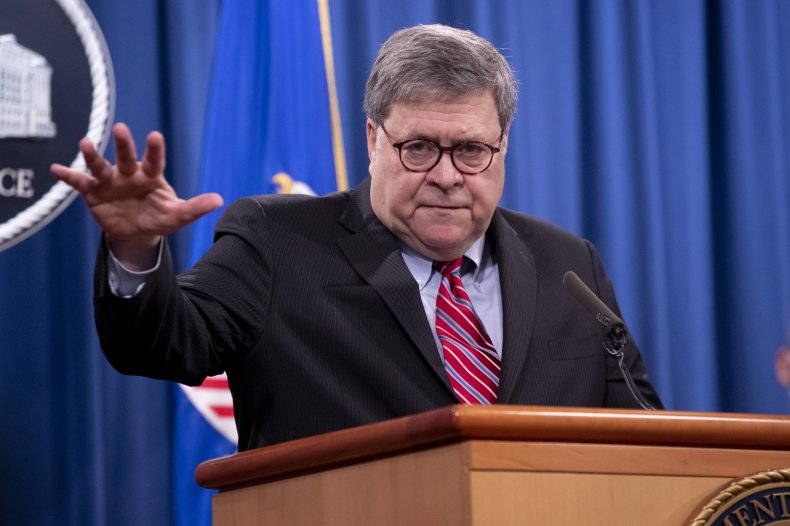 Once one of the most loyal members of the administration of President Donald Trump, he helped spin the release of the Robert Mueller report on Russian interference in the 2016 election positively for the president.
However, he resigned last month following clashes with the president over the 2020 election. He had declared on November 30 that the Justice Department found no evidence of widespread fraud that could change the election result. He also pushed back against Trump's demands for a special counsel to investigate any election irregularities.
Last Wednesday, the House of Representatives voted to impeach Trump for "incitement of insurrection," accusing him of stoking the mob that stormed the Capitol.
In a statement to the Associated Press last week, Barr took aim at his former boss for the first time, saying that "orchestrating a mob to pressure Congress is inexcusable" and that the president's conduct "was a betrayal of his office and supporters."
Barr did not mention Trump by name in Monday's interview and tried to distance himself from the president by saying that he had "already left office" when the violence occurred.
"I will leave it to the people who are looking into the genesis of this to say whether incitement is involved," he told ITV News.
Barr also believed there was "some commonality" between the rioters and Islamist terrorists because many of those who were involved had "psychological problems or problems with their socialization" which meant that "to that extent, the raw material of extremism may be similar."
Newsweek has contacted the White House for comment.
The graphic below, provided by Statista, shows how the impeachment process works in the U.S. Congress.