Bill Belichick has described coaching Tom Brady as "a privilege" after the veteran quarterback announced he will leave the New England Patriots after two decades.
In a series of posts on Instagram on Tuesday morning, Brady revealed his spell in Massachusetts had come to an end after 20 seasons, six Super Bowl titles and a total of three MVP crowns—tied with Jim Brown, Brett Favre and Johnny Unitas for second-most all time in the NFL behind Peyton Manning.
Brady's final act as a Patriot was an intercepted pass in the 20-13 home defeat against the Tennessee Titans in last season's AFC Divisional Round, but nothing can overshadow his achievements.
"Nothing about the end of Tom's Patriots career changes how unfathomably spectacular it was," Belichick said in a statement the Patriots released shortly after Brady's announcement.
"With his relentless competitiveness and longevity, he earned everyone's adoration and will be celebrated forever. It has been a privilege to coach Tom Brady for 20 years."
Since being drafted by the Patriots with the 199th overall pick of the 2000 draft, Brady developed into arguably the greatest quarterback to ever play the game and a cornerstone of the franchise that dominated modern NFL more than any other.
The Patriots had appeared in the Super Bowl twice their 40-year history until Belichick and Brady arrived in Foxborough in 2000. In the 20 years since, the Patriots competed for the Vince Lombardi Trophy nine times, winning the AFC East for 11 consecutive years.
For all their success, however, Brady and Belichick did not always see eye-to-eye.
Two years ago, the duo clashed after Belichick pulled the plug on Alex Guerrero, Brady's trainer and business partner, who lost the privilege to travel with the team.
That came after Belichick had traded Jimmy Garoppolo to the San Francisco 49ers under instructions from Patriots owner Robert Kraft, who wanted to keep Brady as opposed to the quarterback Belichick had drafted in 2014 to be Brady's understudy.
Despite their personal difference, Brady and Belichick combined to form the most dominant quarterback/coach pairing in NFL history and the latter paid tribute to his now former quarterback.
"Tom was not just a player who bought into our program," he added.
"He was one of its original creators. Tom lived and perpetuated our culture. On a daily basis, he was a tone setter and a bar raiser. [...] Tom and I will always have a great relationship built on love, admiration, respect and appreciation."
In his two decades in Foxborough—the longest any NFL quarterback has spent with the same franchise—Brady won four Super Bowl MVP awards, won an all-time record 17 division championships—Manning is second with 12—and set a total of 15 Super Bowl records.
Patriots owner Rob Kraft had hoped the 42-year-old, whom he described as "a son" would end his career with the franchise, but explained Brady and the franchise had failed to reach a financial agreement.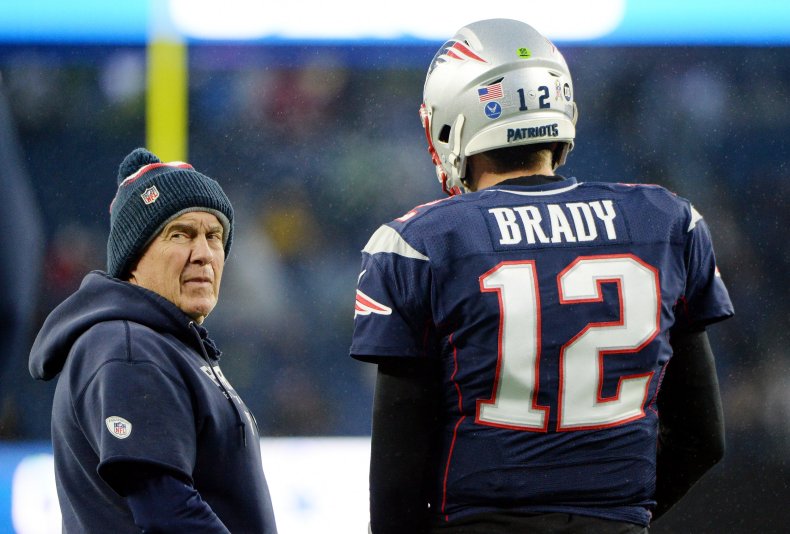 "I had hoped this day would never come, but rather that Tom would end his remarkable career in a Patriots uniform after yet another Super Bowl championship," Kraft said.
"Unfortunately, the two sides were unable to reach an agreement to allow that dream to become a reality. [...] There simply will never be another Tom Brady. I now look forward to the day we can bring him back home to New England to celebrate his Patriots career, his endless achievements and his legacy as the greatest of all time."
According to Oddschecker, the Tampa Bay Buccaneers are now 1/2 favorites to land Brady, with the Los Angeles Chargers at 8/5 and the Miami Dolphins at 8/1.
On Monday, Bucs head coach Bruce Arians reiterated that his starting quarterback was an "unknown quantity" as the team allowed Jameis Winston to enter free agency. Arians alsotold the Tampa Bay Times he made an "aggressive pitch" to Brady when he spoke to Bradi on the phone on Monday, confirming an earlier report from NFL Network reporter Michael Giardi.
The Chargers, meanwhile, parted way with Philip Rivers after 16 years last month and could make Brady the face of their new era as the franchise prepares to move into its shiny new stadium next season.
It would also allow the 42-year-old to play football in his home state, as Brady is a California native.
Uncommon Knowledge
Newsweek is committed to challenging conventional wisdom and finding connections in the search for common ground.
Newsweek is committed to challenging conventional wisdom and finding connections in the search for common ground.
About the writer
Dan Cancian is currently a reporter for Newsweek based in London, England. Prior to joining Newsweek in January 2018, he was a news and business reporter at International Business Times UK. Dan has also written for The Guardian and The Observer.