Bill Cassidy Does U-Turn on Constitutionality of Impeachment as Trump Heads for Acquittal
The impeachment trial against Donald Trump is constitutional, the Senate affirmed Tuesday as it kicked off the historic proceedings against the former president who is charged with inciting an insurrection at the U.S. Capitol.
The trial—Trump's second in just two years—began with four hours of debate between House impeachment managers and Trump's counsel on the constitutionality of trying a former president.
Bruce Castor Jr. and David Schoen, who will be leading the former president's defense team, argued that the trial is unconstitutional because Trump is now a private citizen. The 10 Democratic impeachment managers rebutted those assertions, citing precedents about impeachment trials of a senator and a Cabinet secretary after they left office.
"Their argument is that if you commit an impeachable offense in your last few weeks in office, you do it with constitutional impunity," lead impeachment manager Jamie Raskin (D-Md.) said in the opening argument. "You get away with it."
The matter was officially resolved in a 56 to 44 vote, with six Republicans crossing party lines to join Democrats in affirming the trial's constitutionality. Those conservative members were Bill Cassidy of Louisiana, Susan Collins of Maine, Lisa Murkowski of Alaska, Mitt Romney of Utah, Ben Sasse of Nebraska and Pat Toomey of Pennsylvania
That's a gain of one Republican senator (Cassidy) from the nearly identical vote taken last month on a motion introduced by Senator Rand Paul (R-Ky.) that sought to declare impeachment unconstitutional because Trump is no longer in office.
All but five Republicans—which again included Collins, Murkowski, Romney, Sasse and Toomey—voted "yes" on Paul's motion, which he argued showed "that impeachment is dead on arrival."
"If you voted that it was unconstitutional then how in the world would you ever hope to convict somebody for this?" Paul told reporters after the vote.
But Cassidy downplayed the significance of the vote on Paul's motion, telling NBC News he didn't think it revealed how senators would vote when it came time to clear or convict Trump.
"It was a vote in a moment of time," Cassidy said in January. "And so, based upon what senators knew at that point and felt at that point, they then voted. But we will now have, hopefully, presentations from both sides, and we will consider the evidence as impartial jurors."
Cassidy issued a statement Tuesday explaining his vote, writing: "If anyone disagrees with my vote and would like an explanation, I ask them to listen to the arguments presented by the House Managers and former President Trump's lawyers. The House managers had much stronger constitutional arguments. The president's team did not."
He added, "This vote is not a prejudgment on the final vote to convict."
Democrats, who control the 50-50 chamber by the slimmest of advantages, will need 17 Republican members to join their cause in order to get a conviction. Experts previously told Newsweek that the chances of such a scenario are slim to none.
While Cassidy joined Democrats on the issue of constitutionality, the Louisiana Republican previously compared the proceeding to a Soviet Union-style "show trial" and knocked his liberal colleagues for their speed in voting to impeach the former president.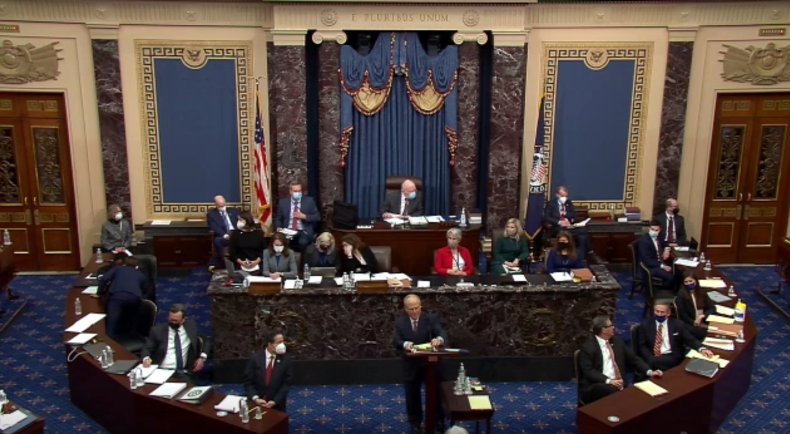 Tuesday's vote cleared the way for presentations to begin. Starting Wednesday at noon, the Democratic impeachment managers and Trump's defense team will have 16 hours each, divided over the course of two days apiece for both teams, to make their case.
The public got a glimpse of the arguments being prepared by both sides in pre-trial briefs filed in the week leading up to the trial's start date.
Trump's team has called impeachment "political theater." They claim Trump didn't encourage violence and that his speech on January 6 is protected by his First Amendment right to freedom of speech. Also central to their defense was the question of constitutionality.
House managers, on the other hand, argue Trump is "singularly responsible" for the violence that took place at the Capitol after rallying his supporters. The 10 Democrats assert that Trump "fixated" on January 6 after it became clear that his efforts to challenge the election through legal action would fail.
Senate Majority Leader Chuck Schumer (D-N.Y.) said at a press conference on Tuesday morning that the House impeachment team will introduce evidence that hasn't been seen before during the trial.
"I believe the managers will present a very strong case," Schumer said. "The evidence will be powerful. The evidence, some of it, will be new. And I urge all my colleagues to pay careful attention to the evidence."
Update: This story has been updated to include additional statements from Cassidy on the constitutionality of Trump's impeachment trial.