Trump's Conviction Chances Slim, But Experts Say Impact to His Reputation Will Last
Former President Donald Trump will once again be center stage next week as the U.S. Senate considers whether to find him guilty of "incitement of insurrection" after a mob of his supporters stormed the U.S. Capitol on January 6.
But experts told Newsweek that the outcome of the trial—slated to begin February 8—may already be a foregone conclusion.
"I am always wary of making predictions about anything in Washington, D.C., but it certainly does not appear to me as though there are enough Republicans willing to vote to convict Donald Trump to get the Senate to the necessary two-thirds majority," said Brian Kalt, a constitutional law professor at Michigan State University.
Democrats, who control the 50-50 chamber by the slimmest of advantages, will need 17 Republican members to join their cause in order to get a conviction. And while removing Trump from office won't be an option, as he is no longer commander-in-chief, a conviction could lead to his disqualification to ever run for office again.
Nick Akerman, a Watergate prosecutor in the case that led to the resignation of former president Richard Nixon, echoed the sentiment that at this stage Trump's "probably heading toward an acquittal."
"It seems to me that in order to change the entire dynamic here, you have to do something bold and decisive," Akerman told Newsweek. In his view, one of the only ways to get 17 Republicans to vote yes on conviction is if Trump is the "star witness in this case."
"I think what the House did yesterday is the right thing in terms of asking for Trump to testify," Akerman said. "They have to take it another step further and actually subpoena him and force him to show up at the impeachment trial."
Lead impeachment manager Rep. Jaime Raskin (D-Md.) sent a letter Thursday to Trump's defense team requesting the former president testify under oath before or during the trial. Raskin argued that the testimony was necessary after Trump disputed the House's allegations that he incited violence at the Capitol.
Bruce Castor Jr. and David Schoen, Trump's lead lawyers, called Raskin's request a "public relations stunt." Jason Miller, a spokesperson for Trump, told several news outlets that he would not be testifying.
Schoen and Castor gave a preview of their defense strategy in a brief filed on February 2. First, they argued that the impeachment proceeding is unconstitutional based on the fact that Trump is out of office. They also said Trump did not incite violence and that his statements are protected by his First Amendment right to freedom of speech.
Several Republican members of Congress have made similar arguments. Senator Rand Paul (R-Ky.) has already called impeachment "dead on arrival" in the 100-member chamber after he forced a vote on the constitutionality of Trump's trial.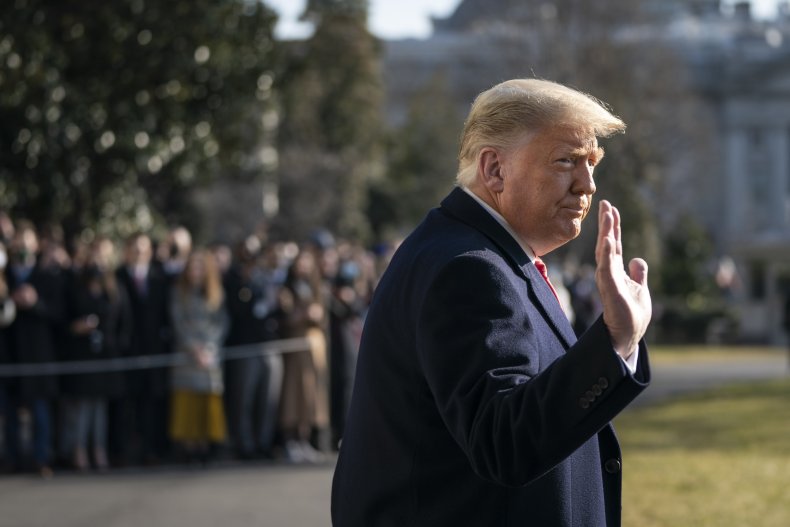 The vote gave an early indication of where Senate GOP stand: 45 Republicans backed his measure that would have declared the proceedings unconstitutional because Trump is no longer in the White House. Just five Republicans—Susan Collins of Maine, Lisa Murkowski of Alaska, Mitt Romney of Utah, Ben Sasse of Nebraska and Pat Toomey of Pennsylvania—crossed party lines to vote with Democrats and kill Paul's proposal.
"The likelihood that the Senate will convict Trump is somewhere between zero and none," said Michael J. Stern, a former federal prosecutor for the U.S. Department of Justice. "Republicans made that clear when all but five of them voted to dismiss the impeachment trial before it began."
He added to Newsweek, "The GOP has an opportunity to break from Trump and save their party, but they're going to blow it. Donald Trump will forever remain the evil seed in the cradle of the Republican Party's arms."
Even if Trump is not convicted, several experts said the House's presentation on his statements and actions surrounding the January 6 insurrection is bound to hurt him and his reputation.
Laurence Tribe, a Harvard constitutional law professor, told Newsweek: "I'm confident of this much: Even if the vote to convict Donald Trump in the Senate fails to cross the two-thirds line, the evidence of his personal responsibility for the deadly insurrection of January 6 will be so dramatic and so compelling that he will be convicted in the eyes of his countrymen and in the annals of history."