After joining a small group of colleagues who maintained that Donald Trump's impeachment trial in the U.S. Senate is constitutional, Republican congressman Bill Cassidy, of Louisiana, shared a more detailed explanation as to why he chose to vote across party lines. Cassidy was one of just six GOP senators who supported the trial's constitutionality during a preliminary vote that took place Tuesday.
The other five federal lawmakers—Maine's Susan Collins, Alaska's Lisa Murkowski, Utah's Mitt Romney, Nebraska's Ben Sasse, and Pennsylvania's Pat Toomey—were the only Republicans within their congressional chamber who voted against the trial's dismissal last month.
In justifying his decision to affirm the impeachment trial's constitutionality on Tuesday, despite voting against it just weeks ago, Cassidy cited the strength of arguments presented by House impeachment managers. He explicitly noted their effectiveness over those of Trump's defense team.
"We heard arguments from both sides on the constitutionality of having a Senate trial of a president who has since left office. A sufficient amount of evidence of constitutionality exists for the Senate to proceed with the trial. This vote is not a prejudgement of the final vote to convict," Cassidy's statement read.
"If anyone disagrees with my vote and would like an explanation, I ask them to listen to the arguments presented by the House Managers and former President Trump's lawyers," it continued. "The House managers had much stronger constitutional arguments. The president's team did not."
Kentucky Senator Rand Paul, also a Republican, originally introduced a motion to invalidate further impeachment hearings on the basis of constitutionality at the end of January, being that Trump's term in office ended with President Joe Biden's inauguration.
Although most Republicans voted to approve Paul's motion, the overwhelming push by Senate Democrats to move to trial allowed impeachment proceedings to begin on Tuesday. The House of Representatives voted to impeach Trump about a week after thousands of his supporters stormed the U.S. Capitol during a violent riot that caused the deaths of five people, including one Capitol Police officer. House members charged Trump with a single article of impeachment, for "incitement of insurrection," in response to his conduct surrounding the Capitol attack.
Cassidy previously suggested that the outcome of January's constitutionality vote might not be indicative of senators' upcoming vote to either convict, or acquit, Trump of the impeachment charge.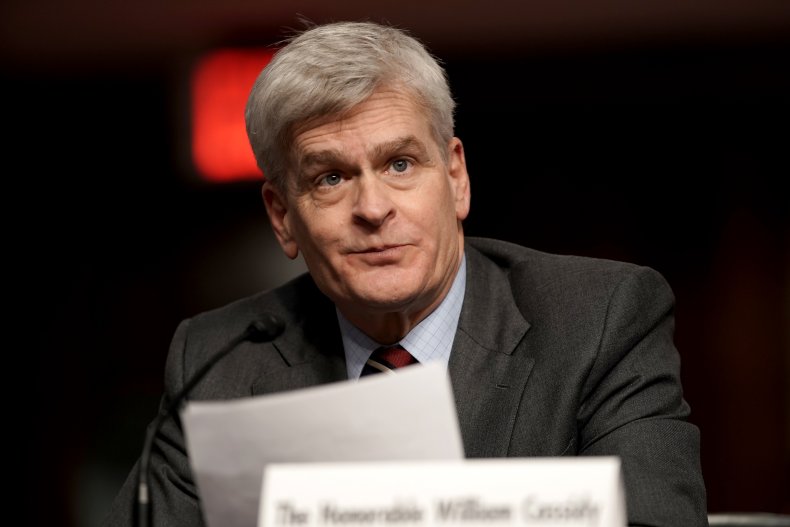 "I think it's important to understand the nature of that vote," the Louisiana senator said during an appearance on NBC News' Meet the Press this past Sunday, referencing the procedural vote on Paul's motion. "It was called two hours before it. There was no debate and no explanation from either side."
Describing the affair as "a vote in a moment of time," Cassidy went on to explain that senators based their votes on "what [they] knew at that point, and felt at that point."
"But we will now have, hopefully, presentations from both sides, and we will consider the evidence as impartial jurors," he concluded of the impeachment trial.
Newsweek reached out to Cassidy's office for further comment but did not receive a reply in time for publication.