Bill Clinton has paid tribute to the late film producer and philanthropist Steve Bing who died aged 55 in Los Angeles.
The former partner of actress Liz Hurley and father of her son Damian, Bing is reported by TMZ to have died after falling from an apartment building.
The former president has honored his late friend on social media, tweeting that he "loved him very much."
Clinton wrote: "I loved Steve Bing very much. He had a big heart, and he was willing to do anything he could for the people and causes he believed in. I will miss him and his enthusiasm more than I can say, and I hope he's finally found peace."
Bing co-wrote the 2003 comedy film Kangaroo Jack and also was involved with The Polar Express starring Tom Hanks.
Sky News reports that Bing donated money to Clinton and was said to be instrumental in helping him return two American reporters from North Korea in 2009.
Bing was found dead at around 1pm in Santa Monica, Los Angeles on Monday, June 22, after allegedly jumping from the 27th floor of his apartment building in the Century City neighborhood.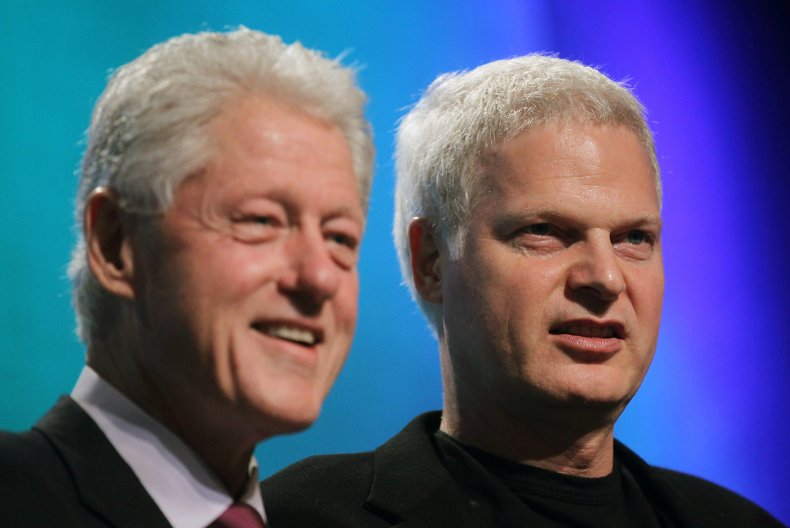 An LAPD spokesperson has said they are investigating a death but did not confirm the individual's identity.
Bing's publicist, Michelle Bega, told Sky News that she was overwhelmed trying to process this unbelievable and sad event".
A number of film industry figures have paid their respects to the late Bing on Twitter today.
Oscar-nominated screenwriter Josh Olsen tweeted: "Steve Bing was my friend and my partner. He was a good man who loved movies and music and cared passionately about fairness. Simple but important concept. I loved him. Depression is f***ing horrible. Hold your friends close."
BAFTA-winner Roseanna Arquette added: "This is very sad and disturbing news Steve Bing has committed suicide by jumping off a building in century city. Rest In Peace steve."
Songwriter Diane Warren wrote: "Here's the thing, everyone has to deal with pain. U might thing they have everything, money success, fancy cars fancy friends. NONE OF THAT S*** MATTERS. Steve Bing U were such a good man and so loved. So very sorry no one could take away your pain."
Bing is survived by his two children—Damian Hurley from his relationship with Hurley, and Kira, a daughter from his relationship with professional tennis player Lisa Bonder.
If you have thoughts of suicide, confidential help is available for free at the National Suicide Prevention Lifeline. Call 1-800-273-8255. The line is available 24 hours every day.