Bill de Blasio Blasts SCOTUS as 'Right Wing Extremists' Over Eviction Decision
New York Mayor Bill de Blasio has called the majority on the U.S. Supreme Court "right wing extremists" following the court's decision to strike down a federal ban on evictions put in place by the Biden administration.
The court blocked the eviction moratorium on Thursday in an unsigned opinion but all three liberal members of the court publicly dissented from the decision.
There is currently a 6-3 conservative majority.
De Blasio took to Twitter after the court's ruling and strongly criticized the move, sharing a CNN report about the matter that noted the three Democrat-appointed justices had dissented.
The mayor wrote: "A group of right wing extremists just decided to throw families out of their homes during a global pandemic."
"This is an attack on working people across our country and city. New York won't stand for this vile, unjust decision," de Blasio said.
De Blasio did no immediately say whether he would take action on potential evictions in New York City.
The state of New York has its own eviction moratorium but it's due to expire on August 31. All of New York City was covered by the federal moratorium as it applied to counties with high or substantial COVID-19 transmission rates.
In an eight-page opinion, which was unsigned, the Supreme Court ruled that any extension of the previous eviction moratorium would have to be approved by Congress.
The previous moratorium expired on July 31 but the Centers for Disease Control and Prevention (CDC) issued a new order on August 3 amid significant controversy. That moratorium was due to expire on October 3 but the court's decision means it has now been struck down.
"Congress was on notice that a further extension would almost surely require new legislation, yet it failed to act in the several weeks leading up to the moratorium's expiration," the court's opinion said.
"If a federally imposed eviction moratorium is to continue, Congress must specifically authorize it," the unsigned opinion said.
Associate Justice Stephen Breyer wrote a dissenting opinion, however, and was joined by Associate Justices Elena Kagan and Sonia Sotomayor. All three were appointed by Democratic presidents and are considered part of the court's liberal wing.
Breyer pointed to the fact that conditions had changed since the court last considered the eviction moratorium in June. At the time, the court allowed the moratorium to run through July 31 but there were indications the conservative justices would not be willing to extend a moratorium further without congressional approval.
"COVID-19 transmission rates have spiked in recent weeks, reaching levels that the CDC puts as high as last winter: 150,000 new cases per day," Breyer wrote.
The graphic below, provided by Statista, shows that emergency rental assistance has been slow to reach tenants.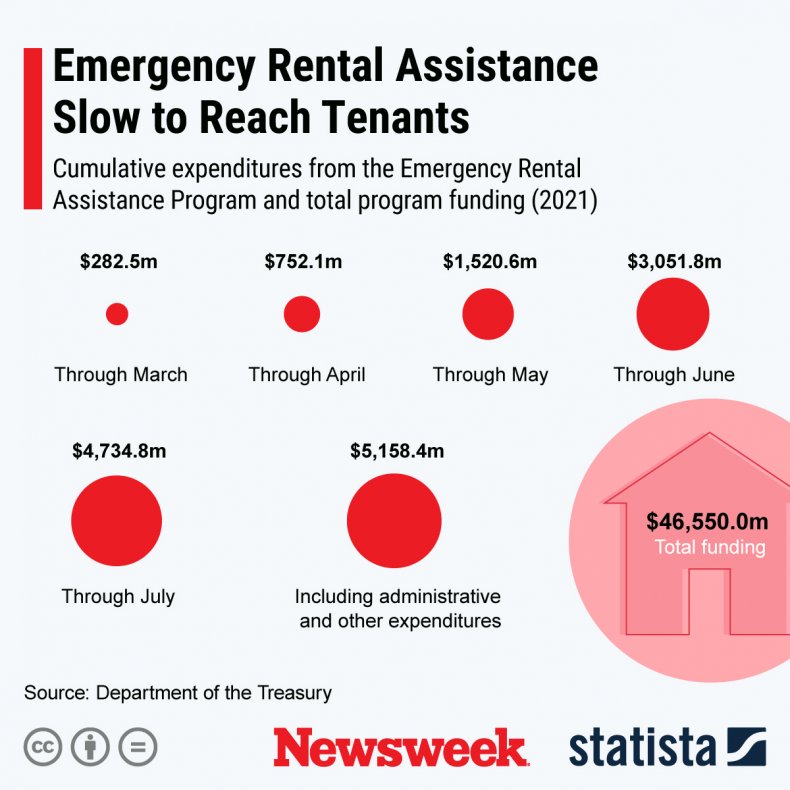 "The public interest is not favored by the spread of disease or a court's second-guessing of the CDC's judgment," Breyer went on. "The public interest strongly favors respecting the CDC's judgment at this moment, when over 90 percent of counties are experiencing high transmission rates."
Breyer also suggested that the issue should not have been considered on the court's emergency docket—known as the "shadow docket"—and should have received a full argument.
"These questions call for considered decisionmaking [sic], informed by full briefing and argument," Breyer wrote. "Their answers impact the health of millions. We should not set aside the CDC's eviction moratorium in this summary proceeding."
Newsweek has asked Mayor Bill de Blasio's office for comment.
UPDATE 08/27/21 06.55am E.T.: This article was updated to include a graphic.