New York City Mayor Bill de Blasio suggested that Governor Andrew Cuomo may ultimately answer widespread calls to resign, but only "right before" a state-led impeachment proceeding is complete. On Sunday the mayor discussed what could lie ahead for the governor, a fellow Democrat, amid mounting sexual misconduct allegations and lingering public backlash over his role in New York's nursing home COVID crisis.
"I think he'll try to hold out," de Blasio told CBS News' Margaret Brennan during on Face the Nation, responding to an inquiry about whether Cuomo will in fact step down from his position as governor.
"I think he is used to getting things his way," the mayor continued, calling Cuomo's term as governor almost "imperial" before weighing in on his future. As of Sunday, seven women have come forward with allegations of sexual harassment and inappropriate behavior against Cuomo. Most are former state employees.
Their stories came to light over the past several weeks, trailing the publication of New York Attorney General Letitia James' report indicating that Cuomo intentionally misrepresented the volume of COVID-19 deaths among the state's long-term care facility residents during the earlier part of the pandemic. The compounding controversies led New York State Assembly members to open an impeachment inquiry last week, while James' independent investigation into the sexual misconduct allegations remains ongoing.
"The folks in his state, and the political leadership, don't believe [Cuomo] anymore. He doesn't have any credibility," said de Blasio during Sunday's interview. "So, I think an impeachment proceeding will begin, and I think he will be impeached and, perhaps, right before that, he'll decide to resign. That's probably the most likely outcome right now."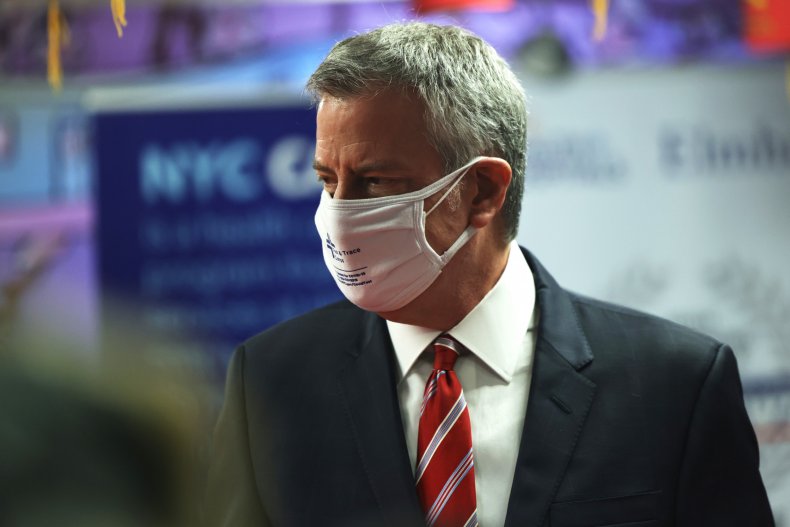 Cuomo has so far denied the allegations of sexual harassment and misconduct and has rejected calls from political figures, including top Democrats, to resign as governor. De Blasio openly advocated for his resignation last week, after a sixth woman, identified as one of Cuomo's former aides, shared her own alleged experience of being sexually harassed by the governor with the Times Union, a local newspaper based in Albany. The mayor described the allegations as "deeply troubling" and "absolutely unacceptable" during a Thursday news conference, stating that Cuomo "can no longer serve as governor."
De Blasio insisted in his latest interview that the governor leave office immediately.
"He should resign right now because he's holding up our effort to fight COVID," the mayor said. "He's literally in the way of us saving lives right now."
Newsweek reached out to the offices of de Blasio and Cuomo for comment but did not receive a reply in time for publication.