NBA legend Bill Russell's daughter's account of the racism he endured is being shared on social media after his death.
Russell died on Sunday at the age of 88 with his wife Jeannine by his side, his family said in a statement on Twitter.
The most prolific winner in NBA history, Russell was the centerpiece of the Boston Celtics dynasty that won 11 championships in 13 years. His last two NBA titles were as the first Black coach in any major U.S. sport.
A Hall of Famer, five-time Most Valuable Player and 12-time All-Star, Russell also won two college titles and an Olympic gold medal.
"But for all the winning, Bill's understanding of the struggle is what illuminated his life," his family said.
"From boycotting a 1961 exhibition game to unmask too-long-tolerated discrimination, to leading Mississippi's first integrated basketball camp in the combustible wake of Medgar Evans' assassination, to decades of activism ultimately recognised by his receipt of the Presidential Medal of Freedom in 2010, Bill called out injustice with an unforgiving candor that he intended would disrupt the status quo, and with a powerful example that, though never his humble intention, will forever inspire teamwork selflessness and thoughtful change."
Since news of Russell's death, a tweet sharing an extract from a column Russell's daughter Karen Russell wrote for The New York Times in 1987 about the racism her father faced while he was playing for the Boston Celtics.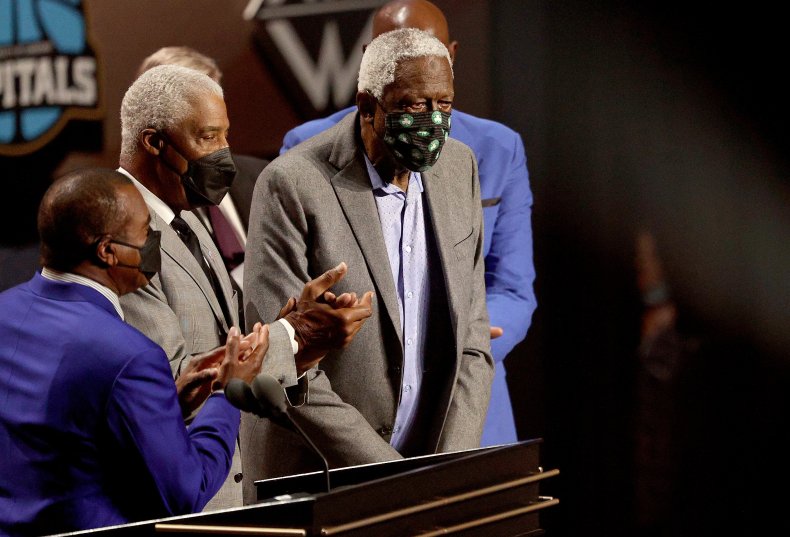 "When he first went to Boston in 1956, the Celtics' only black player, fans and sportswriters subjected him to the worst kind of unbridled bigotry," she wrote in the article.
She also recalled how her family had once come home from a weekend away to find out they had been burgled.
"Our house was in a shambles, and ''N***A'' was spray-painted on the walls. The burglars had poured beer on the pool table and ripped up the felt. They had broken into my father's trophy case and smashed most of the trophies," she wrote.
"I was petrified and shocked at the mess; everyone was very upset. The police came, and after a while, they left. It was then that my parents pulled pack their bedcovers to discover that the burglars had defecated in their bed."
She went on to say that vandals would tip over her family's garbage cans every time the Celtics went on the road.
"My father went to the police station to complain. The police told him that raccoons were responsible, so he asked where he could apply for a gun permit," she wrote. "The raccoons never came back."
But she said that the "only time we were really scared" was after her father wrote about racism in professional basketball for The Saturday Evening Post.
"He earned the nickname Felton X," she wrote. "We received threatening letters, and my parents notified the Federal Bureau of Investigation."
And she noted that when her father got his FBI file years later, he discovered it was littered with references to him as ''an arrogant Negro who won't sign autographs for white children."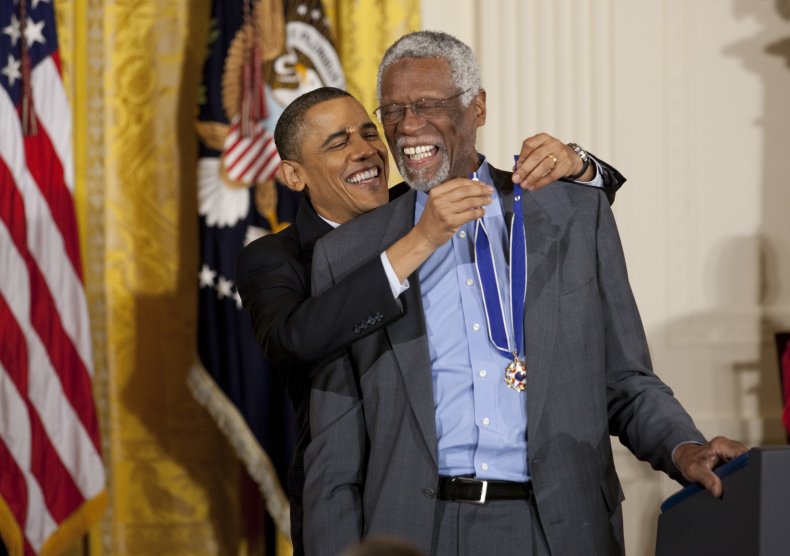 Former president Barack Obama was among those who have paid tribute to Russell.
"Today, we lost a giant. As tall as Bill Russell stood, his legacy rises far higher—both as a player and as a person," Obama wrote.
"Perhaps more than anyone else, Bill knew what it took to win and what it took to lead. On the court, he was the greatest champion in basketball history. Off of it, he was a civil rights trailblazer—marching with Dr. King and standing with Muhammad Ali. For decades, Bill endured insults and vandalism, but never let it stop him from speaking up for what's right."
Russell's family called on others to follow his example.
"We hope each of us can find a new way to act or speak up with Bill's uncompromising, dignified and always constructive commitment to principle," the family said. "That would be one last, and lasting, win for our beloved #6."