Bill Taylor's Ukraine Testimony Left 'Jaws Dropped,' Says Democratic Congressman: 'This Wasn't Just a Smoking Gun, It Was a Smoking Cannon'
A Democratic congressman said the behind-closed-doors testimony by the Trump administration's most senior Ukraine envoy Bill Taylor left "jaws dropped."
"I was in the room. Jaws dropped, heads shook in disbelief, this president and his enablers willfully put #NationalSecurity at risk to benefit his political campaign," tweeted Rep. William Lacy Clay, a Missouri Democrat.
"This wasn't just a smoking gun, it was a smoking cannon. #AbuseOfPower #ExposeTheTruth."
Rep. Andy Levin, a Michigan Democrat, told reporters outside the hearing: "All I have to say is that in my 10 short months in Congress—it's not even noon, right?—and this is the—my most disturbing day in the Congress so far. Very troubling."
House Democrats have opened an impeachment inquiry into President Donald Trump, accusing him of seeking Ukraine's interference in the 2020 election for his own political benefit.
Trump asked Ukraine's President Volodymyr Zelenskiy in a July 25 phone call to open investigations that would potentially damage the Democratic Party at the next election.
One investigation was into dubious corruption allegations leveled at former Vice President Joe Biden—a leading candidate for the Democratic nomination in 2020—and his son Hunter Biden, who sat on the board of a Ukrainian gas company called Burisma.
The second investigation was into a debunked conspiracy theory that a company called CrowdStrike worked on behalf of the Democratic Party to frame Russia for election meddling in 2016 and that the evidence is held on a server in Ukraine.
Per a copy of Taylor's opening statement published by CNN, the senior diplomat testified that U.S. Ambassador to the E.U. Gordon Sondland told him a White House meeting for Zelenskiy and the release of a tranche of American military aid was dependent on a public announcement that the investigations would be opened.
He also said Sondland attempted to explain Trump's thinking as a businessman and that before signing a check to someone who owes him something, they are asked to pay up first. Taylor argued that the comparison made "no sense" as Ukraine did not owe the U.S. anything.
The aid was eventually released and no investigations opened. Trump has denied any wrongdoing and publicly asked that China also investigate the Bidens.
California GOP Rep. Devin Nunes was also at Taylor's testimony. "The truth is that in two minutes, [Rep.] John Ratcliffe destroyed this witness. There's no quid pro quo," Nunes told Fox News host Sean Hannity on Tuesday night.
Nunes also called the impeachment inquiry "a slow-motion crazy train that's going into impeachment fantasy land looking for the Loch Ness monster."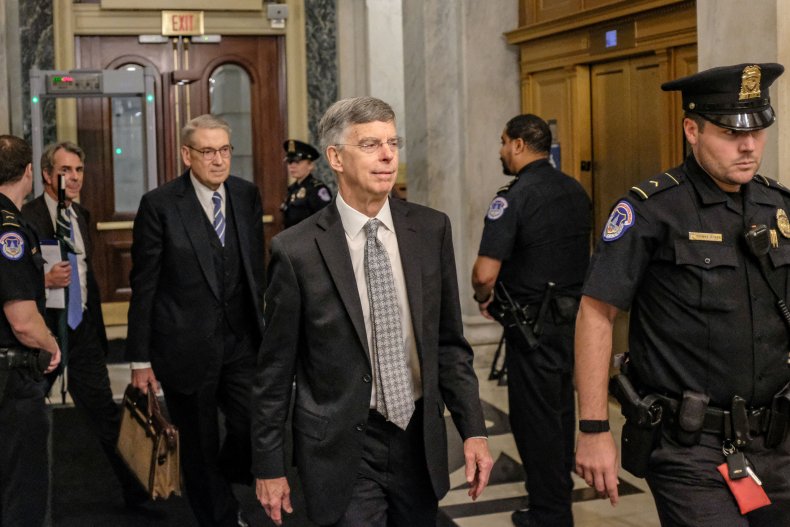 Correction 10/23/19: CrowdStrike is an American company, not Ukrainian.