Trump GOP Challenger Bill Weld Claims President Would Prefer an 'Aryan Nation' With 'No Immigrants'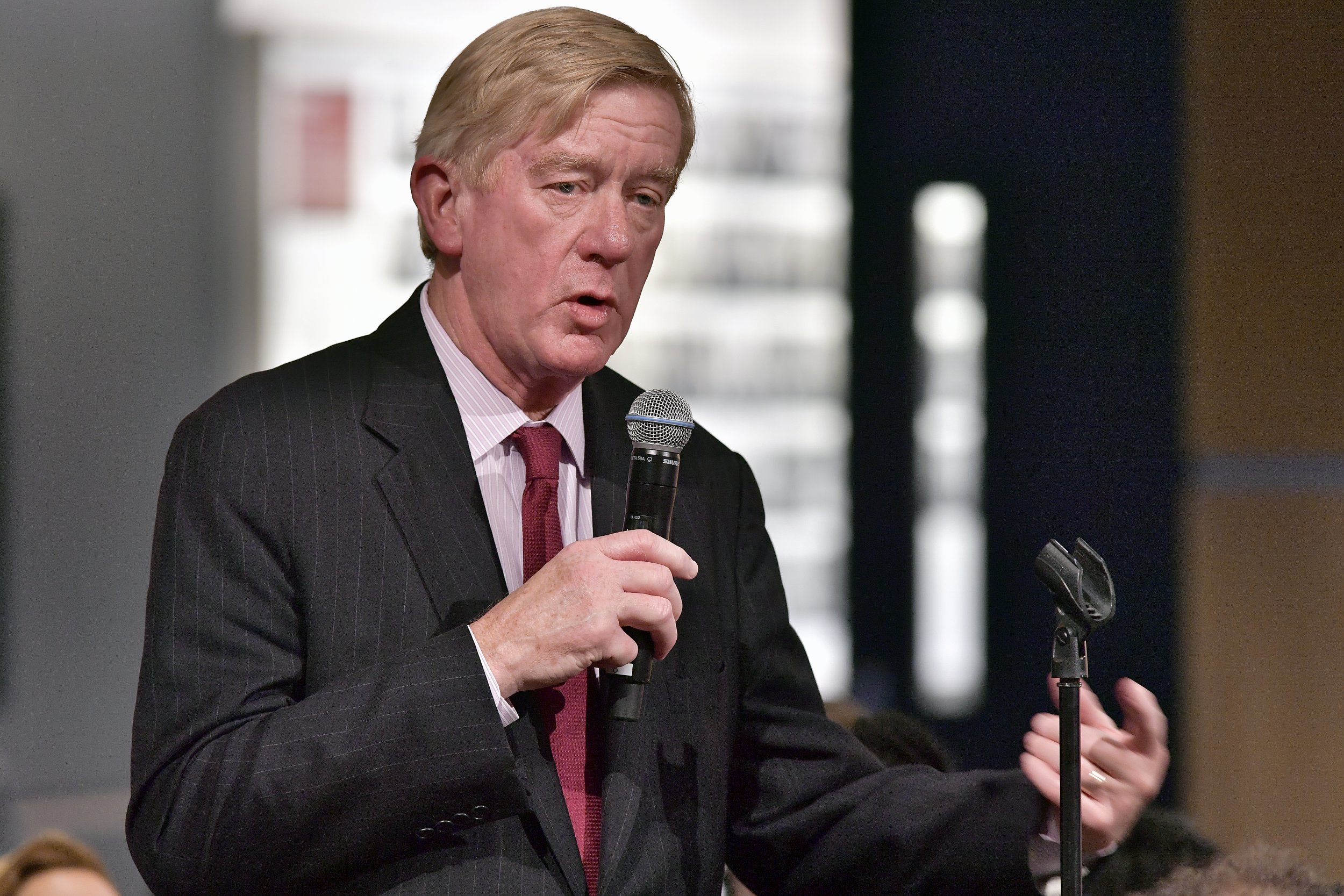 Bill Weld, the only Republican attempting to take on President Donald Trump in the 2020 primary election, claimed his opponent would prefer a country more aligned with a neo-Nazi, anti-Semitic group and without immigrants.
"I celebrate that America has always been a melting pot," Weld said earlier this week. "It seems he would prefer an Aryan nation."
Aryan Nations is a "longstanding neo-Nazi group" that includes the religious faction Christian Identity, a "small, virulently racist and anti-Semitic religious sect prominent in the extreme right," according to the Anti-Defamation League.
While it's not clear if Weld was referencing the group, he later told ABC News he believed Trump "would prefer a nation with no immigrants."
"I know that sounds strong and tough, but he's very interested in bloodlines, and it has resonance," Weld said.
Trump has been scorned time and again—by members of both parties—for his claims there were "very fine people on both sides" of the deadly 2017 Unite the Right white supremacy rally in Charlottesville, Virginia.
The former Massachusetts governor's first remarks were given on Tuesday during a Kennedy Institute speech. Speaking with ABC, Weld also accused the president of not treating women with respect and acting "dangerous for the country" by abruptly scrapping a $2 trillion infrastructure deal and storming out of a meeting with top congressional Democrats.
Weld officially launched his campaign last month out of a "fear for the republic" if Trump would win re-election.
From the beginning of his candidacy, Trump made illegal immigration the foundation of his platform, promising to combat it by erecting a tall wall along the entire U.S.-Mexico border that would be funded on Mexico's dime. Such a wall has not come to fruition; only 1.7 miles of some form of border wall having been built thus far with the $1.57 billion allocated by Congress last year.
Despite his continued criticism of a fellow Republican, Weld has brushed aside speculation he could run as the Libertarian Party's candidate. In 2016, he ran as the vice presidential candidate alongside Gary Johnson.
"No, I'm running as an 'R' all the way," he said. "I won't try to start a third party and I won't go back and run in any existing third party. I'm running as an 'R' and if that doesn't work then I'm done."
There's a possibility Trump could see another contender from the right: Representative Justin Amash. The Republican congressman emerged in the national spotlight over the weekend by becoming the first member of his party to state the president should be impeached, based on revelations in special counsel Robert Mueller's report. Amash has not ruled out a 2020 run as a Libertarian Party candidate.
"I don't take things off the table like that, but it's not something at the forefront of my considerations right now," he told The Hill Tuesday. "I'm just focused on my job. I wouldn't take running for governor off the table or Senate or statehouse, I don't take things off the table."