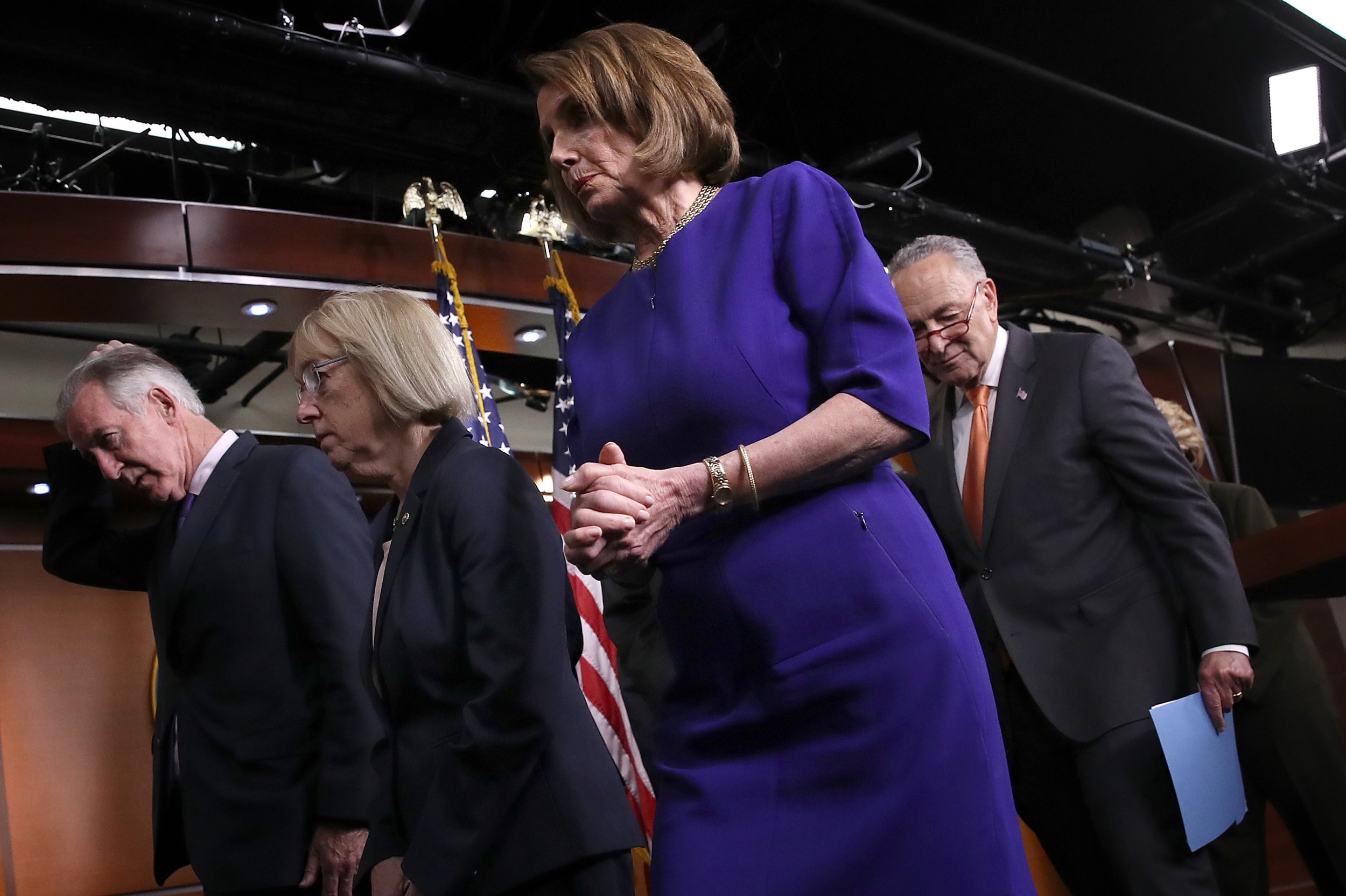 The $2 trillion too-good-to-be-true infrastructure deal that President Donald Trump and Democrats agreed to last month turned out to be just that: too good to be true.
After Trump stormed out of a scheduled meeting with congressional Democratic leaders at the White House Wednesday morning, according to House Speaker Nancy Pelosi, the two parties could now only agree that a deal was no more.
"We had hoped that we could give this president the opportunity to have a signature infrastructure initiative, to create jobs, to improve the quality of life, to just do so much for our country," Pelosi told reporters at the Capitol after she returned from the White House meeting. "For some reason—maybe it was a lack of confidence on his part—he really couldn't comprehend the greatness of the challenge that we have….he just took a pass."
Trump told reporters in the Rose Garden that as long as House Democrats continued to investigate him, there would be no deal on infrastructure. Rank-and-file Democrats had increasingly warned party leaders that opening an impeachment inquiry was "inevitable," while Pelosi and other top Democrats pushed back on such calls.
"I walked into the room and I told [Senate Minority Leader Chuck] Schumer, Speaker Pelosi, 'I want to do infrastructure...but you know what? You can't do it under these circumstances,'" Trump said. "'So get these phony investigations over with.'"
While talking to reporters shortly before their meeting about the White House's stonewalling of House Democrats' numerous efforts to obtain documents and testimoney pertaining to their investigations into the president's actions and finances, Pelosi said Trump was "engaged in a cover-up." He responded by telling reporters he was "the most transparent president probably in the history of this country."
"I don't do cover-ups," Trump said.
Pelosi and Schumer also accused Trump of planning to torpedo the infrastructure deal from the beginning, pointing to the "no obstruction, no collusion" sign that was placed on the president's lectern for his press conference, which also had statistics about the Mueller probe. Trump was "looking for every excuse," Schumer said.
"To watch what happened in the White House would make your jaw drop," he continued. "It's clear that this was not a spontaneous move on the president's part. It was planned."
Pelosi ended her remarks by saying, "I pray for the President of the United States. And I pray for the United States of America."
The Democratic leaders declined to answer questions from the media following their prepared remarks.
In a subsequent series of tweets from Trump, the president said sarcastically: "Nancy, thank you so much for your prayers, I know you truly mean it!"
This story has been updated to include remarks from Trump included in a tweet.