'When, Not If': Democrats Warn House Leadership That a Trump Impeachment Inquiry Is Now Inevitable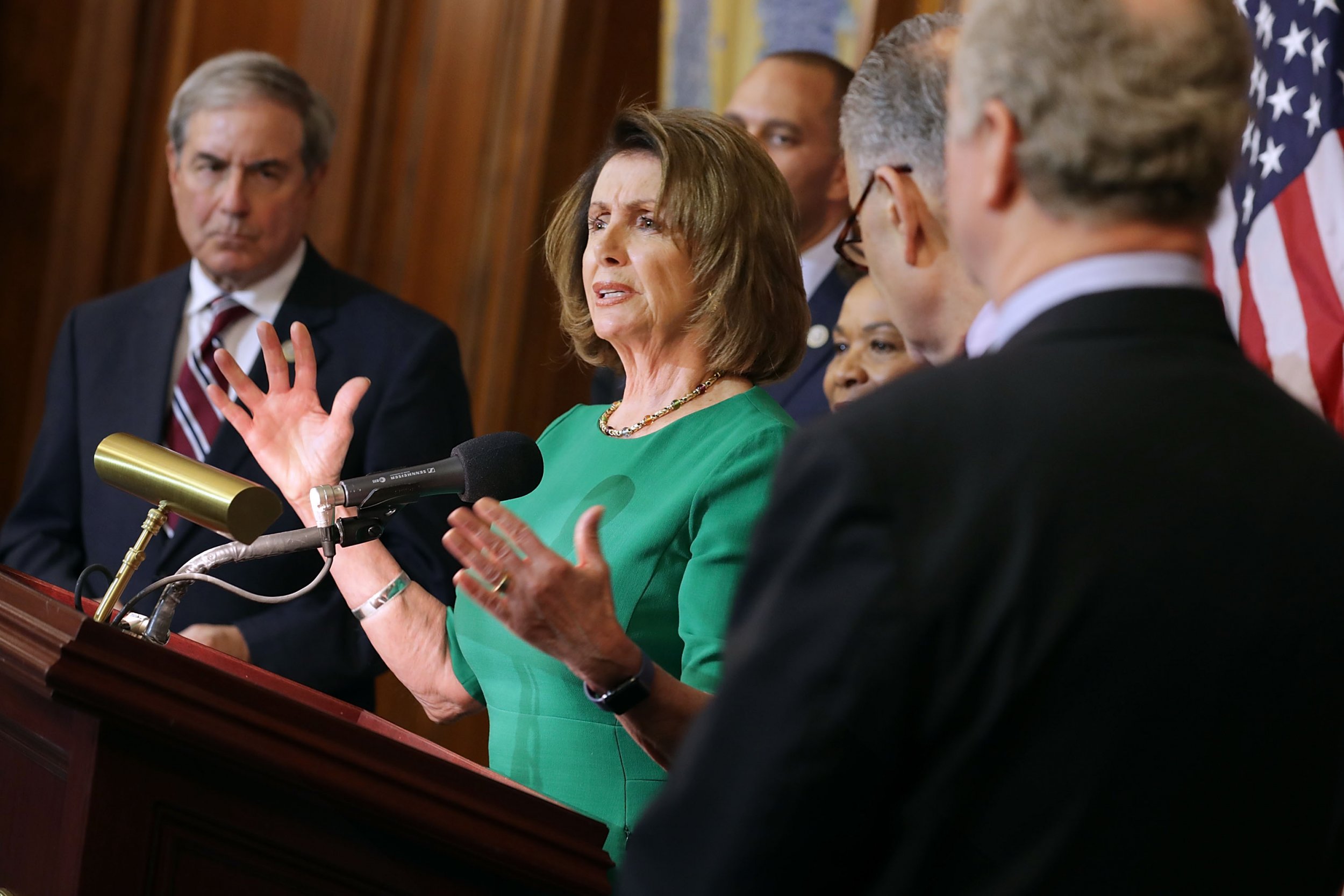 House Democrats increasingly support opening an impeachment inquiry into President Donald Trump amid the continued stonewalling by the White House of congressional investigations. The growing number of calls come despite pushback from House leadership over fear that the party would be playing into the president's hands by initiating a divisive, partisan proceeding.
Don McGahn's absence at a Tuesday morning House Judiciary Committee hearing was the straw that broke the camel's back for several members—both on the committee and rank-and-file—who pointed to Trump directing the former White House counsel not to testify as continued obstruction and proof of a "cover-up."
Democrats on the Judiciary Committee, who have the power to begin an impeachment inquiry, argued that such a proceeding would not necessarily mean a final vote to remove the president from office would happen. Rather, they said that an inquiry would offer their investigation into obstruction of justice and abuse of power more legal remedies to obtain the witness testimonies and documents that subpoenas had failed to produce.
Rank-and-file members have begun to fall in line with their colleagues on the panel, despite pushback from leadership, which continues to support investigations and taking matters to the courts.
"I think the sheer disregard for the provisions of the Constitution and checks and balances is enough reason to begin a formal inquiry," said Representative John Yarmuth, a Kentucky Democrat and chairman of the Budget Committee. "I think there is a growing understanding that an impeachment process is going to be inevitable. It's just a question of when, not if."
Waiting until the fall or next year, Yarmuth said, would be "probably too late."
House Congressional Progressive Caucus Co-Chair Mark Pocan came out in favor of opening an impeachment inquiry Tuesday, joining his co-chair, Representative Pramila Jayapal, who sits on the Judiciary Committee. Representative Dan Kildee, a member of the Ways and Means Committee, which is currently deciding its next step in the wake of the Treasury Department and the IRS' refusal to comply with a subpoena for Trump's taxes, said he could not take an impeachment inquiry "off the table at all."
"I understand that we should be reluctant. And I agree with [House Speaker Nancy Pelosi] in that this is not a situation where we rush to impeachment," Kildee said. But, he added, "I'm personally much more open to it now than I was a few months ago."
Representatives Ted Lieu, David Cicilline and Joe Neguse, all on the Judiciary Committee, joined the impeachment inquiry ranks Monday evening, uniting with Representatives Jamie Raskin, Steve Cohen and Val Demings.
Judiciary Committee Chairman Jerrold Nadler told reporters Monday that Trump's "continuing lawless conduct is making it harder and harder to rule out impeachment or any other enforcement mechanism." Nadler's vice chair, Representative Mary Gay Scanlon, came out Tuesday in support of the inquiry.
Democrats acknowledged that the leadership had found itself in a tough position. Nadler seemed caught in the middle—between those who continued to push for an impeachment inquiry and the House leadship, including Pelosi, Democratic Caucus Chair Hakeem Jeffries and House Majority Leader Steny Hoyer.
"I think that that's a difficult internal political dynamic that the speaker, the chairman and the members have," Cohen said when asked by Newsweek whether the committee should go against the wishes of Pelosi and open an impeachment inquiry. "It's a process that we are going through."
But House leaders pushed back that such a divide in the party even existed.
"I disagree with the notion that a growing number of the House Democratic Caucus wants to jump straight to impeachment," Jeffries said.
Hoyer believed the majority of Democrats still had their eyes on the correct prize—pursuing their investigations, while acknowledging the growing desire to open an impeachment inquiry. He said there was some degree of concern among leaders that such a process would hurt the party politically come 2020.
"To say there's no political calculus would not be honest, for any of us," Hoyer said. "To be candid with you, I don't think there's any Democrat who in their gut probably wouldn't say, 'You know, he's done some things that probably justify impeachment.' Having said that…I think the majority of Democrats continue to believe that we need to continue to pursue the avenue that we've been on in trying to elicit information, testimony and review the Mueller report. If the facts lead us to a broader action—so be it."