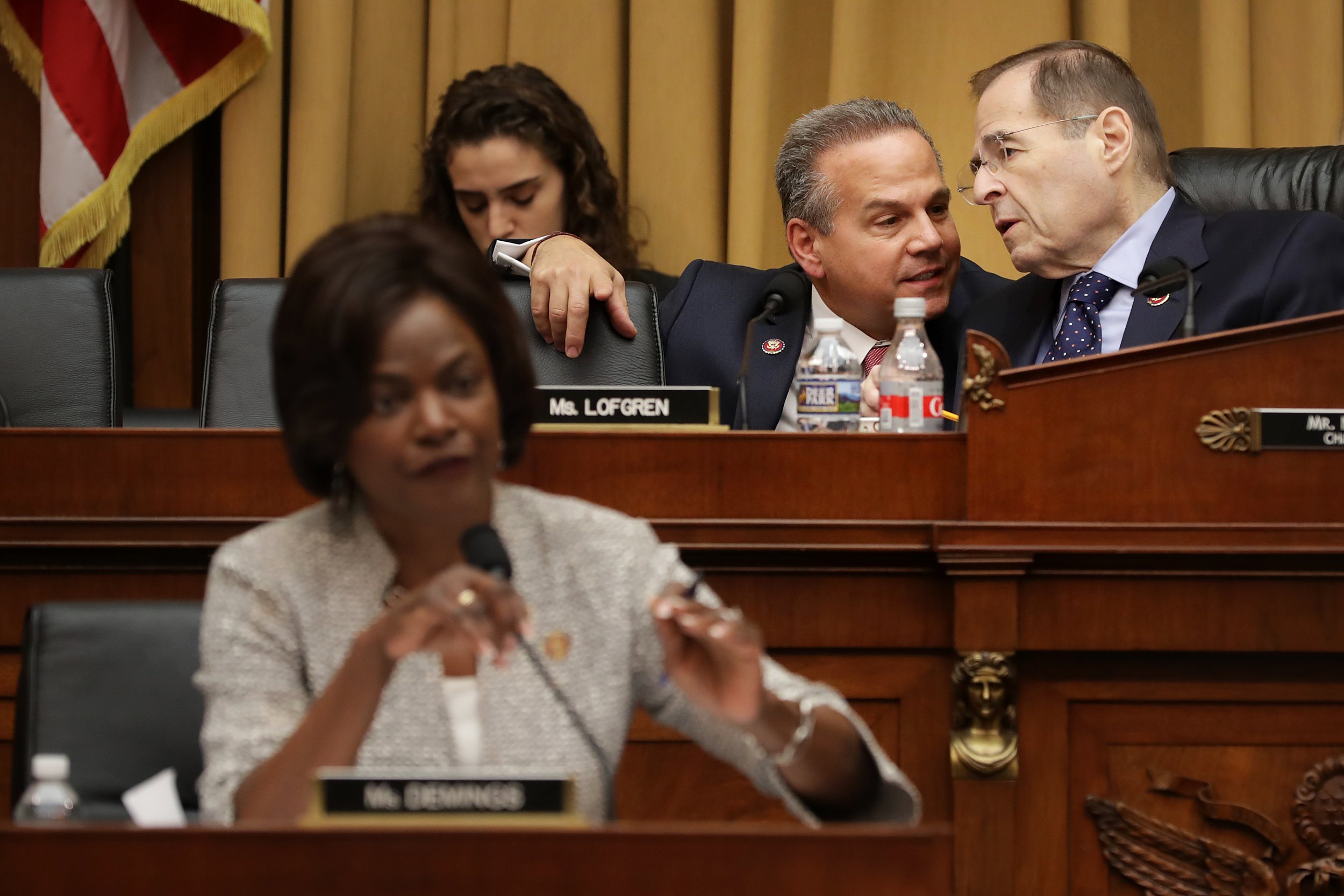 With President Donald Trump directing former White House counsel Don McGahn to defy a congressional subpoena and not to testify Tuesday morning before the House Judiciary Committee, key Democrats moved closer toward supporting an impeachment inquiry into the president on Monday.
McGahn was slated to testify before the committee about key events involving the president that occurred during and after McGahn's time at the White House, which Democrats had been investigating for possible obstruction of justice. The Mueller report stated that McGahn had told investigators about more than one occasion when Trump had directed him to remove Robert Mueller as special counsel in an attempt to hinder or thwart the Russia investigation. McGahn said Trump then asked him to say that an order to remove Mueller had never been made.
Democratic members of the committee, who hold the power to begin impeachment proceedings, told Newsweek that the White House's latest effort to stonewall their oversight power left them a step closer to supporting an impeachment inquiry. For some, it was the straw that broke the camel's back, with several members calling for the proceedings to begin immediately.
"If tomorrow, McGahn does not appear before the committee as a result of the president's direction, the time has come to open an [impeachment] inquiry so that the committee can have the ability to compel the attendance of witnesses, compel the production documents and make an informed judgment," Representative David Cicilline, a Democrat on the Judiciary Committee, told Newsweek.
He was adamant that an inquiry into removing the president from office did not necessarily mean a vote to impeach would ever take place.
Representative Pramila Jayapal, a Judiciary Committee member and co-chair of the House Congressional Progressive Caucus, told Newsweek that McGahn's absence would cause her to support an impeachment inquiry.
Representative Ted Lieu, another Democrat on the Judiciary Committee, told Politico that without McGahn's appearance and with the withholding of documents, "I think we have to start proceeding down this path" of impeachment.
Armed with an opinion from the Justice Department's Office of Legal Counsel, which stated that McGahn had immunity and did not need to provide testimony regarding his time working closely with the president, current White House counsel Pat Cipollone told the Judiciary Committee that Trump "directed Mr. McGahn not to appear at the Committee's scheduled hearing."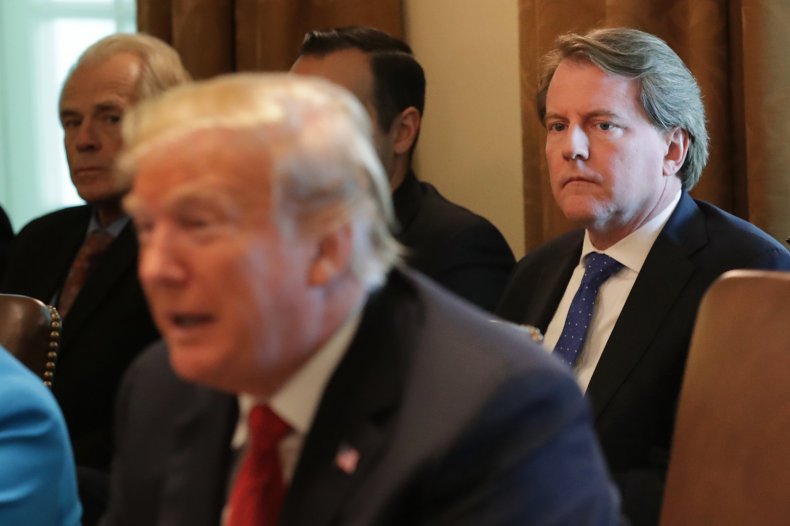 In a letter to the Judiciary Committee, McGahn's lawyer reportedly told Chairman Jerrold Nadler that McGahn felt "obligated" to "respect the President's instruction." Nadler responded with a letter of his own, warning that McGahn would "risk serious consequences" if he did not testify and that the committee would "use all enforcement mechanisms at its disposal."
After a Tuesday evening meeting with Democratic Judiciary members, Nadler told CNN that the next step would be to hold McGahn in contempt, as he had previously warned. The chairman also told reporters that Trump's "continuing lawless conduct is making it harder and harder to rule out impeachment or any other enforcement mechanism."
Politico reported that earlier in the day, during a separate meeting with leadership and Judiciary Committee Democrats, House Speaker Nancy Pelosi again pushed back on calls to initiate an impeachment inquiry, arguing their legislative message was being obscured by talks of impeachment. The calls for the inquiry reportedly came from Representatives Cicilline, Jamie Raskin and Joe Neguse.
House Democratic leadership had long cautioned the party against impeachment, but Judiciary members reiterated their frustration with the White House's refusal to cooperate with their subpoenas, signaling that they might soon have no choice but to consider an impeachment inquiry to tap stronger investigatory power to compel subpoenaed witness testimonies and the production of documents.
Raskin, who called Trump "the most impeachable president in the history of the United States," supported opening an impeachment inquiry before Trump directed McGahn not to testify. "It's very hard to see how there's any other choice at this point," the Maryland Democrat told Newsweek. "To impeach or not to impeach is the wrong question. To have an inquiry about high crimes and misdemeanors is the right question."
Representative Val Demings, another Judiciary Democrat, also said before Monday's revelations concerning McGahn that it was time to begin an impeachment inquiry. "I believed we were there a month ago," Demings told Newsweek. "Everything that we need is already contained in the Mueller report."
The Trump administration sought to quash several ongoing congressional investigations by House Democrats into potential obstruction and abuse of power. But keeping true to his word to "[fight] all the subpoenas," Trump and his officials refused to cooperate. Attorney General William Barr was cited for contempt by the Judiciary Committee for refusing to produce the unredacted Mueller report and its underlying evidence, and Treasury Secretary Steve Mnuchin and IRS Commissioner Charles Rettig refused a subpoena to provide Trump's tax returns.
Trump directing McGahn not to testify "will establish for me a pattern of ongoing effort to obstruct the investigation to impede our ability to find the truth and to gather evidence, which is necessary to perform both our oversight and investigative functions," Cicilline said. "And he'll leave us no choice" but to launch an impeachment inquiry.
In a legal victory for House Democrats, a federal judge ruled Monday that an accounting firm long associated with Trump must comply with a subpoena from the House Oversight Committee to turn over years' worth of the president's and his family's financial records. Trump had sued the committee and its Democratic chairman, Elijah Cummings, in an attempt to nullify the subpoenas.