Billie Eilish opened up about the pressures of social media, revealing she lost 100,000 Instagram followers after posting a photo wearing a corset.
"I lost 100,000 followers, just because of the boobs," the 19-year-old revealed in a frank interview with Elle, adding: "People are scared of big boobs."
The post in question was the singer's look for the British Vogue cover earlier in 2021.
The "Bad Guy" singer explained how many of her fans were used to her looking and dressing a certain way and did not react well to seeing her in a more mature, feminine look, rather than in her signature baggy streetwear.
"People hold on to these memories and have an attachment. But it's very dehumanizing," she said.
She went on to say: "The other day, I decided to wear a tank top. It wasn't even a provocative shirt. But I know people are going to say, 'Holy f***, she's dressing sexy and trying to make a statement.' And I'm like, 'No, I'm not. It's 500 degrees and I just want to wear a tank top.'"
The Grammy award-winning hitmaker also revealed that she is "jealous" of people who can manage to avoid social media, but feels she needs to keep it to maintain a connection with her fans.
"I'm jealous of people who don't have it. I really wish that there was a way to avoid it," Eilish said. "Literally delete my account but still have contact with the fans. I want to be able to have both, but you can't."
Eilish also spoke about the pressure women are under to appear perfect on social media, and is not a fan of women being pitted against one another.
"It's sad because girls are trained to be competitive with each other," she said.
"And all the people who have modified their bodies or their faces and then deny it make it worse."
She continued: "I totally understand Facetuning a pimple. Just don't lie about 'Oh yeah, that's just naturally how it looks.'"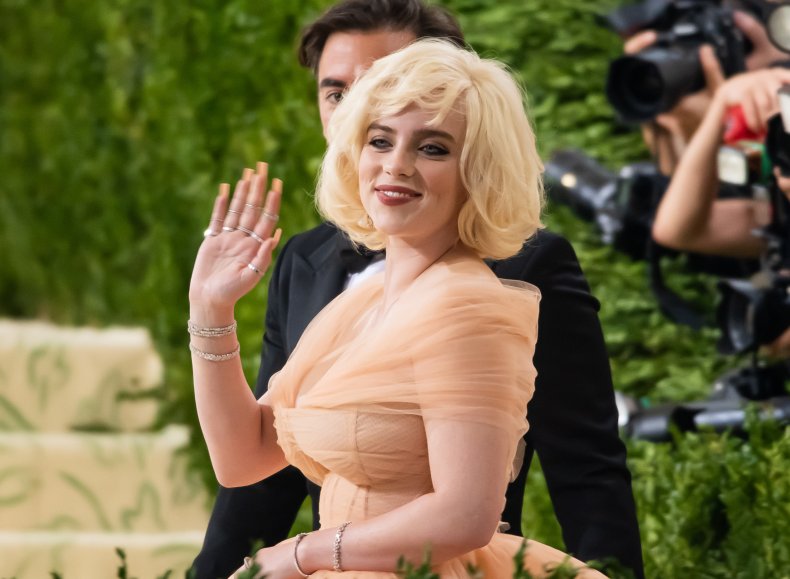 Eilish also revealed that dying her hair blonde from her signature black and acid green gave her some anonymity.
"I couldn't go anywhere with that hair because it was so obviously me. I wanted anonymity," she said.
In June of 2020, Eilish shocked fans when she unfollowed everyone on Instagram—with no explanation.
To this day, she does not follow a single person on Instagram. However, she boasts a staggering 92.3 million followers and is still an active poster.