Billie Eilish Just Unfollowed Everyone on Instagram With No Explanation
Billie Eilish has just unfollowed everyone on Instagram—with no explanation.
The "Bad Guy" singer left fans scratching their heads Wednesday morning for the move, which saw her unfollow everyone she had been following before.
Eilish, 18, has a staggering 64.7 million followers on the platform and is an active poster.
In recent weeks she has been actively supporting the Black Lives Matter movement in the wake of George Floyd's death.
Yesterday, Eilish posted a message on her Instagram Stories that read: "If I am following your abuser, DM me and I will unfollow them. I will support you."
A short while later, she deleted it from her stories and unfollowed everyone on Instagram.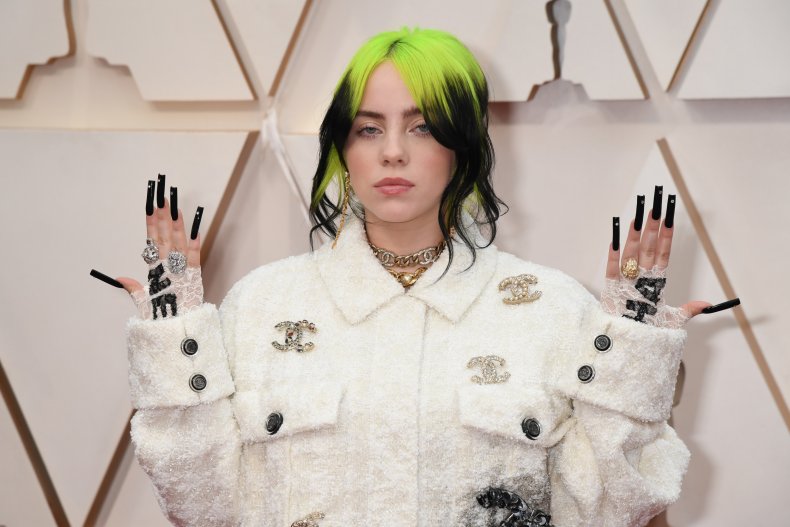 At the time of reporting, the singer's Instagram page does say she is following one person, though no users show up on the link.
Fans are speculating about Eilish's move on Twitter, with many questioning her motive, or whether she has been hacked.
One notable tweet reads: "Why tf is everybody mad about Billie Eilish unfollowing everyone??? Celebrities aren't obligated to follow people y'all are weird."
Many seem fixated on the fact that she unfollowed Justin Bieber, with one tweeting: "BILLIE EILISH UNFOLLOWED JUSTIN BIEBER AND CHRIS BROWN OMG."
But there doesn't seem to be any interest on Eilish's part to single out Bieber as he is just one of thousands who she unfollowed.
Some are even pretty shocked she unfollowed her brother and musical collaborator, Finneas.
Newsweek has reached out to Eilish's representatives for comment and the singer has yet to publicly acknowledge the unfollowing. No doubt, fans will be keeping a close eye on her account to see if she starts following people again.
Eilish is one of a number of celebrities who have called for police reform in an open letter published this week.
She joined Rihanna, Lizzo, and Justin Bieber as well as Sony Music Group, Universal Music Group, and Warner Music Group to support Congress' Justice in Policing Act of 2020 calling to "establish a culture of responsibility, fairness, and respect deserving of the badge."
Other artists who have signed the letter include Grimes, A$AP Ferg, and Animal Collective.
The letter is addressed to Speaker of the House Nancy Pelosi and House Minority Leader Kevin McCarthy, and says: "We applaud the provisions to ban chokeholds and no-knock warrants, to establish a national police misconduct registry, to collect data and improve investigations into police misconduct, to promote de-escalation practices, to establish comprehensive training programs, and to update and enhance standards and practices."