Billionaire Robinhood Hero Chamath Palihapitiya Is a Pushback on Progressive Democrats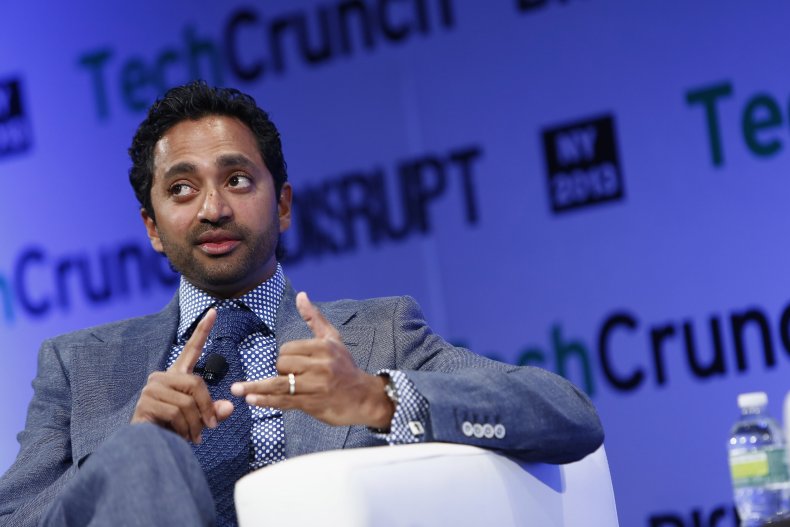 In all the recriminations over the GameStop trading boomlet last month, billionaire venture capitalist Chamath Palihapitiya emerged as a conquering hero. On Twitter and in elite media, he was depicted as the rare swashbuckling, tech-age investor with the integrity to side with those demanding justice for rapacious short sellers and hedge fund vultures. The mythmaking and the euphoric enthusiasm crescendoed with him floating the idea of a run for governor of America's largest state.
Palihapitiya was making an opportunity out of American politics' age-old dream of an enlightened capitalist-turned-populist parachuting in to bridge the partisan divide and rescue the country. But Palihapitiya is not a typical man of the people: beneath the public image is a paradigmatic tech-industry oligarch promoting anti-government ideology, repackaged and updated for the social media age.
Whether or not he ends up running for public office—he's said he's "not ready" to run for governor—Palihapitiya represents a counter to the resurgent progressive wing of the Democratic Party: a corporate-friendly Third Way centrist, with a sprinkle of social justice rhetoric but also an intense devotion to libertarian free-market triumphalism.
From Colorado Gov. Jared Polis to Elon Musk and Peter Thiel, the archetype is increasingly familiar in politics and in the online game of thinkfluence—but Palihapitiya has struck the most populist pose of all.
"I am biased"
Palihapitiya, who did not respond to multiple requests for comment, burst into the national consciousness back in April when he suggested in a CNBC interview that the federal government should not bail out the airlines and other "zombie companies."
"On Main Street today, people are getting wiped out," he said. "Right now, rich CEOs are not, boards that have horrible governance are not. People are."
Palihapitiya did not make his wealth on Main Street. He was an early Facebook executive, and on the side he invested in companies such as Disney and Thiel's Palantir — the latter of which came under fire in 2019 for providing Immigration and Customs Enforcement (ICE) with the digital profiling tools it needed to carry out former President Donald Trump's deportation agenda. Thiel, a co-founder of PayPal who was on Facebook's board, became a business contact and early investor in Palihapitiya's company, Social Capital, and introduced Palihapitiya to other PayPal executives.
Palihapitiya has now become a viral sensation after he weighed in on the shake up on Wall Street over GameStop and other "meme stocks," which retail traders coordinating on Reddit pumped up in value to stick it to hedge fund short sellers. In another CNBC interview, he defended the Redditors.
"I think what you're seeing is a pushback against the establishment in a really important way," said the venture capitalist.
It was a perfect TV moment, coinciding with speculation over a gubernatorial run. Palihapitiya went on to condemn Wall Street speculators for their role in causing the 2008 subprime mortgage crisis, noting that millions of Americans never truly recovered.
The next day, after Robinhood halted purchases of the so-called "meme stocks," Palihapitiya excoriated the brokerage. He recommended alternatives to Robinhood's app, including one in which his firm has a stake.
"Here are three apps you can use to replace Robinhood: 1) @SoFi * 2) @CashApp 3) @public," Palihapitiya wrote in a tweet that was shared thousands of times. "*Disclaimer: I am taking this company public via $IPOE so I am biased, but I think it kicks ass."
A day later, Palihapitiya compared Robinhood to Facebook, suggesting the brokerage had turned users of its app into a product by selling their data — presumably a dig at Robinhood's relationship with Citadel LLC, a hedge fund with which it has an order-flow agreement.
SoFi Active Investing is being brought public by Social Capital. And despite Palihapitiya's repeated criticism of Robinhood, SoFi engages in similar practices to the app, in that it has an order-flow agreement with clearinghouse Apex — a firm that is partially owned by SoFi, according to its S-4.
The king of SPACs
Palihapitiya emerged a "hero," as Vox's Recode put it, for apparently weighing in on the side of Reddit retail investors. While Redditors were calling on their fellow investors to hold, Palihapitiya bought in and sold off the meme stocks, making $500,000. And while he announced that the money would go to the Barstool Fund for small business, many Redditors ended up holding the bag on the stocks he tacitly promoted, suffering staggering losses.
Indeed, the big winners appeared to be Palihapitiya's public image and SoFi. Shares of Social Capital's special purpose acquisition company (SPAC) linked to SoFi shot up roughly 30 percent the day Palihapitiya compared Robinhood to Facebook.
Palihapitiya is known as the king of SPACs, which are shell companies used as vehicles to take other companies public. SPACs are a cheaper and faster alternative to the initial public offering (IPO) route but come with more risks for investors who effectively go in blind since the companies are formed without specific targets in mind. In the 1980s, they were known as "blank check companies" and were hotbeds for fraud, though the rules surrounding them have been tightened since.
A recent, extensive report from short selling firm Hindenburg Research alleged that a company brought public by a Palihapitiya SPAC, Clover Health, was facing an undisclosed Department of Justice investigation, among other issues.
Responding to the report, Palihapitiya tweeted that the Hindenburg report was "rife with personal attacks, thin facts and bluster that has been rebuked by the company." He called on investors to "trust the process."
Hindenburg fired back:
"The fact is we do 'trust the process'; our own research process — and we didn't need your help to find the same 'truth' you should have already disclosed to $CLOV investors."
"If the government shuts down, nothing happens"
Palihapitiya's populism is laced with libertarian, anti-government views.
In a 2017 interview on CNBC, he echoed Ron Paul in encouraging people to invest in Bitcoin, which he said would eventually reach $1 million a coin, explaining that the cryptocurrency was "a fantastic, fundamental hedge and store value against autocratic regimes and banking infrastructure that we know is corrosive to how the world needs to work properly."
"You cannot have central banks infinitely printing currency," he said. "You cannot have folks with misguided and misdirected fiscal policy."
Palihapitiya has touted social safety nets, telling Institutional Investor that as a Sri Lankan refugee who grew up in Canada, he was "a by-product of an enormous number of progressive ideals—universal health care, almost-free basic education, a social welfare policy to take care of the lowest rungs of society but give them a path of upward mobility."
However, there's an inherent tension between those views and his anti-tax zealotry. For example, Palihapitiya has suggested zeroing out the cap gains tax rate over time.
"There should be a step down in capital gains tax for individuals as they hold stocks. 20% per year decrease in cap gains tax. 0% after a five year hold period," he tweeted. "Incentivize long term behavior."
It's not just federal taxes Palihapitiya wants to cut. He has also called for slashing California's tax rate to zero and touted population growth in low tax states.
When news broke that senior citizens in New York were being required to fill out a 52-page survey in order to get vaccinated, Palihapitiya took the opportunity to jab at the state's tax rates.
"If the taxes don't kill you in NY, the bureaucracy surely will," he tweeted. "This is unacceptable."
At the time, progressive lawmakers in the state were trying to raise taxes on billionaires in order to pay for more social services.
Even in his most famous moment—that viral CNBC rant about letting the airlines fail—Palihapitiya took the free market approach. While the appearance earned praise from those who remembered the bank bailouts in 2009, on the other side of the issue were progressives calling for nationalization of the industry.
Palihapitiya's political philosophy touting the supremacy of corporations and denigrating the public sector was summed up most succinctly in a statement he made in 2013 about the looming government shutdown.
"If companies shut down, the stock market would collapse," he said at the time. "If the government shuts down, nothing happens and we all move on, because it just doesn't matter. Stasis in the government is actually good for all of us."