The $1.3 trillion wealth gain by America's billionaires since the start of the COVID-19 pandemic could pay for a stimulus check of $3,900 for every U.S. citizen, the former Labour Secretary under Bill Clinton and Economic Advisor to former President Barack Obama has said.
Professor Robert Reich, who served as Labor Secretary under Democratic President Bill Clinton between 1993 and 1997, made the comments on Twitter. Reich also served in the administrations of Presidents Gerald Ford and Jimmy Carter, and was a member of Former President Barrack Obama's economic transition advisory board.
"The $1.3 trillion wealth gain by America's 660 billionaires since the pandemic began could pay for a stimulus check of $3,900 for every one of the 331 million people in the U.S.," said Reich.
"And the billionaires would be as rich as they were before the pandemic. Tax the billionaires," he added.
President Joe Biden is proposing a $1.9 trillion COVID rescue package, but Republicans in Congress have criticized it, saying it is too costly. Republicans have also resisted sending families stimulus checks most of last year, claiming they were too expensive.
However, a poll on February 24 conducted by Morning Consult, found that the majority of Republicans support Biden's coronavirus relief package. Sixty percent of GOP legislators said they supported it, compared to 89 percent of Democrats and 71 percent of independents.
Overall 76 percent of Americans said they support the $1.9 trillion stimulus package, which includes $1,400 direct payments to eligible Americans, extended unemployment benefits and funding to states and local governments.
Reich, now a public policy professor at the University of California, Berkeley, said U.S. is living through a "second gilded age" where wealth is concentrated in the hands of a few at the top.
The former government official told Newsweek: "We're in a Second Gilded Age which—just like the first—featured concentrated wealth in a few hands at the top, monopolistic practices, wage and voter suppression, wide inequality, and corruption (now called political donations). Then, it was steel magnates like Andrew Carnegie, railroad barons like Cornelius Vanderbilt, and oil tycoons like John D. Rockefeller.
"Now, it's Jeff Bezos, Elon Musk, and a gaggle of Wall Street financiers. But the effects are similar. As the great jurist Louis Brandeis said, toward the end of the first Gilded Age, 'we have a choice. We can either have great wealth in the hands of a few, or we can have a democracy. But we cannot have both.'"
The total wealth of America's 664 billionaires—$4.2 trillion—is also more than two-thirds higher than the $2.4 trillion in total wealth held by the bottom half of the population, 165 million Americans, according to Inequality.org, a project of the Institute for Policy Studies.
The richest 1 percent of the population in America pay an effective federal income tax rate of 24.7 percent, little more than 19.3 percent paid by someone making an average of $75,000.
Reich also took aim at government military spending.
"For the cost of the $1.7 trillion failed fighter jet program, the government could have provided $5,135 survival checks for every one of the 331 million people in the U.S. today," he said on Twitter on Thursday.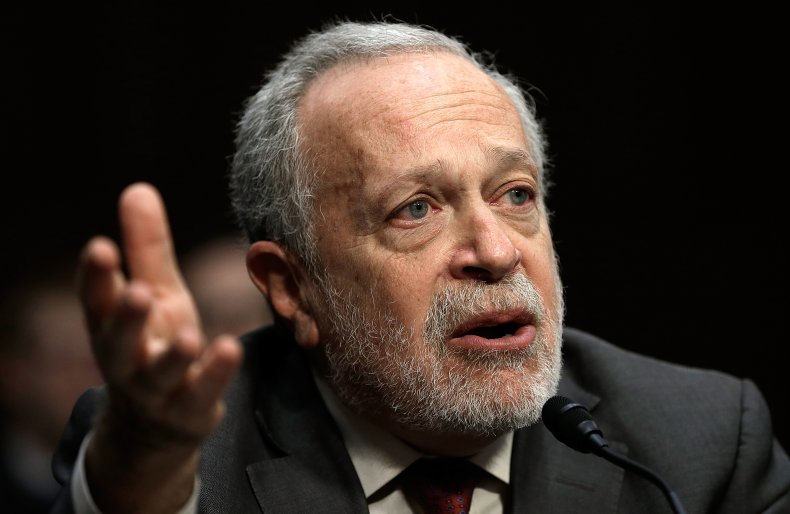 Robert Reich has contributed opinion columns to Newsweek.