Billy Crystal Does Stand-Up Job in Broadway Comedy 'Mr. Saturday Night'
Early on in Mr. Saturday Night, the new Broadway musical based on the movie of the same name, Billy Crystal takes the stage, reprising his role as Buddy Young Jr., a past-his-sell-by-date stand-up comic whose heyday was in the early days of television and the late days of Borscht Belt clubs in the Catskills. This time, however, he is working the retirement home circuit.
Performing in the Walter P. Saperstein Retirement Center All-Purpose Room, he checks out the audience whom we see in projections—this is one of the few plays I can recall in which a piece of scenery gets laughs; I've heard scenery get applause, but never laughs—and he gets that look that Dr. Rick has in the Progressive insurance commercials. It's a look that says, "This will not end well, or begin well…Oh well." One thing is clear, however, his timing is still there. His style of humor may have passed, but he's still got it—the ability to take the bumpiest line and give it a three-point landing. He delivers some wonderfully piercing insults, as written by Crystal, Lowell Ganz and Babaloo Mandel—the kind that would probably get him canceled today or at best a gig opening for Dave Chappelle.
It seems like time has passed him by, but good fortune comes his way when he is mistakenly listed on the "In Memoriam" segment of the Emmy Awards. (Doesn't it always happen that way?) That's news, and as a result, Buddy gets a spot on TV with Gene Shalit, a lot of sympathy and enough brisket to choke a leopard. And for a minute or two, certainly not 15 minutes, he is hot again...well warm to the touch—if you could stand to touch him.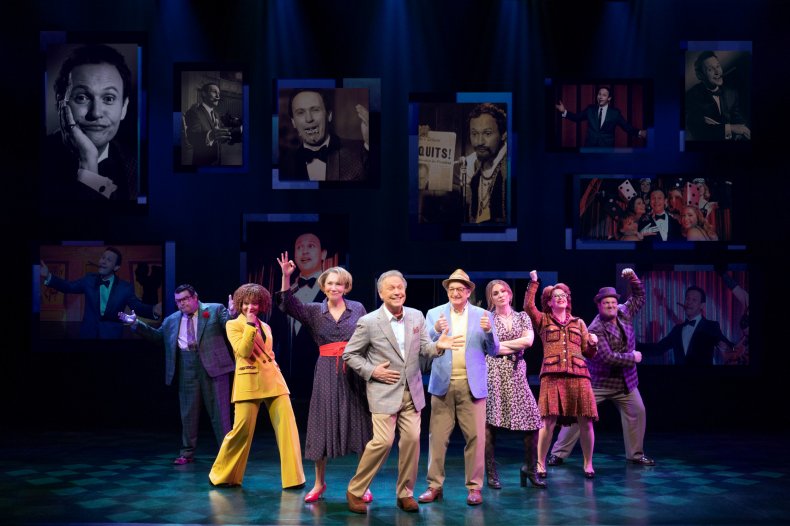 And he might have a shot at TV again, where he once reigned. Buddy had a troubled time in TV, mostly dealing with the suits, and his fall from grace was swift. His career came apart: He did get a spot on The Ed Sullivan Show—following the Beatles. (In actuality, that "honor" fell on a Dutch magician Fred Kaps, and who will ever forget him?)
As much as this is the story of Buddy and his problems, Mr. Saturday Night is an homage to comedians of the 1950s and 1960s: Jack Carter, Myron Cohen, Moms Mabley, Shecky Green and Jack E. Leonard are named. And there is a wall of comic greats who are no longer with us, including Jack Benny and Mike Nichols. For fans of stand-up comedy of that era [Editor's Note: Guilty], this is catnip. When setup and payoff trumped attitude, they were masters. Composer Jason Robert Brown and lyricist Amanda Green give us "Timing," an anthem to the gift that set them apart, the ability to pause and wait till the moment was right to burst an anxious bubble in an audience.
Mr. Saturday Night puts heavy emphasis on the comedy in musical comedy. As a show about stand-up, it is gold, Billy, gold! Especially in the first act, the laughs come hard and fast. And the comedic pleasures, guilty or innocent, are plentiful.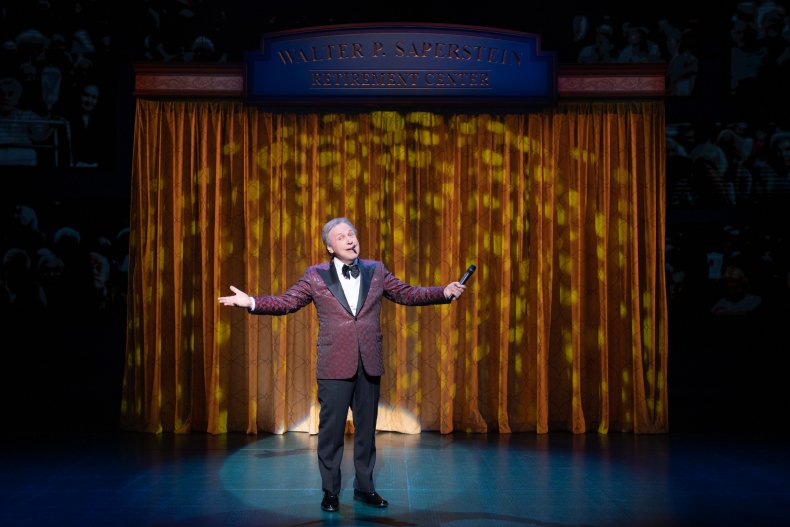 Buddy's material might prove problematic for those raised on the hip comedians of the 1970s and '80s." It is just rat-tat-tat one liners with no socially redeeming qualities whatsoever. It is insult humor, and he takes no prisoners, even in a retirement home. It also could be troublesome for the hypersensitive audiences of the post 2010s.
But Crystal saves it. He can work an audience, even in a performance style that is not at all like his own. For once, a mask mandate comes in handy for reasons other than health. Masks can not only prevent germs from flying, they can stop a spit take from causing serious damage to the row in front of you. And there are plenty of spit takes to be had in Mr. Saturday Night. One woman next to me laughed so hard her mask popped off. The first act is one of the funniest you're likely to see in a musical comedy, or even in a music-less comedy.
Buddy's material is what used to be called blue, now it is just called dirty. So, you may not want to see this with your mother, but get tickets for her and a friend. She'll thank you for it: Sometimes, there is nothing like some good clean filthy jokes to take your mind off the troubles of the world.
A fine supporting cast is led by David Paymer, who is also reprising his movie role, as Buddy's long-suffering brother Stan. It is hard to believe anyone can stay up close and personal with Buddy for very long, but Randy Graff as his long-suffering wife Elaine makes a convincing case sticking around as she is bemused by and understanding of him. Shoshana Bean as Buddy's long-suffering daughter Susan brings a special warmth and sadness to her two solos, "There's a Chance" and "Maybe It Starts With Me." Chasten Harmon is wonderfully exasperated in her short stint as his long-suffering agent. Job, as in The Book of, has nothing on these people.
Mr. Saturday Night doesn't actually need music but Brown and Green, who are anyone's short list to finish Stephen Sondheim's Square One, have a nice conversational style that fits in easily with the dialogue. They also offer a variety of songs from the bouncy "We're Live" and "Stick Around" to the sad and sweet "There's a Chance."
But this is first and foremost a comedy, and if Buddy's personal timing needs work, his (and Crystal's) are nearly perfect, and Mr. Saturday Night is worth tuning in to. But wear a mask, if not for yourself, then the person in front of you.
Mr. Saturday Night is playing at the Nederlander Theatre, 208 West 41st Street, New York. For tickets and more information go to MrSaturdayNightOnBroadway.com.