Billy Wardlow Gets Lethal Injection as Texas Resumes Executions Amid Pandemic
Billy Joe Wardlow was executed in Texas by lethal injection on Wednesday night for the 1993 killing of an elderly man when Wardlow was 18-years-old. His execution marked an end to a five-month delay to executions in the country's busiest death penalty state amid the coronavirus pandemic.
Wardlow fatally shot 82-year-old Carl Cole during a robbery at the man's home in Cason, Texas, in June 1993.
On Wednesday night, the 45-year-old was executed after the U.S. Supreme Court declined to grant a stay despite pleas from Wardlow's friends and loved ones, as well as two of the jurors who had condemned him to death almost three decades ago.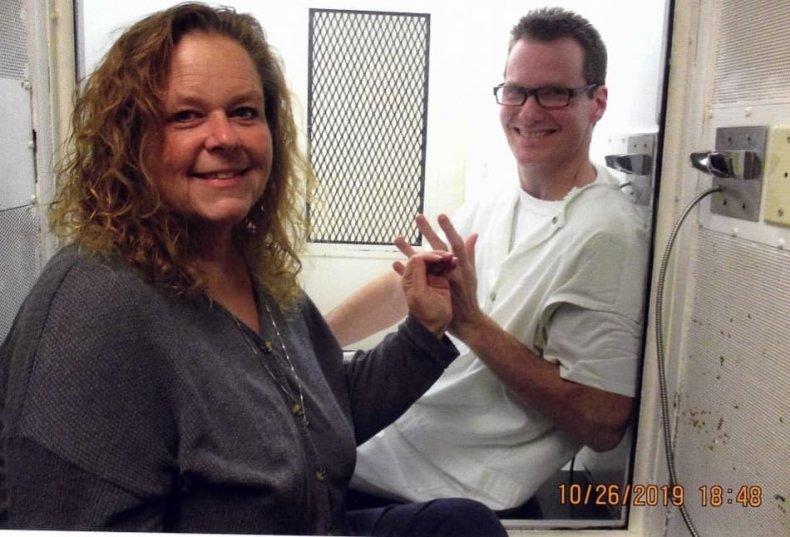 The Associated Press reported that Wardlow didn't make a last statement while strapped to the gurney in the death chamber at the state state penitentiary in Huntsville.
But he nodded and smiled at a number of friends who watched through a window in the witness room. He was pronounced dead at 6.52 p.m. CDT, 24 minutes after the lethal dose of pentobarbital was administered.
Wardlow was the first inmate in Texas to receive a lethal injection since February 6, when Abel Ochoa was put to death. A judge postponed his initial execution date from April 29 to July 8 due to the pandemic.
On Monday, the Texas Board of Pardons and Paroles rejected his clemency petition, which had asked for a stay of execution or for Wardlow's sentence to be commuted to life in prison.
Wardlow's attorneys had asked the Supreme Court to halt his execution, arguing that the basis for his sentence was unreliable.
Jurors had to determine if a defendant would pose a danger in the future before imposing a death sentence, which they did in Wardlow's case.
But his attorney Richard Burr noted in a clemency petition that this determination cannot accurately be made for people under the age of 21 as neuroscientific research has shown their brains are still maturing.
The petition pointed to a 2005 decision by the Supreme Court banning the execution of offenders whose crimes were committed before they turned 18.
But Burr said the line should not be drawn at 18 because there was little difference between the brain of someone under 18 and someone aged between 18 and 20. "We know that you cannot make a reliable determination about future dangerousness for a person who's 18 or 19 or 20 years old," he told Newsweek.
However, prosecutors argued that 18 has long been used as the point where it draws the line between childhood and adulthood.
In a response to Wardlow's petition, the Texas attorney general's office said Wardlow's claim was "entirely meritless."
"Wardlow senselessly executed elderly Carl Cole to steal his truck, something that could have been taken without violence because the keys were in it," the office said.
The office also noted that a metal bar had been found in Wardlow's bunk while he was awaiting trial in 1994 and that one of his former cellmates had testified that he had planned to "hit one of the jailers in the head, take his keys, and escape."
But Burr said that Wardlow had become a kind, not dangerous man, during his 25 years behind bars.
In a statement provided to Newsweek, Burr said: "In taking the life of Billy Wardlow, Texas ended the life of a man who provided daily kindnesses to other men on death row and to the officers who worked on death row.
"The state ended the life of a person whose life was a living testament to what can happen when the brain of an impulsive, unthinking 18-year-old, matures. He can not only turned into someone who is never dangerous, he can turn into someone who is a force for good in an environment that can sap the life from both the condemned and those in whose care they are entrusted."
Burr added: "Billy turned the soul-deep sorrow he felt for ending the life of Carl Cole into a life of good works. In doing that, he honored Mr. Cole in the best way he could."
Wardlow's fiancée Danielle Allen previously told Newsweek that he "didn't deserve to die."
"He's not a monster. And I do not consider him a murderer. Even though he may have committed murder, he's not a murderer," she said.
This article has been updated with comments from Richard Burr.