Billy Wardlow's Fiancée Says Church Employee Ruined Her Final Moments With Him
Billy Wardlow's fiancée Danielle Allen says a church employee, whose job involves comforting those who have lost loved ones through executions, ruined her final moments with him.
A video provided to Newsweek showed Allen weeping over Wardlow's body inside Grace Baptist Church in Hunstville, Texas shortly after he died from a lethal injection.
Wardlow was convicted for the 1992 fatal shooting of 82-year-old Carl Cole, and received the lethal injection at the state penitentiary on Wednesday night.
In the video, people wearing yellow shirts with the message "Abolish the death penalty" can be seen taking pictures as Allen grieves.
A woman that Allen identified as Gina Bradford is heard telling people to stop taking pictures and to not wear the shirts "next time."
Bradford also indicated that she had been inconvenienced by having to be present at the church that evening—and at one point, told Allen: "I'm letting you be with him, I don't have to."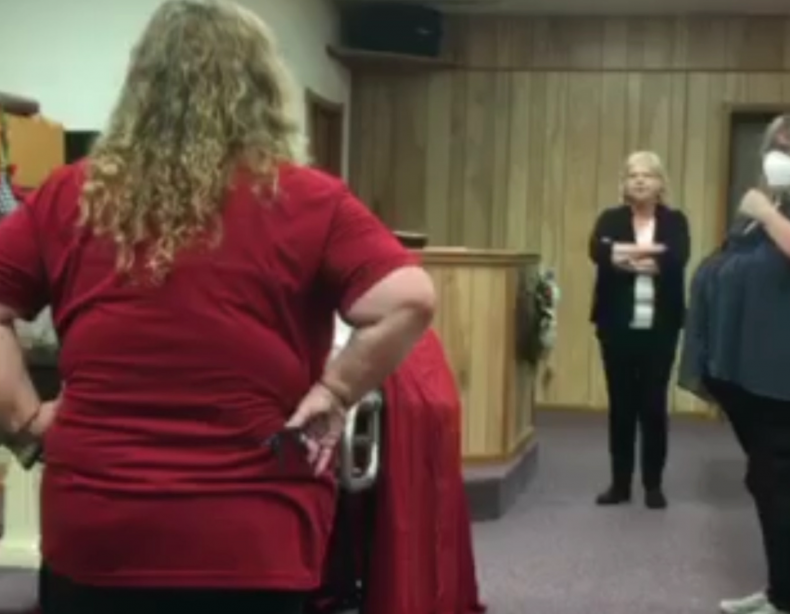 According to the church's website, it partners with the Texas Department of Criminal Justice (TDCJ) "to help families affected by the death of offenders and executions."
Bradford is the church's "liaison for families that have loved ones that have passed away in TDCJ (Texas Department of Criminal Justice)," according to the website.
"Okay, enough with the pictures, okay?" Bradford is heard saying in the clip.
She continues: "Normally, we have been stopping y'all from coming inside the church 'cause this is not the time or the place for that."
When one person tells her that Allen has asked them to take pictures, Bradford replied: "I don't care what she says, we are the people that are in charge here.
She added: "Next time if we let you in, don't wear your shirts okay?... Or we will not let you in at all."
One of Allen's supporters then asked her: "Our shirts offend you?"
"This is not the time or the place for that," Bradford replied. "They can stop taking pictures, they can stay. Enough is enough. This is, this is not the time for this. She is here grieving and that's what she needs to be... saying goodbye. And y'all are doing nothing but taking pictures while she's standing here grieving."
"She asked us to," one of the women repeated to Bradford.
"And I'm asking you to stop it," Bradford replied.
One of the activists then says she is happy to leave, adding: "I'm not here to cause more stress but you could also be a little bit more nice."
"Well, like I say, I didn't have to let you come in... I had to take the day, my day, time, to come up here today," she said.
"Excuse me! You had to take your day? You had to take your day?" Allen says, her voice breaking.
"I'm letting you be with him, I don't have to... but I am. Because this is what we do," Bradford replies.
When Allen asks for her name, she declines to give it, saying it "doesn't matter."
"I'll find out.... The love of my life was just killed," Allen said. "She ruined my last time... my last minutes with him."
Allen told Newsweek that Bradford had "absolutely ruined" her moment to say goodbye to her fiancée.
She added that Bradford was "mad" about the shirts and had told her she had to take the day off work.
"She was ruthless," she added. "What a perfect example of someone who is going through the motions to make themselves feel better not ANYONE else. And I dare to say I am not the first person she has treated in such a ruthless manner."
In a statement to Newsweek, Robert Hurst, a spokesperson for the TDCJ, said the agency has taken action to ensure Bradford is no longer involved in the viewing process.
"The woman in the video is not an employee of the TDCJ nor does she represent the views of the agency," he said. "Loved ones should have the opportunity to grieve. The agency has addressed the issue to ensure she is no longer involved in the viewing process and moving forward TDCJ chaplains will remain onsite to ensure this does not happen in the future."
Grace Baptist Church has been contacted for comment.