Bipartisan Election Integrity Council Condemns Trump's 'Irresponsible Claims' of Fraud: 'We Count Every Vote'
In a Thursday statement, the National Council on Election Integrity (NCEI) said that President Donald Trump's remarks from the White House, in which Trump alleged fraud in the 2020 presidential election, were "irresponsible."
The bipartisan NCEI counts among its 44 members former Secretary of State Madeleine Albright, former Republican Senate Majority Leader Bill Frist and former Secretary of Defense Democrat Leon Panetta. Trump raised some eyebrows with his Thursday remarks in which he claimed that the Democrats were trying to "steal" the presidential election in favor of Democratic presidential nominee Joe Biden. Trump particularly criticized the process through which some states are conducting the tabulations of mail-in ballots.
"They are trying to rig an election," Trump said. "We can't let that happen."
In its statement, the NCEI said that Trump's allegations had "no basis."
"The president spent 15 minutes using the podium of the White House to make false claims that undermine the integrity of our elections and do a disservice to the hard-working election officials around the nation who have performed their duties admirably," read the NCEI statement. "There is absolutely no basis for these irresponsible claims."
"Politicians can say whatever they choose, but it is the American people who decide their leaders, not the other way around," the statement concluded. "Our constitutional process demands we count every vote."
Some lawmakers criticized Trump's remarks including former Pennsylvania Senator Rick Santorum. On Thursday, Santorum called Trump's comments "disappointing and shocking" during an appearance on CNN.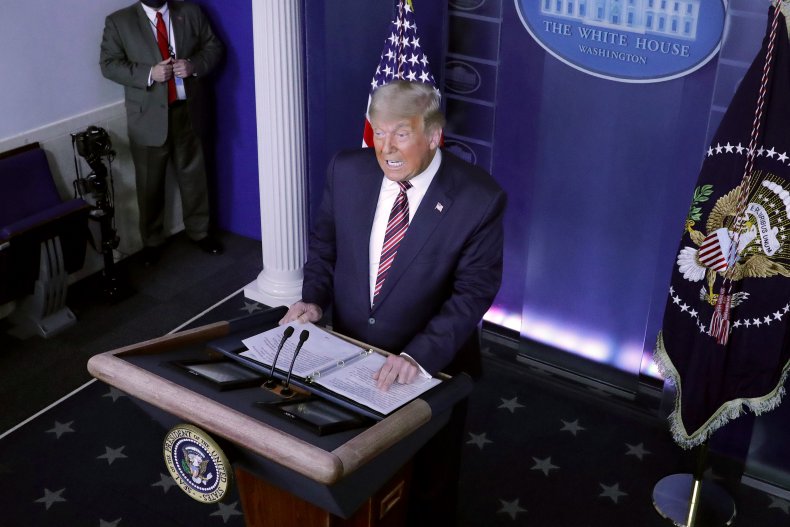 "There is no defense for the President's comments tonight undermining our Democratic process," tweeted Republican Maryland Governor Larry Hogan. "America is counting the votes, and we must respect the results as we always have before."
Biden asked Americans to remain calm as the ballots were tabulated and the presidential election became a tighter race.
"Democracy is sometimes messy," Biden tweeted on Thursday, "so sometimes it requires a little patience. But that patience has been rewarded now for more than 240 years with a system of governance that has been the envy of the world."
Trump has often claimed that the increased usage of mail-in ballots on a national basis would lead to an increase in election fraud. During his Thursday remarks, Trump implied that mail-in ballots had led to his lead in some states being "whittled down."
"It's amazing how those mail-in ballots are so one-sided, too," Trump said. "I know that it's supposed to be to the advantage of the Democrats, but in all cases, they're so one-sided."
Trump's re-election campaign has filed lawsuits in battleground states where campaign representatives have allegedly been unable to view the mail-in ballot tabulation process. In Pennsylvania, Trump's legal team asked that the ballot counting be stopped until Trump's observers were allowed access to the counting areas. That request was granted on Thursday when a Pennsylvania appellate court judge ruled that Trump's tabulation observers could get up to 6 feet away from ballot counting election workers. The observers were required to wear face masks and adhere to COVID-19 safety protocols.
If Biden wins the election, Trump would become the first president since 1992 not to be elected to a second term. George H.W. Bush, who was elected in 1988, was defeated by Democrat Bill Clinton in the 1992 election.
Newsweek reached out to the Biden campaign for further comment.