Bipartisan Group of Lawmakers Discuss Overcoming Political Divide on Climate Change at COP26
A bipartisan delegation of U.S. lawmakers led by Senator Chris Coons discussed overcoming the political divide on climate change during a panel meeting at COP26 in Scotland on Saturday, as members touted America's renewed strength on the world stage following the passage of President Joe Biden's infrastructure bill through the House late Friday.
Several Republican and Democratic congressional lawmakers, including Kirsten Gillibrand of New York, Michael Bennet of Colorado, and John Curtis of Utah, traveled to Glasgow, Scotland, for the climate change summit. The annual event was delayed last year due to the COVID-19 pandemic.
During a panel event hosted by the Atlantic Council, a small group of U.S. lawmakers from both sides of the political aisle presented a unified front as they stressed the importance of addressing the impacts of climate change.
"My name is John Curtis. I'm a Republican. And I'm at COP. How cool is that, right?" said the Utah Republican who established the new Conservative Climate Caucus in June. It focuses on educating House Republicans on climate solutions that align with party principles.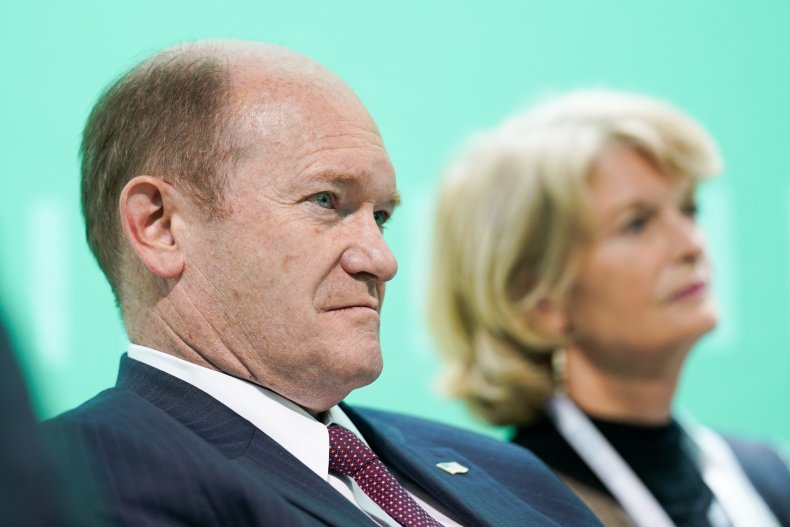 "This is not about the future. It's about our economy today, our well-being today, our mental health, and our physical health. And I think there are enormous opportunities," added Bennet, a Colorado Democrat.
Coons, who co-chairs the bipartisan Senate Climate Solutions Caucus, said lawmakers at the meeting articulated a "robust climate policy while securing strengthened commitments from partners across the globe."
"The United States is back to leading the fight against climate change," the Delaware Democrat tweeted, alongside a picture with former Secretary of State John Kerry.
The lawmakers spoke at COP26 hours after the U.S. House passed Biden's $1.2 trillion bipartisan infrastructure plan largely along party lines in a 228-206 vote.
Their message to the global community was that America is fully committed to fighting climate change—a move away from a hostile four years under former President Donald Trump, who pulled the country out of the Paris Climate Agreement.
With six progressive defectors, 13 Republicans crossed party lines to help Democrats pass the legislation, which includes the largest amount America has ever allocated to prepare its citizens for the catastrophic effects of climate change. About $47 billion is included in the bill to assist communities in preparing for a looming era of worsening fires, floods, droughts, and other extreme weather.
At COP26, Senator Ed Markey expressed confidence in the U.S.' ability to pass Biden's social spending bill, which will reduce greenhouse gases.
"I am telling every representative of every country I am meeting here, we will get this job done," the Massachusetts Democrat said. "I am very confident that we will be able to pass the Build Back Better bill. I am very confident that the U.S. will fulfill its commitment to reduce greenhouse gases by 50 percent by the year 2030."
Newsweek reached out to the White House for comment.