The leader of the viral 'Birds Aren't Real' Movement said he wanted to step down from his position after a chaotic morning news interview that ended with him choking on his coffee and throwing up on camera. But Peter McIndoe told Newsweek he now thinks it was all a "hit job."
During the entirety of the now-viral interview with WGN-TV in Chicago, McIndoe sipped coffee from a mug as his cat climbed around the kitchen behind him.
McIndoe then took another sip from a coffee mug as a newscaster asked him a question. Before the newscaster could finish, McIndoe choked on his coffee and proceeded to throw up on air.
"Oh my god I'm so nervous," McIndoe said as he put his hands up, face red and coffee still spilling from his mouth. "I'm so sorry."
The clip then switched to B-roll of various Birds Aren't Real supporters but McIndoe's mic was left on. In the background, he could be heard gagging and coughing.
"Birds Aren't Real rarely gets the Mainstream Media platform to share our ideas, so I was very excited going into this interview, but also nervous," McIndoe explained to Newsweek in an email. "When my nerves start crumbling in on me, my belly can start aching and get queasy. The interview started, and I kind of blacked out not sure what I said. Then next thing I knew, I heard the news anchor use the word "Conspiracy Theory" (talking about our movement.) When I heard this I absolutely retched couldn't hold it in."
The basis of the Birds Aren't Real movement is the claim that from 1959 and 2001 the United States government killed over 12 billion birds and replaced them with "sophisticated robot look-alikes capable of mimicking real birds in every way." The replacements would also serve as "the greatest surveillance system ever imagined," according to the Birds Aren't Real website.
In an interview with Newsweek in March, McIndoe said the purpose of the movement is to unveil the truths about the "12 billion robot birds that currently swarm the skies of our nation." He also claimed the movement began in the 1950s although the website currently states it began in 1973.
McIndoe posted the full interview clip on the official 'Birds Aren't Real' Instagram account which boasts 364,000 followers, and wrote in the caption about his disappointment.
"Mortified," the caption read. "Never imagined this amount of embarrassment was possible. I want to apologize to @wgnnews I want to apologize to bird truthers everywhere. The one time the media gives us a platform to spread the truth with the public and I totally messed it up. If you all don't want me to be your spokesman after this I understand."
But in an email to Newsweek, McIndoe said he thinks his coffee was poisoned. He said that immediately after the interview he felt "mortified" and "embarrassed." He said he knew there was pressure to represent the movement on mainstream media and felt a weight on him "like Hercules."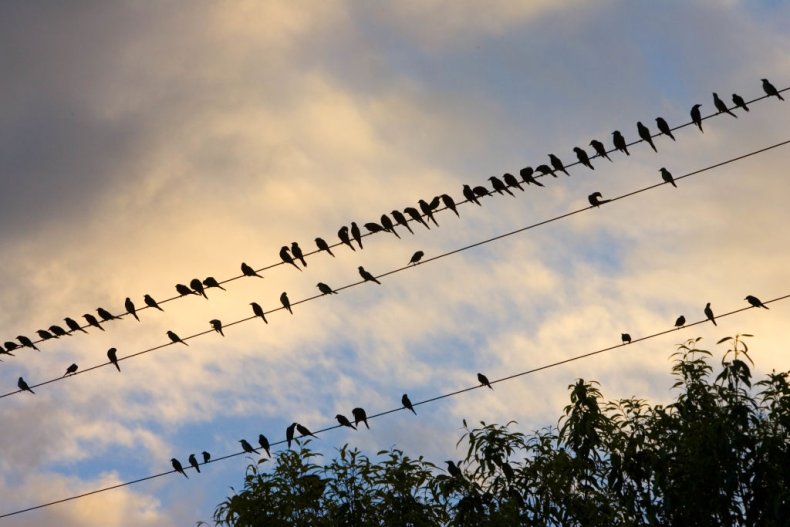 "That interview could have deprogrammed so many blind sheeple watching the mainstream media on a Thursday morning. I could have finally exposed the bird drone surveillance plot to the most blind of audience. But I couldn't keep my stomach beast in my chest," he said.
He explained that after the interview, he felt he could not be a fitting spokesperson for the movement.
"Maybe if the movement had a stronger stomached, better speaker as the spokesman, more people would be awakened. That's really all I want," he said.
But he then explained that he really wasn't that nervous after all and realized how "odd it was that I threw up at that exact moment."
"Then I cracked it," he told Newsweek. "Two words - hit job."
He went on to explain his theory that his coffee was poisoned and suspects it was a "direct hit job by the deep state media."
"Our movement was getting too big and powerful, so they tried to execute the spokesman live on the television news. Me. In front of nations," he wrote.
He also told Newsweek that he is currently testing the coffee remnants for "poison or lethal containments" and that he suspects foul play. He also explained that on Thursday night he had a dream about a four-headed dragon coming out of a volcano.
He claimed the dragon told him he was about to experience a media hit job and that the poisoning on live television news was "just the start."