Man Vomits Live On-Air During TV Interview: 'I'm So Nervous'
A televised conversation with a self-styled parody conspiracy theorist movement was unexpectedly curtailed following a very graphic scene of sickness—although some viewers believe it was nothing more than a publicity stunt.
Peter McIndoe, credited with setting up surrealist campaigner group Birds Aren't Real, was being interviewed on morning TV when the dramatic incident occurred while discussing Generation Z (people in their mid 20s through to their late 30s).
He said: "Gen Z is full of some amazing men, women and children who are aiming for change. That is what our movement is all about."
Then, as the WGN9 news anchor posed another question about generation Z's supposed propensity toward falling for conspiracy theories, McIndoe was then seen taking a large gulp from a mug.
But before the end of the question was reached, McIndoe was seen suddenly and graphically vomiting brown liquid.
He then appeared to immediately apologize for the interruption, adding: "I'm so nervous."
The live feed then seemed to be cut and replaced with stock footage from Birds Aren't Real demonstrations, although audio of the exchange continued and further loud wrenching could still be heard.
The controversial figure was then invited to take some time to collect himself in case the interview could resume.
McIndoe told Newsweek—apparently in jest—that the event was due to poisoned coffee because of a "direct hitjob by the deep state media."
He said: "I was wondering why the mainstream media swamp was giving us this opportunity to share the feathered gospel with the masses, and now I think I know why. My coffee was poisoned.
"I suspect this was a direct hitjob by the deep state media. Our movement was getting too big and powerful, so they tried to execute the spokesman live on the television news. Me.
"In front of nations. We are currently testing the coffee liquid for poison or lethal containments. I suspect we will find proof of fowl play."
The footage has been viewed more than 350,000 times and attracted hundreds of comments since it was uploaded to Twitter on Friday.
Some viewers used the opportunity to post wry comments about the absurdist Birds Aren't Real movement, while others tweeted their suspicions the whole event was staged.
Twitter user @swampudlian wrote: "If you know anything about the 'Birds Aren't Real' campaign, I'd be rather suspicious that this was a setup."
And these thoughts appeared to be echoed by fellow viewer @vegangbanger, who wrote: "The guy is a prankster type. His typical bit is the birds aren't real schtick, which is quite funny. Youtube it, anyone who isn't familiar.
"This was obviously an attempt to come up with something new since the birds bit is way old."
Another video that has recently proved popular on social media features a woman claiming a Subway restaurant put them to work "on the spot."
The six-second viral video has been viewed 2.1 million times, gaining more than 200,000 likes, since it was uploaded to TikTok in December last year.
And another video clip shows a woman revealing a seemingly secret scheme used by people to like pictures of women on Instagram without their significant other knowing.
More than 2 million people have viewed the video displaying a social media page purporting to show an array of cute canines, but actually also contains risqué pictures of women.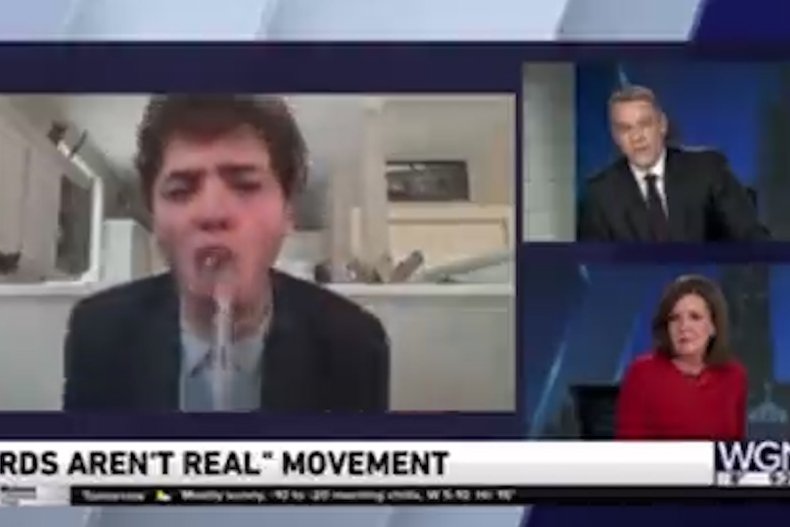 Update 01/10/22 at 3:12 a.m. ET; This article was updated with comments from Peter McIndoe.