Birthday Party Shooting Sees Teenagers Gunned Down Outside Studio
Law enforcement officers in Harris County, Texas, say that a birthday party for a 16-year-old girl "turned deadly" Saturday night, when four people were shot outside of a production studio, with one of them dying.
In a statement on his Facebook page, Harris County Sheriff Ed Gonzalez said that an altercation took place in the parking lot, when "multiple suspects began shooting at each other. A large number of shots were fired."
After the shooting, a 17-year-old was taken to the hospital, where he was pronounced dead. Three other teenagers who were injured included two other 17-year-olds who were taken to the hospital—one in critical condition—and a 14-year-old who suffered non-life-threatening injuries, according to the sheriff.
Local news station KTRK reported that one of the injured 17-year-olds was released from the hospital and later taken into custody on a warrant for aggravated robbery that was unrelated to the shooting.
"No known suspects have been identified at this time [and] the cause of the initial disturbance is unknown," the sheriff stated on his Facebook page Sunday morning.
Deputies said a verbal argument led to the shooting, though it's unclear what started it, according KTRK. At the time of the the shooting, there were 75 to 100 people in the lot.
"I believe it was a 16-year-old female that was having a birthday party. She has been spoken to, and her parents are cooperating right now. The business owners are attempting to cooperate, but there's not a whole lot of information to go on at the moment," Sergeant Jason Brown of the Harris County Sheriff's Office told the news station.
News station KPRC reported the shooting took place outside Dreamlite Productions Studio in Houston.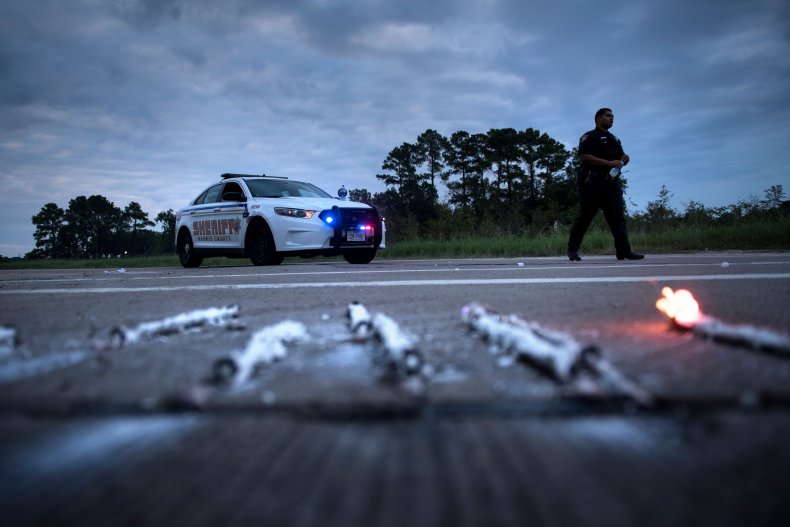 Newsweek reached out to the Harris County Sheriff's Office for additional details and updates regarding the shooting, but did not receive a response before publication on Sunday afternoon.
In a separate incident in Minnesota last May, a 9-year-old girl was sent to the hospital in critical condition and later died after she was shot in the head at a birthday party. Police in Minneapolis said at the time that a car was driving in an alleyway when someone inside of it fired at the house. The girl was in the front yard jumping on a trampoline when she was struck. Police said she spent 12 days in the hospital before she died.