Bison Chases Off Visitor That Got Too Close at Yellowstone Park: Video
A man was filmed getting a little too close to a bison while visiting Yellowstone National Park before the animal charged at him.
The clip was shared by Sean Swetter to the Facebook group "Yellowstone National Park: Invasion of the Idiots!," where it was viewed more than 26,000 times.
In the video, the man is seen slowly walking on a path while the bison is grazing. As he tried to walk by, the bison turned around and took a few charging steps forward at the man, who quickly ran away.
According to the National Park Service's website, visitors at Yellowstone National Park are encouraged to keep a safe distance from the wildlife.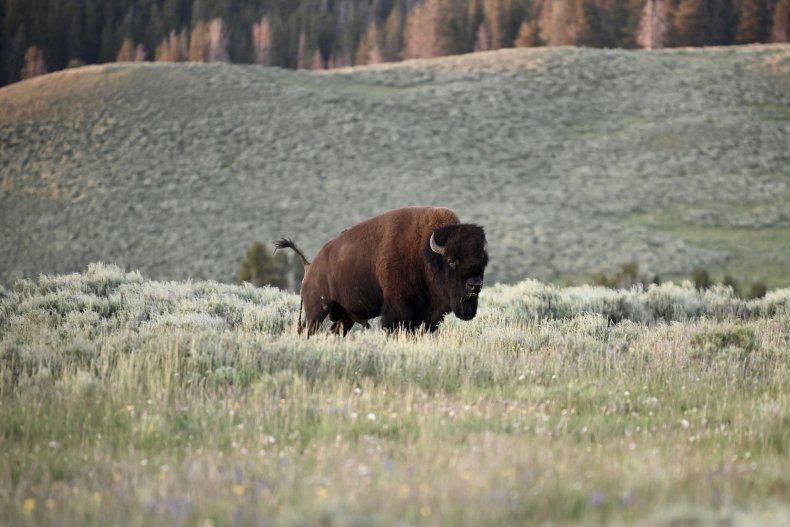 "Wild animals are unpredictable and dangerous," the park service's website stated. "Every year people are injured when they approach animals too closely. Animals that attack people may need to be killed."
Visitors are told to stay at least 100 yards away from bears and wolves and at least 25 yards away from all other wildlife.
Per the park service, there were 5,450 bison in the summer of 2021.
"Here's the video of his narrow escape," the video caption read. "Not joking either, his wife asked for my bear spray to get the bison away from the trail so they could get back to their car."
Viewers took to the comments section to share their thoughts on the tense interaction.
"If that bison would have wanted that guy, he'd have had him," a viewer wrote. "He just wanted him to know to leave him alone. Lucky guy for sure."
Another viewer wrote that the man should have waited for the bison to move along, rather than attempt to walk by it.
"People will never learn," one person wrote. "It's to the point of not feeling sorry for them when the Bison attacks."
Linda Veress, a public information specialist for Yellowstone National Park told USA Today's FTW Outdoors that the video was sent to rangers but did not speak to whether the man who was filmed would face any consequences.
Newsweek reached out to Sean Swetter and the National Park Service for further comment.
Another video showed two bison running alongside a car before one stopped and turned around for just a moment to stare at tourists on a snow coach tour. The bison then turned back around and continued to run away.
A woman shared a video of a bison that approached her car and it sniffed and licked it.
One clip showed a Yellowstone National Park ranger swarmed by bison that were being hunted by a pack of wolves while he was in his truck.