Bison Gores Elderly Yellowstone Tourist as Third Attack in Month
A 71-year-old visitor at Yellowstone National Park was gored by a bison on Wednesday, marking the third such attack at the park since May 30.
In a statement released on Thursday, the National Park Service said that the attack occurred near Yellowstone's Storm Point at Yellowstone Lake, when the woman and her daughter "inadvertently approached the bison as they were returning to their vehicle at the trailhead, causing the bull bison to charge."
The woman suffered non-life-threatening injuries and was taken to a hospital in Cody, Wyoming. The incident is under investigation, and the park service said there's no additional information to share.
After the bison goring incident on Tuesday, Dennis Jorgensen, the bison program manager in the Northern Great Plains for the World Wildlife Fund, told Newsweek that people should maintain at least a football fields distance away from the animals.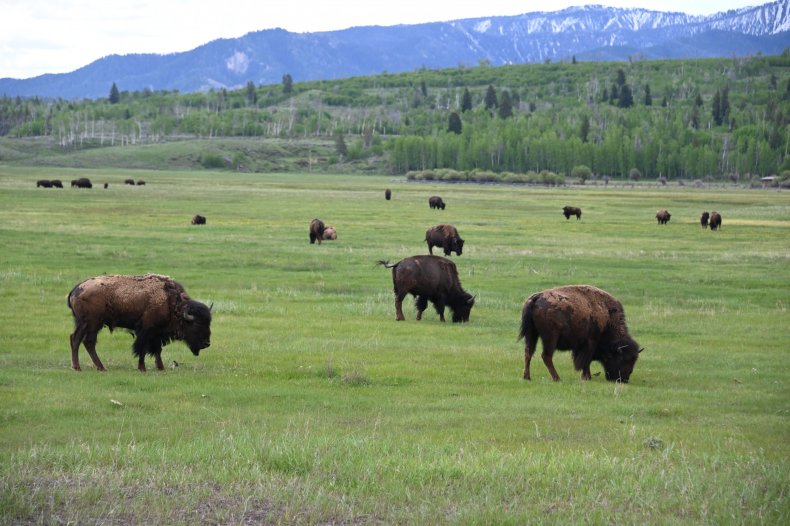 "Bison are the largest terrestrial mammal in North America. They can weigh more than 2,000 pounds and can run as fast as 35 miles per hour. Despite their large size, they are extremely agile so it is suggested that you stay at least 100 yards from bison in a natural setting," Jorgensen said.
Jason Baldes, the manager of the Tribal Buffalo program at the National Wildlife Federation, told Newsweek earlier this week that bison "are wild animals, but too often people believe they are docile or slow, and they are neither."
"We are lucky to have them to see and witness, but people must respect their space. Their body language can indicate much about how they are feeling, a raised and swishing tail is an indicator that space is being disrespected. Our Buffalo are a natural wonder and following signs at National Parks keeps them and visitors safe," Baldes said in a statement.
June 28 Bison Attack
The goring is the second bison attack this week. On Tuesday, a 34-year-old man was "walking with his family on a boardwalk when a bull bison charged the group."
"Family members did not leave the area, and the bull bison continued to charge and gored the male," the park service said in a statement at the time. The man suffered an arm injury and was taken to a hospital.
May 30 Bison Attack
And on May 30, a 25-year-old woman was gored by a bison and thrown ten feet in the air after approaching the animal and getting within ten feet of it. The woman "sustained a puncture wound and other injuries," the park service said.
The National Park Service urges visitors to stay more than 25 yards away from large animals including bison, elk, bighorn sheep, deer, and moose, and 100 yards away from bear and wolves.
"Give bison space when they are near a campsite, trail, boardwalk, parking lot, or in a developed area. If need be, turn around and go the other way to avoid interacting with a wild animal in close proximity."
In response to a request for comment from Newsweek, the National Park Service referred to its press releases about the bison goring incidents.
Previous Bison Attacks
These three incidents aren't the only times tourists have gotten too close to the large animals.
In an incident in April, a man was filmed getting too close to a bison before the animal charged at him.
In 2020, a 72-year-old Yellowstone visitor was trying to take a photograph of a bison when she was gored by the animal.