UFC Hall of Famer Michael Bisping nearly gave up everything to become a world champion—including his eyesight.
In the summer of 2016, "The Count"—as he would be known in the octagon—became one of the most unlikely UFC Middleweight Champions after knocking out rival Luke Rockhold at UFC 199. Previous to that championship bout, Bisping was told he would never fight again due to a detached retina.
A new documentary, simply titled Bisping, will chronicle the Manchester, England product's rise to the pinnacle of his sport. The rise includes adversity he faced along the way to get there—from his humble beginnings to making the leap to become a professional fighter to "convincing" doctors he could see enough to fight to finally raising the title belt.
The documentary, which will be available to stream on March 22, features the sole British winner of a UFC title candidly—to a point—recounting the ups and downs of his life story along with Dana White, Vin Diesel, Mickey Rourke, Joe Rogan, Georges St-Pierre, Luke Rockhold, and others helping to give a behind-the-scenes look at his journey through many personal struggles to becoming one of the most respected MMA fighters in the world.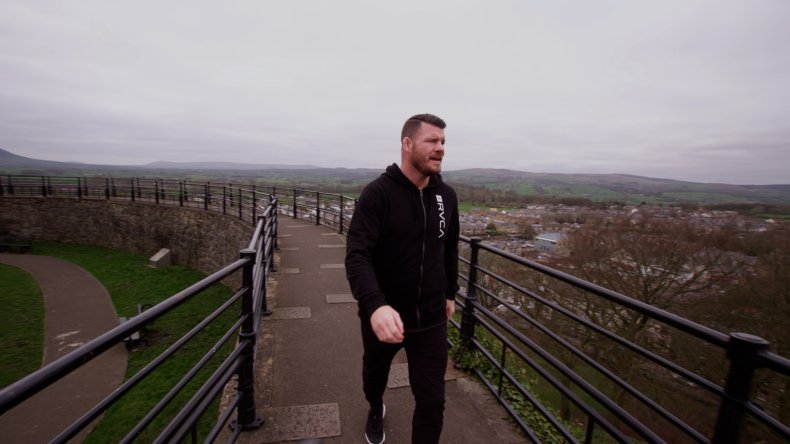 In a recent interview with Newsweek prior to the release, Bisping said he never thought he would see a movie made about his life.
"I had two goals," Bisping told Newsweek about becoming a professional fighter. "The first goal was to make enough money so I could go off to college. Have a few fights, make enough money to put a few bucks in the bank, and then go off to college and learn a trade. Get a real job to provide for my family. But when I started doing this, the guy who turned me toward the life of a mixed martial artist, said, listen, 'In America, the champions there are bonafide celebrities, they're in movies, they're making tons of money.' That was always there in the back of my mind. As I started moving forward and getting better and better that was always kind of the end game. I never really thought it would [happen]."
After he began training Jujutsu at the age of 8, Bisping made a name for himself early on in his home country as a kickboxing champion, and then as a mixed martial artist which earned him the moniker "The Great British Hope" for amassing a 10-0 record in his first two years in the sport. In 2006, Bisping came to the attention of UFC fans in America after winning The Ultimate Fighter 3 television series. From 2006 to 2012, Bisping became a fixture in the octagon, participating in 16 fights (winning 12) and eventually earning a bout against former UFC Light Heavyweight Champion Vitor Belfort for a chance to compete for a shot at the Middleweight Championship on January 19, 2013.
However, his fight against Belfort would forever change his life. A minute and a half into the second round, Belfort connected with a head kick that hit flush on Bisping's right side, knocking Bisping out of the fight due to a Technical Knockout (TKO). The kick resulted in a detached retina in his right eye.
The fear of not being able to compete led Bisping to not seek treatment. And although he would win his next fight in April of that year, he was forced to pull out of a scheduled fight in September due to the pressure build up in his eye. Bisping would later undergo six surgeries on his eye, but the nerve endings in his retina were ultimately destroyed because of the pressure.
He was told by White that he would never fight again.
According to Bisping, he spent the next year focusing on television, movie roles, podcasting, and building a brand while recovering and focusing on the next stage of his life.
"Being a former fighter you always worry what the future holds," Bisping said.
His passion for the sport and his drive to take care of his family—wife Rebecca and three children—led him back to the octagon despite not knowing if he would ever be medically cleared to fight.
Although blunt and honest throughout the documentary, the subject of Bisping being medically cleared to resume fighting in 2014 is something he left to the imagination of the fans and viewers.
"I'm not going into details, but if you know me, then you know there's nothing I won't do to take care of my family," Bisping said in the documentary. "I did what I had to do in order to fight again. That's all I can say."
Bisping said there was only so much detail he could go into surrounding the speculation around his medical clearance.
"There was a lot of stuff that didn't go in. There was some stuff that I said and then after was like, 'oh, we can't put that in.' I got a little too honest there," Bisping said.
Not only would Bisping be cleared to fight, but he would also go on to defeat the legendary Anderson Silva in London and then avenge an earlier loss to Rockhold at UFC 199 to become the first British fighter to win a UFC Championship.
Bisping said he was happy with the way the documentary turned out—especially having his family involved.
"Any time they [wife and kids] come on the screen I start crying like a little baby," Bisping said. "I love the way the production team and the editing staff put together the Anderson Silva fight. I love the way they did that. The way they tell the story of the fights is very creative."
Even though Bisping has acted in television shows and big-budget action films including xXx: The Return of Xander Cage, he said being himself in front of the camera was harder in many ways.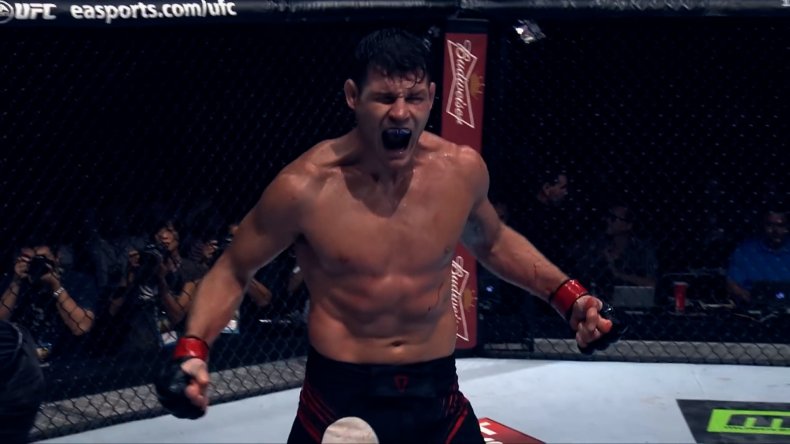 "Becoming a character, it doesn't matter what you are doing on screen," Bisping said. "And listen, with a face like mine, I'm always the bad guy. I've died in many, many different ways. It doesn't matter because you're acting and you're not being yourself. For this, I had to visit some of the darkest days of my life and that ain't no playing no character. That was me. That's who I was and that's what I did."
Bisping successfully defended his title against Dan Henderson at UFC 204 but lost the Middleweight Championship to St-Pierre via submission at UFC 217. Bisping, who is now a UFC analyst, officially retired from the octagon in 2018 and was inducted into the UFC's Hall of Fame Modern Wing in 2019.
Uncommon Knowledge
Newsweek is committed to challenging conventional wisdom and finding connections in the search for common ground.
Newsweek is committed to challenging conventional wisdom and finding connections in the search for common ground.