Bitcoin Gets Jack Dorsey's Vote of Confidence in Volatile Week
Bitcoin's value drastically declined this week, but Twitter CEO Jack Dorsey has said he still retains "passion" for the cryptocurrency and believes it represents the future of the internet and world finance.
"The reason I have so much passion for #Bitcoin is largely because of the model it demonstrates: a foundational internet technology that is not controlled or influenced by any single individual or entity," Dorsey tweeted Wednesday evening. "This is what the internet wants to be, and over time, more of it will be."
Last Sunday, Bitcoin's value hit a record high of $34,792.47, but it fell 17 percent in value on Monday to roughly $28,878. The drop represented the cryptocurrency's largest single-day decline since March 2020 when it dropped from $9,160.39 to $4,916.78 over a seven-day period.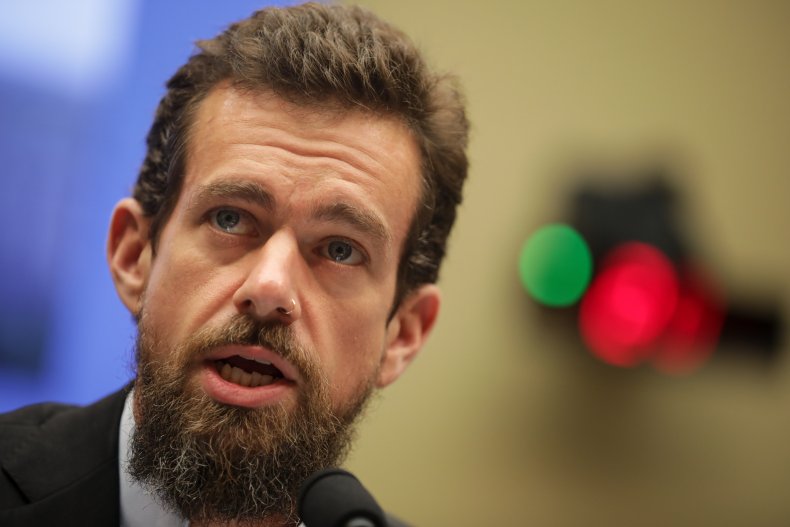 The currency's more recent plunge in value may have been sparked by crypto-investors selling off their digital currency, experts said. Its volatility compelled the Financial Conduct Authority (FCA), a United Kingdom regulatory agency, to warn investors that "they should be prepared to lose all their money," though other analysts have disagreed with the FCA's assessment.
On Monday, Dorsey wrote a 4,600-word open letter in which he criticized a proposed regulation from the Financial Crimes Enforcement Network (FinCEN) which would require companies to collect the names and addresses of anyone making cryptocurrency transactions above $3,000.
The regulation is meant to help legal authorities track down illegal transactions, but Dorsey said that criminals could easily circumvent the regulation through offshore or underground accounts. He also called the regulation an invasion of privacy and said it would impede cryptocurrencies' growth by forcing banks to treat crypto-customers differently from cash customers.
Dorsey is also the owner of Square, a financial services and mobile payment app which recently acquired $50 million worth of Bitcoin in October 2020—an amount representing roughly 5,000 Bitcoins.
In September 2020, Square invited cryptocurrency firms to join the Cryptocurrency Open Patent Alliance (COPA), a collaborative alliance aimed at developing shared technology patents and preserving the currency's open-source nature.
"We believe there needs to be a global native currency for the internet. Just as everyone should be able to participate in the economy and have access to the same tools and services, so too should everyone be able to participate in cryptocurrencies and have access to its underlying innovation," COPA said in a September 2020 statement.
In a 2018 interview with The Times of London, Dorsey said he believed that Bitcoin could become the world's sole currency by 2030, though he added that the technology behind it would need to continually improve to make that a reality.
Newsweek contacted Dorsey's representatives for comment.